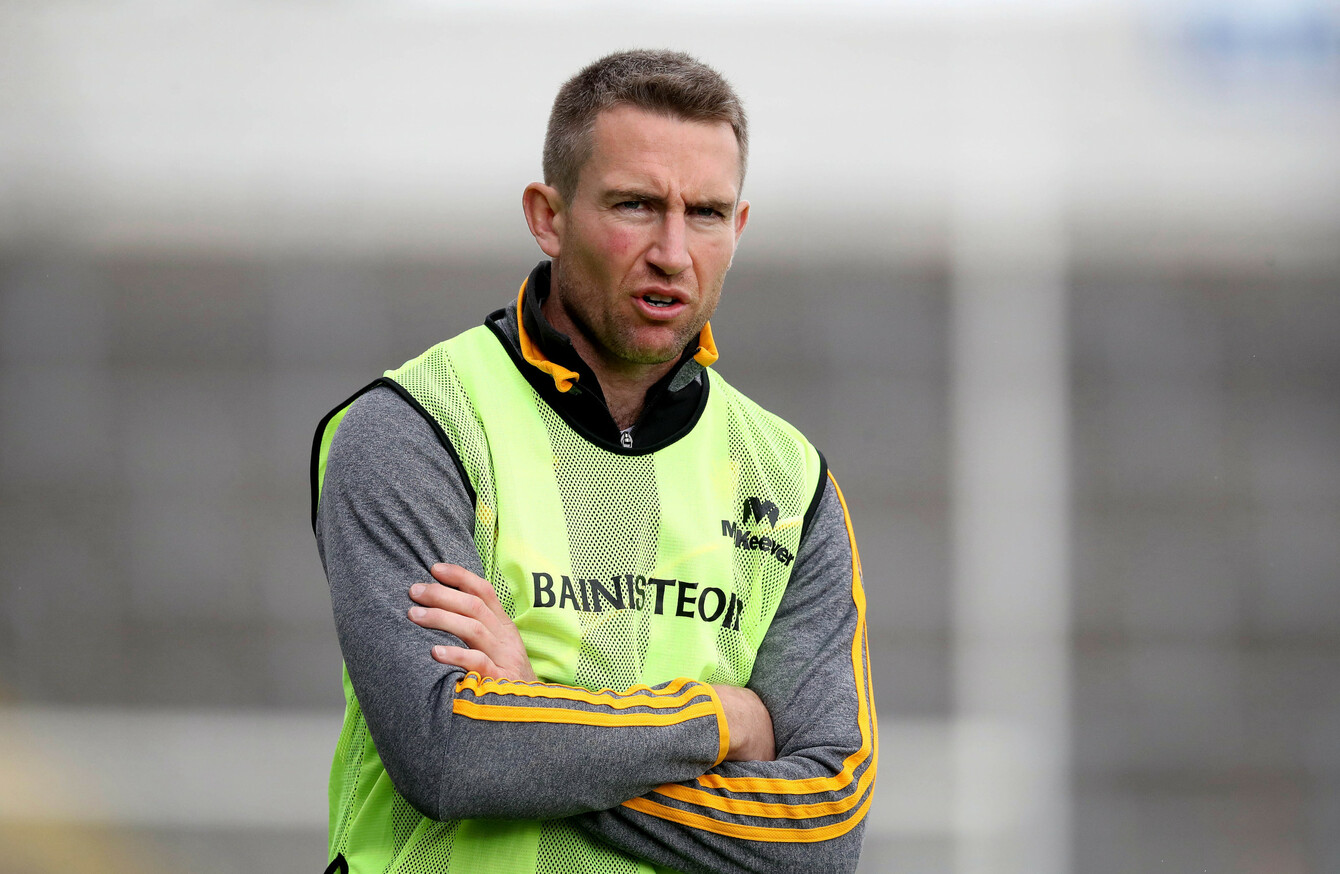 Image: Ryan Byrne/INPHO
Image: Ryan Byrne/INPHO
EDDIE BRENNAN PLAYED under an old-school manager in the form of Brian Cody for his entire Kilkenny career, so it's no surprise he likes to keep things simple as he dips his toes into management.
Brennan's Kilkenny U21s face Limerick in the All-Ireland final at Semple Stadium later today, hopeing to lift their first title at the grade since 2008.
It doesn't feel like that long ago when Brennan was still firing in the goals for the Cats. His move to the sideline hasn't been without it's hiccups, but the skies have long cleared since Westmeath dumped them out of Leinster in 2016.
Brennan learned a great deal from his debut campaign, and returned a better manager this year. Beating Limerick today would indicate the Graigue-Ballycallan man is in for a bright future in the bainisteoir bib.
"I've read an awful lot of books about management and sports people looking for little nuggets here and there," says Brennan. "The one thing I've learned is you have to have your own philosophy on it, you have to go and say I can't be anyone else.
"Last year I focused a little bit on sweepers too much whereas this year we focused on ourselves. Yes we look at the opposition to see where their strengths are, but ultimately it is about us dictating the game.
"That is what I've tried to do, we are positive with our own game plan, we are positive about how we play and say we can't win a match unless we have the ball. It is all about getting possession and then letting hurling instincts take over."
He may have his own philosphy, but he follows Cody's mantra that doing the simple things right on the field will yield success. That's what he's been drilling into these youngsters over the past few weeks.
"I still think it comes back to basics. If you don't do the basics well it is all well and good giving guys information, I'm all for that, they should be given information.
"It is just that they aren't overloaded, but they still should focus on the basic stuff which is being able to rise the ball as quickly as possible, secure possession. In all these matches when there is precision involved that little fumble is the difference.
"That is what opposition teams are looking for, one bad touch, they are in, the ball is gone. Your touch has to be right, it still comes down to first touch, attacking the ball, being in possession of the ball.
"I certainly don't know it all yet. Every day you're going playing matches, you're learning something new. You're evolving and if you're narrow minded enough to think we've had a good year now, we've cracked it, that's the rock you'll perish on."
Source: The42 Podcasts/SoundCloud