ENGLAND HEAD COACH Eddie Jones claims he and his staff are working round the clock to find a solution for problems exposed by Scotland in their 25-13 loss on Saturday.
The Australian's bid for a third straight Six Nations title took a hammer blow in Murrayfield as Scotland claimed their first Calcutta Cup since 2008, while Ireland moved clear in the title hunt by seeing off Wales with a bonus point.
Speaking after his squad trained in Oxford today, Jones indicated that there is a continuing issue with players not problem-solving on the field.
"We've done an exhaustive investigation into finding out what wasn't right," said Jones.
"We've been coming up with solutions to those over the last couple of days. We had a really good meeting yesterday. Learning to fix it on the hop is the next step.
"It's very easy to talk about leadership and how to change things, but it's harder to do. After 20 minutes it would have been ideal if we'd have reacted quicker, but we didn't and it took us until half-time."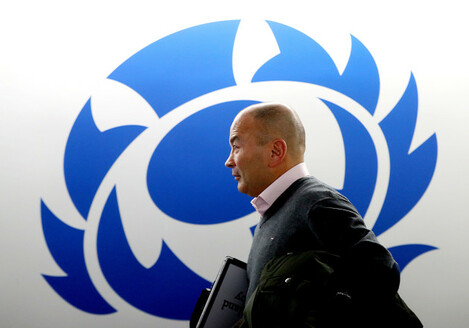 Source: James Crombie/INPHO
Having laid a large portion of the blame for defeat to Scotland at his players' feet, Jones then turned to offer consolation – in the guise of the All Blacks' wait for a World Cup – and subsequent praise for their 'steel' with Ireland in Dublin and Scotland in Edinbuirgh remaining the only two Ls on his 26-match tenure.
"It's a harsh lesson and a lesson we don't want to have again, but the likelihood is we could well have it.
It took New Zealand eight years to learn how to fix things on the field. We're trying to do it in four, so everything's a bit more difficult for us.
"The only way to accelerate the process is not to sleep. That's the only way. It's not easy. We're working round the clock to fix it. And we'll get there, but we're going to have these sorts of situations.
"There's no lack of attitude in our side…  any team that wins 24 in 26 games has got a bit of steel about them. We were caught short on Saturday, but they have plenty of steel about them, so I don't need to worry about the steel or the character of these players."