DAMAGED CRUCIATES TEND to mark the end of careers but, for Eddie Kinsella, a knee injury would prove to be just the beginning.
The Laois referee only took up the whistle when he was informed he'd need surgery to continue his playing career.
Kinsella opted not to have the surgery at the time — and to this day has remained clear of the surgeon's scalpel — before embarking on a storied refereeing career that saw him take charge of almost every big game in the All-Ireland football calendar.
"I was a late starter in refereeing, I would have been 35 or 36 when I started," Kinsella says.
"I hurt my knee playing football and I went to Dr. Pat O'Neill [the former Dublin manager] in his clinic  and he told me that the cruciate ligament was gone in my knee and that I'd have to get it fixed if I wanted to play football.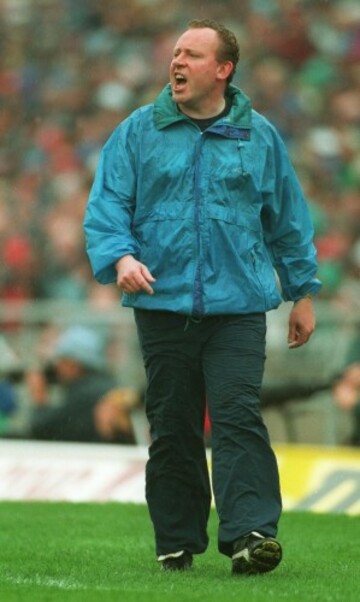 Dr. Pat O'Neill managed Dublin to the 1994 All-Ireland final. Source: James Meehan/INPHO
"But at that age, I thought to myself 'there's no point getting that done' — especially as I'd be out of work for three or four months with it — so I retired.
"Around that time, just by pure accident, Pat Connell — he would have umpired for me in all my games later on — came to me and asked me to referee a practise match down in our own field in Courtwood because the referee couldn't make it at the last minute.
"Pat came up to me after the game and said I was fairly handy at it. So I rang Pat O'Neill and asked him if he thought my knee would be able for it and he said it probably would.
"To this day I never had the operation."
Kinsella refereeing one of his first games in Croke Park in 2007. Source: Tom Honan/INPHO
In his first year refereeing in Laois, Kinsella was awarded the minor club football final and followed it up a year later with the senior decider.
"That was a great boost for my confidence and, after that, I was put onto the Leinster panel," he says.
"After about two years on that panel I refereed then Leinster minor final and, in 2009, I refereed the All-Ireland minor final and I was in charge of the U21 final two years later."
Kinsella's career saw him referee every provincial final with the exception of Ulster.
He was awarded the game in 2016, but had a very good reason for having to say no.
"I refereed two Ulster semi-finals and I was fixed for the final last year but I had to pull out of it.
"My young lad — Alan — was playing in the Leinster minor final for Laois in Croke Park and I couldn't miss that. It was his first year at minor and even though Kildare beat them that day I was very proud of him."
Pinnacle of a career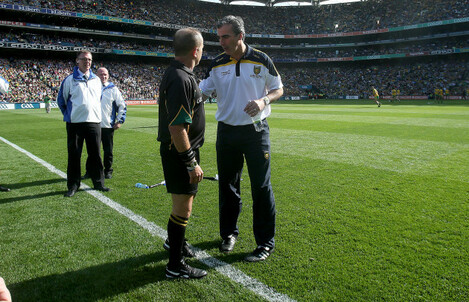 Donegal manager Jim McGuinness chats to Kinsella before the 2014 final. Source: Donall Farmer/INPHO
Of course, the biggest moment of Kinsella's career came when he was awarded the 2014 All-Ireland senior final between Kerry and Donegal.
But what sort of preparation does a referee need to make for the third Sunday in September.
"I always tried to follow the same routine coming up to a big match," he says.
"When I'd be going to bed for the week before, I run through different incidents that could happen in the upcoming match and what I'd do if they did.
"Then it was just a matter of making sure my fitness was what it needed to be. There wasn't too much time to get nervous because, you have to remember, we'd only ever get a fortnight's notice ahead of any match.
"I used to always get Thomas Moore — the man over the Laois referees — to give me a club match the week before a big game, just to sharpen me up.
"This might be unique to me, in fact I'm sure it is, but the night before a big match like the All-Ireland final, I'd take a long bath. I don't know why, but it was a habit I got into and I just found it meant I was really relaxed going to bed.
"I'd get up the next morning right as rain and be ready for the game."
Favourite memory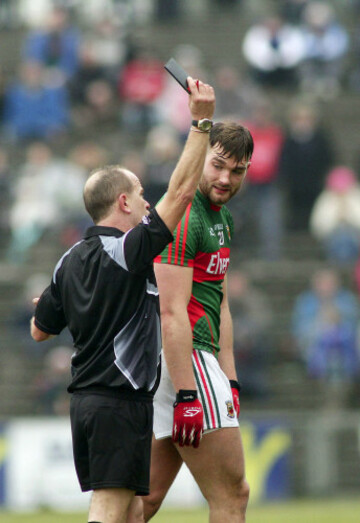 Kinsella shows Aidan O'Shea a black card during the semi-final replay in 2015. Source: Mike Shaughnessy/INPHO
Surprisingly, the All-Ireland final isn't Kinsella's favourite memory as a referee.
That honour goes to the 2015 semi-final replay between Dublin and Mayo, a match the Laois native went into under huge pressure following Joe McQuillan's much-criticised performance in the first game.
"The thing about an All-Ireland final is that half the people in the crowd aren't from the counties taking part, but in that semi-final everyone was from either Mayo or Dublin.
"There was an electric atmosphere that day and there was a lot of media coverage in the build-up.
"The first game was a hard game for Joe to referee but I tried not to let anything anyone was saying in the build-up get to me and I really enjoyed that game because of it."
Retirement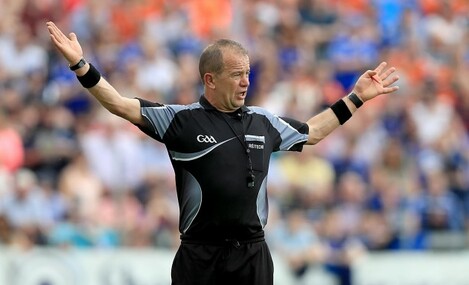 The whistleblower called time on his career last season. Source: Donall Farmer/INPHO
All inter-county referees have to retire at 50, so Kinsella put his whistle to one side in 2016 but his approach to officiating was appreciated by senior players:
However, he is still very much involved in football.
"I'm actually managing Courtwood now and we got to the Division II league final this year so it's going well.
"I was managing the whole time I was refereeing and I started out looking after the juvenile teams and had success the whole way along at U10s, U12s, U16s and minors last year.
"I actually took over a ladies team too about four years ago, St. Conleth's and we got to the All-Ireland intermediate final a few years ago so I like the managing side of the things."
As for anyone thinking about getting into refereeing, Kinsella says the key is perseverance.
"It can be intimidating, especially for the younger lads, but I think if the GAA can support them and they stick with it, they'll find the whole experience as rewarding as I did."
To mark its fifth season as sponsor of Hawk-Eye, Specsavers is offering sharp-eyed GAA fans a chance to win All-Ireland Final tickets.
All you have to do to be in with a chance to win is unlock all 32 counties in our new Look for Longer game.