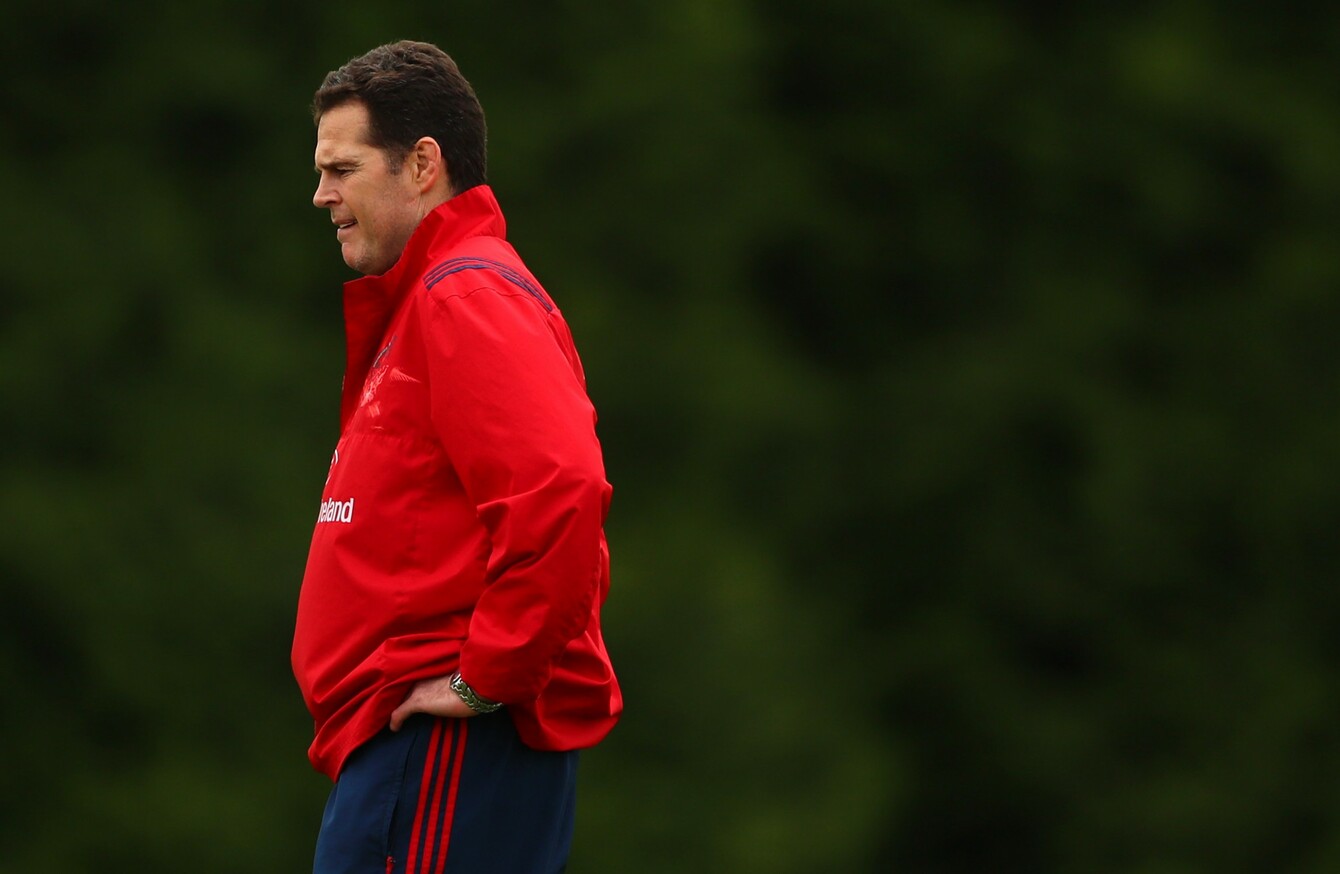 Image: James Crombie/INPHO
Image: James Crombie/INPHO
MUNSTER RUGBY ARE have a big task in replacing Rassie Erasmus at this stage of the year, according to Eddie O'Sullivan.
The South African has decided to return to his homeland instead of seeing out the final two years of his deal in Limerick.
The 44-year-old had denied reports that he was to leave the southern province after a single season in charge.
But the 44-year-old ultimately triggered a release clause meaning he will depart halfway through the season in December.
"I think the massive challenge for Munster now is to thread their way through this transition to a new coach and hold everything in place," O'Sullivan said on today's The42 Rugby Show.
"I think it's the worst possible time for this to happen to them because in most scenarios when a coach says I'm leaving in six months you say 'right, you might as well leave now'. Let's get on with the next stage.
"Munster can't do that for a couple of reasons. One, it's a very expensive exercise for Munster to let Erasmus and [defence coach Jacques] Nienaber go now. Is there a slow passing of the baton or what? That's a nightmare.
"I mean how does that work? And the point is can everything hold together around that? How does that work? And the point is, how does everything hold around it Munster are facing a massive, massive challenge in this year. How do they transition to a new coach in midseason.
"It's a very difficult thing to do without some sort of problems. Maybe they can do it. And if they do it will be a hell of an achievement."
He continued: "It's going to be hard for them to stay there with that kind of change going on and the danger for them is that they slip back they lose a season.
"Hopefully they won't but the challenge is huge.  And there is a bit of, I suppose, anger out there because now, Erasmus said in April, I'm definitely staying. And then three months later he says I'm definitely leaving.
"And the problem is, if Munster knew this three months ago they'd probably have a coach now to take over from Erasmus for the preseason. Like in fairness, Connacht have got their business done.
"It didn't help what happened last Christmas but having said that a new coach would have a preseason. That's off the table now for Munster. So I can understand the little bit of anger.
"They'll probably have to stay with him until they find somebody. But for me the big challenge for Munster is trying to thread their way through that labyrinth of coaches changing handing over of the baton in the middle of the season and try to keep everything on the field working well.
"Maybe they can do it but it's the last thing they need at the moment."
Source: The42.ie/YouTube