– Ryan Bailey reports from Rio de Janeiro 
ELLEN KEANE COMPLETED the most remarkable day for Ireland as she won her first Paralympic medal, claiming bronze in the SB8 100m breaststroke.
The 21-year-old from Dublin came home in third in a time of 1:23.07, sparking jubilant celebrations from her family inside Rio's Olympic Aquatic Centre.
Canada's Katarina Roxon, the pre-race favourite, stormed to victory in 1:19.44 while Claire Cashmore of Great Britain won silver.
"I'm a bit emotional, I think I'm a bit in shock," Keane said.
"I knew from the morning that we only had to drop one person and knew a couple of the other girls were playing it easy but I watched the video analysis earlier and Alan (Swanton) said 'you're not at a high stroke rate for breaststroke , you kind of panicked at the end going for the wall so just think 'long and strong'
"As I felt the two girls beside me go forward I was like 'don't panic, keep it long and strong!'
Source: Paul Mohan/SPORTSFILE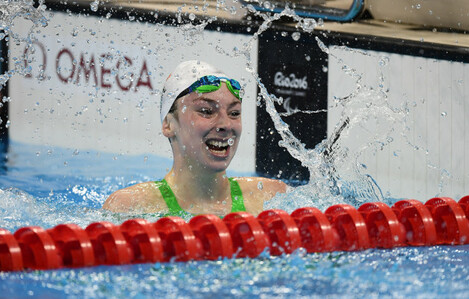 Source: Paul Mohan/SPORTSFILE
"When I finished I didn't think I'd won a medal and then I looked up and saw the three. I was looking at the numbers frantically. I couldn't believe it.
"Then I saw one of my best friends won the gold as well, I was delighted for her. In the call-room it was a bit intense, no one was talking it but just before we went out me and Kat had a hug and a kiss because I've known her all my life.
"I swam against her in Beijing when she was 15 and I was 13 so I'm so proud that she won the medal.
"I'm only 21 so I haven't even reached my peak yet. I'm actually a bit annoyed at that time because I know I can go faster but I just created my own luck there in being the most recovered."
The42 is on Snapchat! Tap the button below on your phone to add!