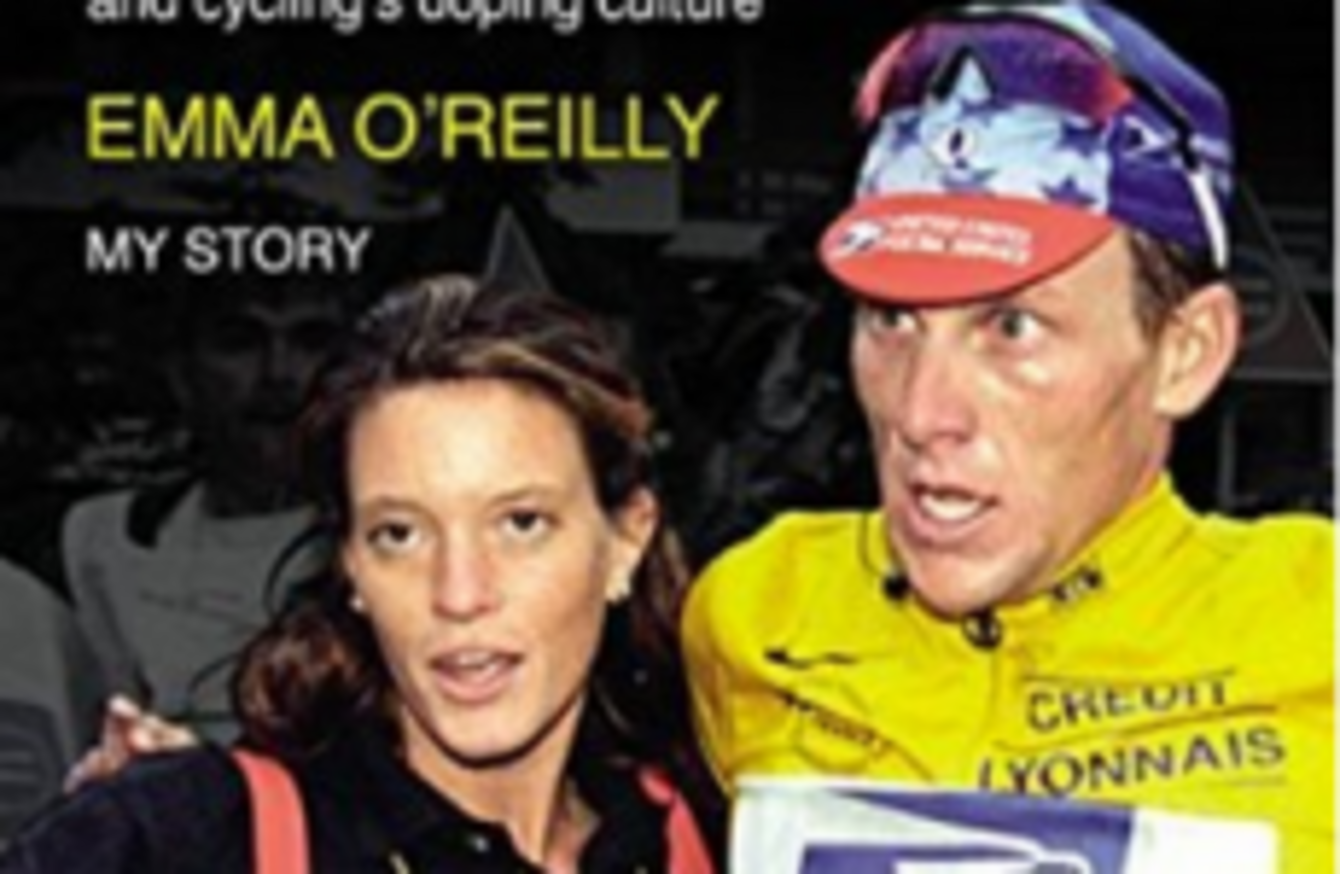 "THIS WASN'T ABOUT Lance, it was about something that was bigger than him. But that got lost in the whole message when Lance went on the attack."
Emma O'Reilly, the Tallaght-born former soigneur (personal assistant) who gained worldwide renown for being one of the earliest whistleblowers to expose cycling's doping culture, is at pains to emphasise that her story does not primarily concern Lance Armstrong — one of the many cyclists she worked with during the four years she spent as a member of staff on the US Postal team between 1996 and 2000, and who was ultimately convicted of doping largely thanks to the willingness of people such as O'Reilly to step forward and refuse to remain silent about the issue.
Yet Armstrong is inextricably linked with O'Reilly. Practically every article ever written about the 44-year-old Dubliner, who now runs The Body Clinic in Hale, Cheshire, inevitably has the disgraced cyclist's name in the headline. Moreover, Armstrong looms large over O'Reilly's new book, The Race to Truth: Blowing The Whistle on Lance Armstrong and Cycling's Doping Culture, in which she tells her story, from those early days as a teenage cycling obsessive, to her controversial departure from the sport and all the ensuing revelations and accusations and court cases that followed.
Having left the US Postal team in 2000 on acrimonious terms, she eventually agreed to be interviewed by David Walsh of the Sunday Times in 2003, lifting the lid on cycling's doping culture in the process.
Although O'Reilly was somewhat complicit owing to a willingness to tolerate these illegal activities during her time in the sport, even back then, she also clearly disapproved of these secret goings-on to an extent. Known as a "clean soigneur" in a sport riddled with corruption, O'Reilly still occasionally got herself mixed up in this seedy subculture, such as when she used make-up to cover up needle marks on Armstrong's arm, or the time she transported illegal materials on his behalf.
Having been friends with O'Reilly during her time in cycling, Armstrong turned against her once she made these much-publicised accusations, defaming her as an "alcoholic" and a "whore" in an attempt to discredit her controversial statements. Armstrong's aggressive approach was seemingly working for a while — The Sunday Times, the newspaper he sued as a result of O'Reilly's claims made in one of their articles — had to initially pay out substantial costs to the then-star of the the cycling world, while she was essentially vilified by a substantial proportion of the sport's community as a result of her actions.
With all this in mind, did she ever regret coming forward, given how bleak the situation increasingly became?
"If you'd asked me that question before the USADA report came out in October 2012, I'd have said yes, because I genuinely felt that it had actually brought nothing positive on any level," she tells TheScore.ie.
"But now, since the USADA report's come out and everything's changed, yes I would still have spoken out. I would have tried to have protected people closer to me a bit better and be less naive about it. But on principle, I still would have spoken out. I still firmly feel that it needed to be done. I don't think [the changes were implemented] because of me, but hopefully I helped the tide to turn, because something did need to be done. People were dying."
(This July 25, 1999, file photo shows then-Tour de France winner Lance Armstrong left, riding down the Champs Elysees avenue with teammates, from left, Frankie Andreu, George Hincapie and Pascal Derame — O'Reilly, not pictured, would leave the team the following year)
Rather than any desire for revenge against her former employers as had been claimed by Armstrong and others, O'Reilly says it was the cyclists whose deaths were linked with the use of PEDs (performance-enhancing drugs) that ultimately prompted her to conclude that she had no option but to speak out, in an attempt to curtail these continual tragedies. She describes how the premature deaths of cyclists such as Johan Sermon, Denis Zanette and Fabrice Salanson, all of which were allegedly linked with use of EPO, had deeply affected her outlook on the sport.
"These lads [who died] all had dreams," she says. "They all had posters of bike riders on their walls growing up. They went out and they missed their teenage years because they were training. They end up winning races, getting the pro contract, going to Europe, living the dream, and then the dream starts souring and they're faced with a difficult decision. And that's one thing I couldn't ever reconcile. That always stayed with me. I was a facillitator, and it still took me three years [to speak out]. You're helping the system [by not speaking out]. You're every bit as guilty as someone who's administering."
O'Reilly points out that she is one of the few people in this story who has been on both sides — partially enabling the continued existence of cycling's doping culture, before eventually revolting against it.
"That's probably why I was able to forgive Lance," she explains. "That whole guilt [of speaking out] had been lifted and the story has had a happy ending. I knew the absolute mayhem that was going to happen. I didn't think it was going to be quite as bad, but I knew that it was just putting heat on people in the team and these were my colleagues, people I'd shared highs and lows with and who had looked out for me.
"So I did feel so bad about speaking out — I was speaking out about the bigger picture. But it meant that some people who had been close to me were going to get hurt in it. I felt so guilty — the guilt of having spoken out and nothing good coming from it. The guilt of the pressure I'd put people under. Nothing good seemed to be coming out of it. It didn't seem to be changing cycling."
This willingness to forgive others — perhaps partially owing to the Catholic ethos that, she says, was "culturally ingrained" in her — is a recurring theme in O'Reilly's story. And whereas in the early parts of The Race to Truth, Armstrong is portrayed as someone who is not without redeeming features, Johan Bruyneel, the US Postal team's managing director at the time, constantly treats O'Reilly in a cruel manner and even fires her for no apparent reason at one point, before being forced to reverse the decision. Yet O'Reilly has even met up with Bruyneel since to resolve their differences.
(Lance Armstrong and sporting director of his Discovery team Johan Bruyneel pose for photographers on the Champs Elysees during a victory parade after Armstrong won his seventh straight Tour de France in 2006 – Bruyneel and O'Reilly were constantly at loggerheads during their time working together)
"I think it was just a personality clash. It was really interesting to go back and sit down weeks later and see him as a human being, not as my boss, just as Johan. And for me, that lunch was really enlightening, because I actually saw things from his perspective
"I kind of realised I played a part in that in what was a hugely stressful melting pot. One of the things I'd never noticed was that he had a lot of pressure to deal with too — it was just a big personality clash. It was probably a bit of a clash between his wife and I, and then it just escalated."
Similarly, she speaks with a tone of understanding when recalling how her ex-husband, Simon Lillistone, initially backed up her claims about cycling's doping culture, before refusing to do so in court.
"That was one of my low moments. I was very upset, but then I thought it's probably our different personalities, which was what also led to the breakup. So while I was awfully hurt, I thought: 'he doesn't owe me anything.' He owes himself, but he doesn't owe me anything.
"In a sense, that's why we never would have survived [in a relationship]. And he has the right to get on with his life and do what he thinks is best. If I can bring myself to forgive Lance, I should be able to do it with people close to me. And God love him, he had to put up with me for a few years [laughs]."
The book is full of such nuanced depictions, to an extent that even someone who is often regarded as one of the heroes of the Armstrong saga — the Sunday Times journalist David Walsh who spearheaded the revolt against the cyclist — is shown in a not entirely favourable light.
O'Reilly says she was badly treated by Walsh, writing: "He'd hung me out to dry — but worse than that, the publisher had even openly warned him of the impact this would have on my life and had recommended proper support. Something I feel I never got."
In light of these feelings, are the pair still on good terms currently?
"We all have strengths and we all have weaknesses, and sometimes our strengths become our weaknesses," she explains. "Everything I put down was a fact. But I've nothing but respect for David, nothing but respect for what he's done, and if I'm going to talk to a journalist, David would still be up there.
"My opinion of him is the same as it was in 2003 — this is a good journalist who writes for a good paper who has a brilliant reputation. My naivety, I feel, did lead me to being a little more exploited. But that's my naivety. Is it David's job to make me more media savvy, or is it up to me to find out? But as an outsider in the world of media, it's difficult to find out [how to operate]."
Source: RTÉ - Ireland's National Television and Radio Broadcaster/YouTube
(Walsh and O'Reilly appeared together on The Late Late Show last year following Armstrong's much-discussed Oprah interview)
While complaining of how she was portrayed by certain media outlets at times over the years and acknowledging that she has become increasingly "reticent" when being interviewed by reporters, she also speaks of encountering "some really good journalists that have put my faith back in the media". And she is similarly positive when discussing cycling itself, despite the sport's many detractors. Accordingly, she believes the UCI when they claim the sport has cleaned up its act.
"There's a huge concerted effort, I feel, having spoken to riders and having spoken to the UCI and spoken to people. I believe there's an effort on every level between the team managers, doctors, the UCI and WADA to clean up the sport. The culture is changing and I think there's an awful lot of positives now. Cycling is trying to face its demons and deal with them."
She has thus made peace with the sport that brought her worldwide fame as well as threatening to leave her bankrupt at one point, owing to the numerous court cases that her revelations prompted.
Indeed, even after the disillusionment she felt and antipathy she received from the cycling community, O'Reilly still worked up the courage and enthusiasm to attend the Tour of Britain as a spectator in 2009, while she has continued to retain an interest in the sport again ever since, cycling on a regular basis herself and attending An Post Rás earlier this year.
"I think I'd started watching the tour that summer and thought: 'awww, that's nice'. I remembered the effort that they put in, the fatigue, the sheer exhaustion and the sacrifices. I thought this stage would be killing them, or 'oh my God' look at this stage. So I could get back into it, but I still took my Doberman with me. I was still a bit nervous.
"But it was just nice to go back to grassroots cycling, which is what got me into it in the first place."
(O'Reilly remains friends with Tyler Hamilton — another member of the US Postal team who was ultimately found guilty of doping)
Therefore, despite now being 14 years out of cycling and seemingly content with her current situation, O'Reilly has good memories of her past life, and says she would have no hesitation in encouraging other women to emulate her path into the sport.
The Dubliner also still has a fondness and respect for former teammates, particularly Tyler Hamilton, who comes across as perpetually friendly over the course of the book, though she also points out that the unrelenting obsession and immense effort that characterised Armstrong's descent into infamy is far from uncommon in the sport.
"I remember, I asked one of my riders: 'What are you most looking forward to about retiring?' He said: 'Not being hungry.' Even though I'm obviously against drugs in the sport, I feel as if the hard work and the dedication that goes into it has been forgotten.
"I would always say that about any sport or any world-class athlete. I used to laugh at them and say 'lads, you've only got two dimensions.' You've got to lose a bit of objectivity to be a world-class athlete. You have to be so focused that you cannot be distracted by other things and most of us have not got the talent to be that focused on anything. They have a drive that I don't have, and I would see myself as a normal person. I think it's a talent to be that focused and to have that drive and to block out whatever needs to be blocked out to achieve your goal."
"They're all in that culture and they feed off each other. One time, I was going to a race and there wasn't enough food in the car. The journey was a bit longer and they were all complaining. There were three or four of them in the car and they were wanting this and that, so in the end, I pulled into the petrol station and gave them the team credit card and said go get what you want. It was a bit of a maternal relationship.
"So they come out of the petrol station with a bit of food, all smiles on their faces and they hand me the credit card. So I said 'lads, what do I exist on?' And at least they looked ashamed. In the real world, you don't get away with that kind of behaviour. So I sent them back into the shop just to get me a can of Coke on principle."
(Then-US Postal Service team masseur Emma O'Reilly tends to team leader Lance Armstrong, whose leg is seen, after the fifth stage of the Tour de France cycling race between Bonneval and Amiens, northern France, in this Thursday, 8 July, 1999 file photo.)
O'Reilly understands that some people will balk when she describes how Armstrong was a "deserving champion" in some ways, adding that "everybody's entitled to deal with things their own way". Yet she insists the criticism that the Texan-born athlete has been receiving of late, in comparison to other similarly culpable parties, has been too excessive.
"I had such intimate access to these lads. I saw the good days, the bad days, the highs, the lows, but I also saw the complete and utter dedication — the sacrifices they make. They've got this unrelenting desire to succeed. And I was part of all of that. So I saw them out in the rail and hail. They'd literally have to be carried off their bikes they'd be that tired. To get off their beds to come for a massage would just be one effort too much.
"I saw all of that and thought — these are lads are out there everyday, slogging their guts out. They're deserving in that sense because they have worked very hard and to a level I know I would never be able to reach, even if I had the physical capabilities. So there is an awful lot more to it than just taking drugs."
And despite all the nasty accusations the disgraced cyclist aimed at O'Reilly, the pair had a high-profile reunion last year and have spoken several times since then. Armstrong even gave O'Reilly his best wishes on Twitter ahead of the book launch, after she controversially invited him to write its foreword.
"It sounds trite but I've had an incredible, emotional journey of highs and lows… I'm sure there's probably people angry with me because I have made up with Lance," she says. "It was my idea [for him to write the foreword] — probably as much to bring closure from my perspective more than anything else. That was why I wanted him to write it. Other people had suggested [doing it], but I wanted Lance to write it.
"Before I asked him, I thought 'oh my God, what is he going to say?' But it was almost part of the journey and by him writing it, we had come full circle. Although we've fallen out and fallen in, we've known each other for a long time, even if the relationship has been adverse at times."
The Race to Truth by Emma O'Reilly is available to buy now. More info here.