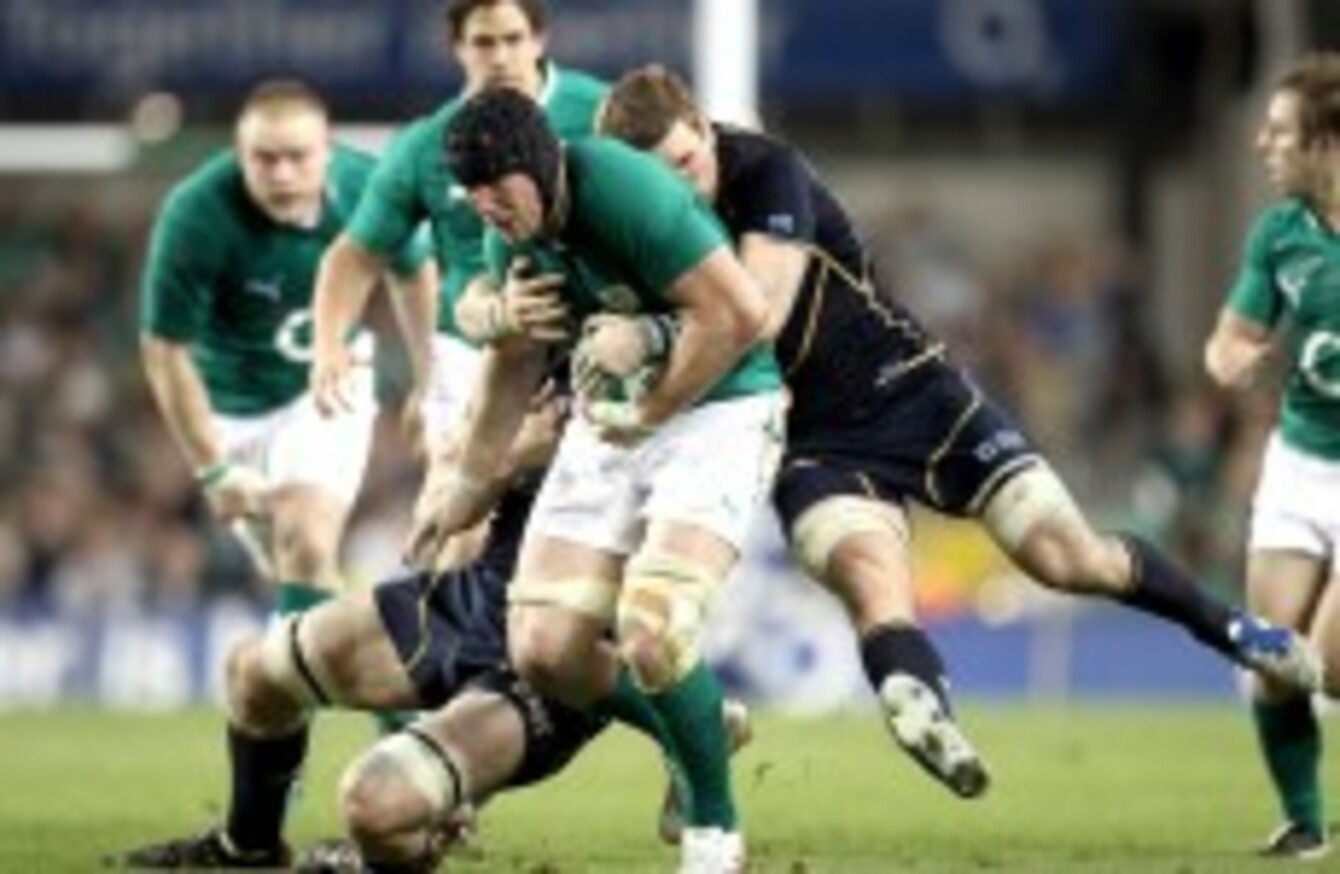 Ferris is tackled by John Barclay and Richie Gray at Lansdowne Road.
Image: ©INPHO/Dan Sheridan
Ferris is tackled by John Barclay and Richie Gray at Lansdowne Road.
Image: ©INPHO/Dan Sheridan
IRISH FLANKER STEPHEN Ferris believes his team is improving with each passing game of the Six Nations but will need an increased effort if they are to beat England at Twickenham next week.
"I've been fortunate to win with Ireland at Twickenham," he said, "and I know that you have to be on top of your game to get a result."
The Ulster man added, "We are improving week on week and are happy with our set-piece but we know England are strong there. I don't think they will concede any soft tries, like Scotland did, either.
"We have to chase the box-kicks down hard and get behind them (next week). I think Rob Kearney is going to be busy in the air again."
Ferris was one of his side's best performers as he showed great power to steal balls in Scottish rucks and make big hits on David Denton and Craig Laidlaw.
He was also on-hand as first receiver, from an Eoin Reddan pass, before setting Andrew Trimble up for his try.
I've been taking a bit of stick from the boys about popping up at first receiver," he remarked, "but it worked out again and Andrew did well to get over."
Another familiar sight for Ireland of late has been Rory Best crossing the tryline and, Ferris revealed, the captain's first-half score came from a move that Ulster have used to good effect this season.
The replacements and extended squad members finally had their say as Eoin Reddan scored a try on his first start of the campaign and Fergus McFadden dived over late in the tie. Sean Cronin called McFadden 'some man for the pick and go' and reserved particular praise for Donncha Ryan and Peter O'Mahony.
Cronin commented, "Donncha was making a lot of the line-out calls and was reminiscent of Paulie (O'Connell) in how he won so much ball and disrupted the Scots."
"It is a very satisfied dressing room and the win sets it up nicely for a huge game next week. Playing England away on St Patrick's Day – it doesn't get any bigger than that."
Cronin takes a hit from Graeme Morrison Credit: NPHO/Dan Sheridan
Scottish centre Matt Scott's debut ended in defeat but he was still trying to take in the magnitude of the occasion rather than dwelling on his team's loss.
Scott was only rewarded a professional contract by Edinburgh in January after finishing his law studies and stepped in as a replacement when Nick de Luca pulled up lame hours before kick-off.
"The first few minutes were a bit of a whirlwind," he admitted, "but I made a few tackles and gradually found my way into the game."