THE SHORTLIST FOR RTÉ Sports Person of the Year contains a host of athletes who excelled this year.
Niall Kelly revists a remarkable 12 months for double Paralympic medallist Eoghan Clifford.
Source: James Crombie/INPHO
EOGHAN CLIFFORD COULD have so easily given up or given in, could have settled for second best.
But that attitude simply doesn't enter the thinking of the Galway veteran who played a starring role in a historic performance by the Irish Paralympic cycling team in Rio this summer.
Clifford wasn't at London 2012. After all, it is only two years since the NUIG lecturer, who suffers from a degenerative muscle disease, decided that this sport was for him.
In that short space of time, he has become a force to be reckoned with, winning three world championships and then quickly collecting the first of three targeted Paralympic medals as he won bronze in the C3 individual pursuit.
As he pushed across the line with more than second to spare — no small margin in track cycling — you could be forgiven for thinking that it was all plain sailing.
But Clifford was in serious pain, an agonising knee problem flaring up to make the most basic act of his sport — pedalling — an exercise in mental and physical perseverance.
"I had a bit of a rant about the injury to my coach and pretty much told him I wanted to throw the bike into the sea," Clifford would later recall. "Anyway he stopped me and that's probably lucky for me."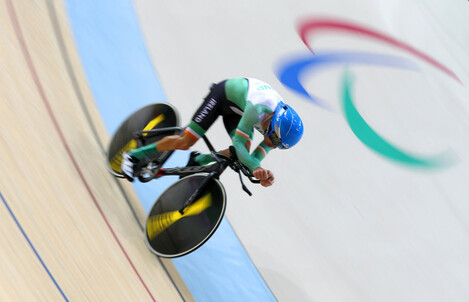 Source: PA Wire/PA Images
Five days later he was back on the bike for the C3 Time Trial. The pain hadn't gone away.
"I even rang my wife this morning saying I don't want anymore of this and she was having none of it to be honest. There was no real chance. I was always going to do this."
No giving up. No giving in. On what would become known as Wonderful Wednesday for Team Ireland, Clifford blitzed the rest of the field to win gold with a whopping one minute and eight seconds to spare.
He was barely out of the saddle when tandem duo of Katie-George Dunlevy and Eve McCrystal won their own gold medal, and Ireland finished the day with four medals in total thanks to Colin Lynch and Ellen Keane.
Not even the disappointment of the men's road race two days later — Clifford was in medal contention when he suffered a chain problem 200m from the line, and finished fifth — could tarnish the sheen of pride.
History made. A remarkable year for a remarkable athlete.
The42 is on Instagram! Tap the button below on your phone to follow us!