FORMER IRELAND MANAGER Eoin Hand believes Dundalk boss Stephen Kenny has all the credentials to become the next Ireland manager.
Speaking to The42, the 72-year-old Dubliner, who himself managed the Boys in Green between 1980 and 1985, says the man who has just guided the Lilywhites to a fourth league title in five years would be suitable for the role due to his considerable work ethic and vast knowledge of Irish football.
"I would totally back Stephen Kenny to do a very good job," he says. "I know him. I know the way he works, I know the enthusiasm he has, the knowledge he has of all that goes on in Irish football. He is acquainted with a lot of the players that are in the current squad. He's managed them. He's got experience of playing in European football.
"Stephen never stops working and working and working. I think he would do a very good job for what's needed now. Whether John Delaney would think he's not high-profile enough, I don't think that's got anything to do with it.
"He would be somebody who would really be putting himself fully into the job. I know Stephen would be going to more matches in England than Martin was, or Roy. And that's Stephen's way of working, his attention to detail.
"Stephen will pay attention to all the underage stuff as well. Player pathways through — U21s and the younger lads, he would link up with all them."
While appointing Kenny would surely increase the likelihood of League of Ireland players featuring for the national side, Hand plays down the suggestion that certain individuals from the domestic game have been unfairly overlooked recently.
You've always got the problem of players who are not full-time and playing in the lower leagues. A League of Ireland player would have to be outstanding — and the outstanding players are likely to go to England anyway or abroad.
"Our main pool of players will always come from England. I think that's historical and won't change, because it's a higher standard of football.
"It's not in any way taking away from the League of Ireland, it's just that a lot of lads are part-time and the whole situation is different for players being able to make an impact at the very highest level."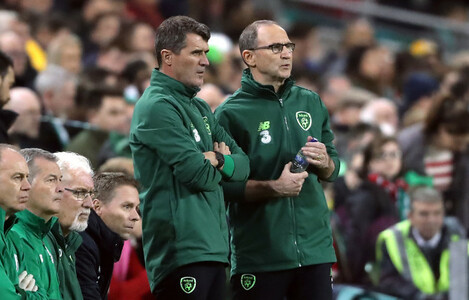 Hand was not impressed by aspects of the Irish management's style. Source: Niall Carson
Speaking more generally about O'Neill's reign, Hand feels one of the ex-Celtic and Villa boss's biggest problems was his well-documented flirtation with jobs in England over the course of his reign.
"The whole landscape changed when he was looking for the Stoke job. From then on, really, I was not too sure about his commitment. I think it was right that he should leave with Roy Keane.
I think it was handled awful, that whole thing. You're asking players to commit totally when you're not committed. That to me is a big thing, it's a huge thing. It kind of showed in the performances. Once that happened, all the genuine supporters — they'd forget it if the results were good and the performances were good and the tactical side of things looked like there was an organised plan, but there was none of that happening.
SEE SPORT
DIFFERENTLY
Get closer to the stories that matter with exclusive analysis, insight and debate in The42 Membership.
Become a Member
"He was never going to [step down from Ireland after the Stoke controversy]. The powers that be in the FAI didn't do anything. They passed no comment whatsoever other than to say he hadn't signed his contract yet. To me, it was like when somebody is married to someone and goes off with a young lass and she says 'no, I don't want you'. And he comes back and says 'she won't have me, I'll get back with you'. That's how funny it was. It was very wrong."
While enthusiastic about O'Neill's appointment initially, as with many Ireland fans and media pundits, Hand became disenchanted with aspects of the manager's style ultimately.
"I was championing him [before he took over]. I thought he'd be diligent. I thought he'd be very motivated. I thought he'd be all those things. Sadly, as it went along, that wasn't the case.
He had his spat with Tony O'Donoghue in RTÉ and Tony was just asking questions that I wanted asked, particularly Georgia away, when he said 'it's very important to keep possession in temperatures like this climate' and then from the word go, we were playing long. I thought: 'Where is the sense in this?' It totally contradicted what he said before the game. Things like that, they multiply.
"Then add in all the trouble with Roy Keane, Harry Arter and Jonathan Walters, who is a senior player whose commitment was never in question, you can't insult players. But that, I'm sorry, is Roy's style.
"Watching Ireland play in those recent games — certainly the last two, you wouldn't question the effort coming from the players, but there's a fear in the team. There are ways you can show fear and one of them is not wanting the ball. That to me was very evident, particularly when we were trying to build. There were no options and that comes about from players just saying that if I go there [I'll get in trouble].
"People were shirking responsibility. Once that sets in, it's hard to stop it.
"I genuinely feel that they were playing within themselves. They were playing with a fear and that's not the Irish way — we always play and express ourselves. That's one of the advantages we maybe have over other countries. We give it everything. We really do."
Subscribe to our new podcast, Heineken Rugby Weekly on The42, here: