RASSIE ERASMUS BELIEVES it's inevitable that Munster and Irish rugby will continue to lose players like Simon Zebo to big-spending French and English clubs.
But the departing Munster boss reckons it will not impact on Ireland or the provinces because the supply line in this country is very strong.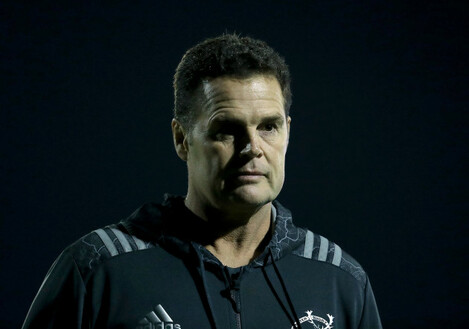 Rassie Erasmus Source: Dan Sheridan/INPHO
Erasmus praised Zebo for informing Ireland head coach Joe Schmidt and the IRFU of his intentions, rather than waiting until he was included in the national squad for the November internationals.
Zebo's new club, presumed to be Racing 92, was not going to announce it so he could have stayed silent and remained part of the Irish squad.
"That's how Zeeb's didn't want to do it," said Erasmus. "He didn't want to take the chance and get into the Irish set-up, and then tell the boys when he has got another cap or two. That's not the kind of guy he is.
"I don't think there was pressure. I think he wanted to put it to bed so he could concentrate on the season going forward and that's why he came out with it."
Erasmus said everyone in Munster was disappointed to hear of Zebo's departure, but he added that it's part and parcel of the modern game and is set to become more prevalent.
"We're disappointed but I have to take it like any other job. In any other job if you get a massive offer like that and you can look after your family… he'll probably earn in Racing in three years what he will earn in Munster in nine years.
"So it's nobody's fault. It's the way the professional game goes. It's sad. The boy's cried. He's one of our friends and he's one of the guys who's not going to play with us next year. But what can you do?
"If he gets an offer like that from a massive club, I'm telling you he'd be stupid not to take it so nobody's upset with him and he's sad to go."
Erasmus said Irish provinces and other clubs without private owners can't compete in the transfer market, and therefore need to get used to losing some of their biggest stars.
SEE SPORT
DIFFERENTLY
Get closer to the stories that matter with exclusive analysis, insight and debate in The42 Membership.
Become a Member
"I think all clubs that don't have private owners struggle because obviously there are restrictions and a lot of other things. Club players who are selected for Ireland must play in Ireland, but it seems to be different when you are playing in France. I just think if you don't have a club owner you won't have those big bucks.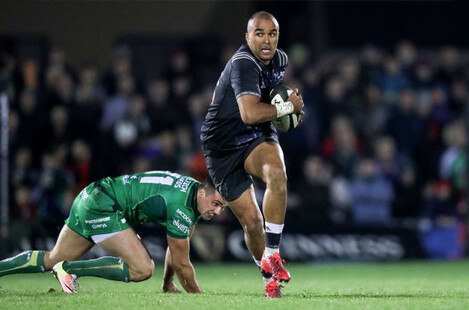 Simon Zebo Source: Billy Stickland/INPHO
"But again, Racing is currently under us in the table, they've got an owner and the big names and massive guys in their team and Munster seem to find a way to beat them. It's not the end of the world. Sometimes the tightness of a team is more important than the names on the team. But I think it's going to become a trend with all clubs that don't have owners."
But he believes that Munster and the other Irish provinces will continue to thrive even if they lose some of their biggest stars because the supply line is so good.
"Look, guys are coming through, you get the Darren Sweetnams, the Alex Woottons. Simon Zebo was also once 22, 23 and was a young upcoming star so I always think guys will come through. We've got a wonderful academy and Munster always seems to find a way every single time.
"We've got 11 players in the Irish national squad, which is great. We shall be challenged against Dragons next weekend because we will be without 11 so I think that's what makes Munster special — the guys just seem to pop up.
"I can't wait for Alex Wooton to play and yeah, Zeebs will be with us now next week and young Stevey Fitz [Stephen Fitzgerald] will be in the mix; Sam Arnold, Tyler [Bleyendaal] might be back.
"It's going to be tough. If you take our budget compared to Racing last week and you take the names in that team, you think 'how the hell are Munster going to beat that team?' But we got it right and it's the soul of the club that is really strong, and I think it always will be."
Erasmus reckons the loss of Zebo is an isolated case and doesn't think that the likes of CJ Stander and captain Peter O'Mahony, both of whom are out of contract at the end of the season, are likely to follow him out the door.
"I don't think that's a problem," he said. "I think Simon is an extraordinary talent which will fit into the French set-up. He's a player that they have been targeting for years and he is extravagant and the way they do it in France is probably a perfect fit."