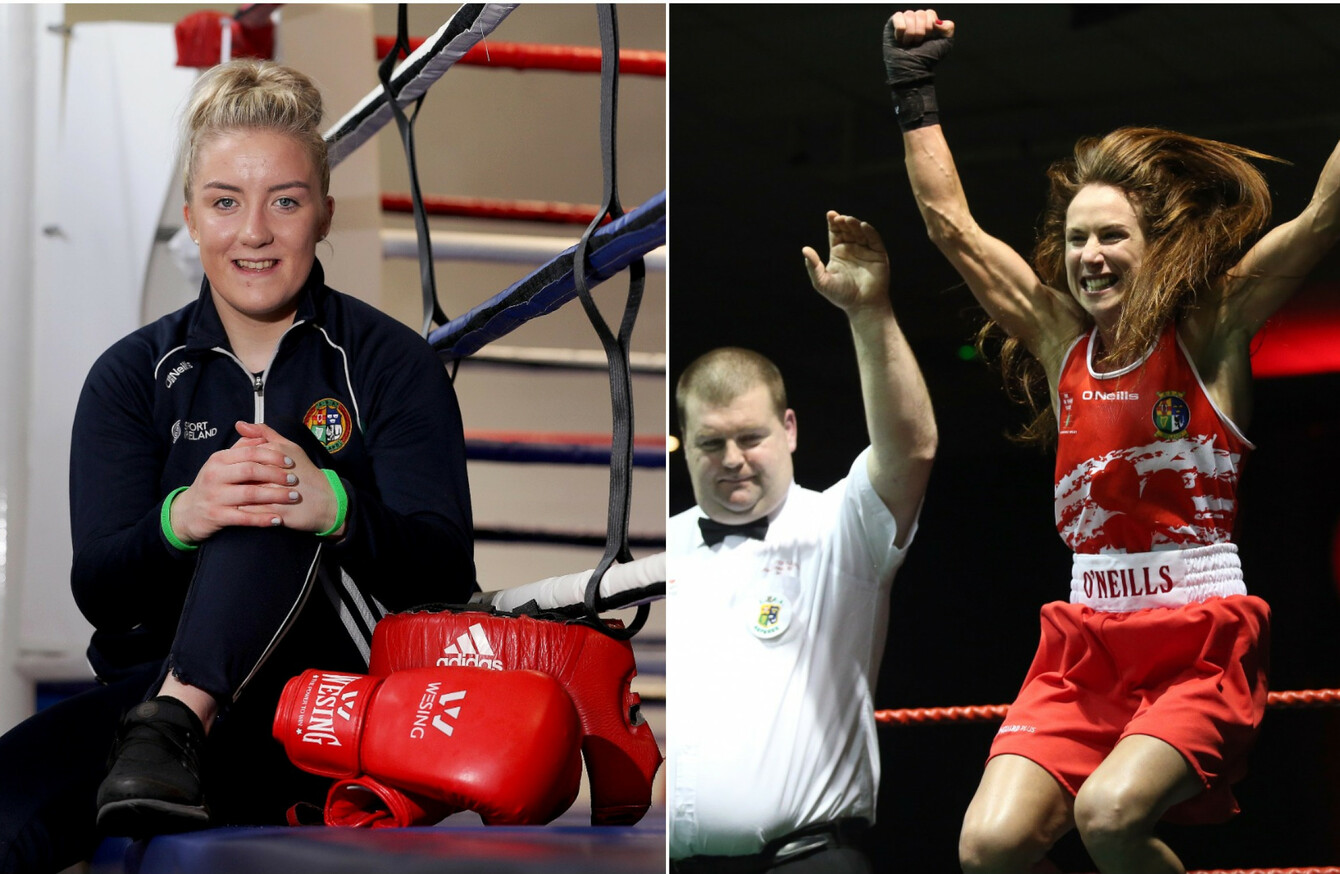 THE WOMEN'S BOXING calendar recently received a welcome boost with the impromptu return of the presumed-extinct European Union Boxing Championships, which will take place in the scenic Perugian village of Cascia next month.
Ireland will send an eight-strong team to Italy, the individual components of which can each participate in the tournament's unexpected renaissance confident of a medal finish – just the tonic for a 200km trip back to the nearest airport. It's a long road indeed, with preparation beginning in earnest at the High Performance Training Centre last Wednesday, before a trip to France for elite-level preparation this week.
With a day's training in the bank and several bottles of Volvic cast aground having been drained to within an inch of their existence, there's a natural lull at ringside in Abbotstown. High Performance Director Bernard Dunne, who calmly offered his two cents during Zaur Antia's training session, continues to engage in demonstrative conversation with each fighter as she climbs through the ropes back to ground level.
The men who trained alongside them for 90-odd minutes are finished too. Exhausted, all wait as former Shamrock Rovers star Gráinne Walsh, a former under-21 and Intermediate champion, lays waste to the pads – each thud of her fist drawing a blink from those not accustomed to such an environment. Team captain Joe Ward leads a warm-down in the adjacent ring, while Dunne watches Walsh's pad work intently, finger on lip, no sign of a blink.
The showers are hardly of the soul-searching variety, with each boxer re-emerging within a 10-minute window soon afterwards. Cork middleweight Christina Desmond is one of the first to anchor at ring's edge, and you'd scarcely need to ask a question of her to receive an answer.
"I have to try and do it on my own, though," she says, reflecting on a fruitful couple of weeks for sport on Leeside. "The hurlers have a team!"
"But yeah, I'm really looking forward to it. I'm hoping that I can make a name out here at these championships. I'm feeling good and hopefully the next three weeks go good in training and I pick up no injuries, no niggles.
"At the end of the day, it's on the day, and whatever happens on the day we'll just have to go with it. Hopefully I get the performance and that's all I'm looking for – win or lose. But the win will come if I perform."
With European and World Universities bronze medals already placed on the mantlepiece, as well as a shock victory over eventual Olympic silver medallist Nouchka Fontijn during the Rio qualifiers, it might well be argued that 'Tina' has long since made a name for herself. Her humility, however, shouldn't be dismissed as false; instead it's born of a greater ambition, as Desmond is quick to clarify.
"For me, making a name is getting gold! That's the aim for me.
"It's not even 'making a name' that I want, it's the gold I want. I know it's still early days and I'm young, but I'd like to get it now and build on it, that's really what it is. We'll see how it goes anyway.
Last year, obviously, it was all new to me so I didn't know what I was going in to. Winning a medal last year was massive for me, like. I was just after turning 20 when I won the medal, so for me that was just huge – I never expected it. Normally, the other boxers are waiting for medals years, and for me to get one in my first year was massive.
"It's kind of a small bit of pressure to say 'you've to get another one, you've to get another one', but I'm not looking at it that way. I just want to give my best performance at every tournament and come out with the best I can possibly do. The aims are high and the goals are high, but we'll take every fight as it comes."
Crucial to Desmond's development, she believes, is the €12,000 funding she received for last year's podium finish in the Europeans. While it's hardly a life-altering sum in itself, it has offered the Macroom middleweight the peace of mind that she has cemented her place in the High Performance Unit.
Such assurances go a long way when the Fr Horgan's fighter heads up the M50 in pursuit of her pugilistic dream.
"It feels like the High Performance is backing me now," she says. "Last year I was only brand new on the team and I didn't know whether I was coming or going. I was new to the trainers. I really feel they're after backing me and helping me. I feel I've got full confidence going out there.
The funding did help. I'd like to get on the higher levels of it, but I know it's going to take time. As I've said, I'm young, but I'm willing to wait around, I'm willing to put in the effort to get it. All I want is to be treated fairly like the men.
In that regard, amateur boxing – for all its recent woes on this island – has become the yardstick. Newbridge's Dervla Duffy is experienced enough to remember a time when the women trained separately to the men, as remains the norm for the majority of sports in Ireland.
Under Bernard Dunne's regime, however, not even sparring recognises gender. The benefits are plain to see, according to the two-weight Irish Senior Elite champion.
"That would be sort of new. On and off the last year we were mixing with the lads, but we didn't ever really spar them that much. But more recently, yeah, there's been more of a mix. And it's better; you gel better as two teams together, and learn more about each other.
And you pick up things from the lads! Even just… You could be beside a guy on the bag and watching him, and he could throw a shot that you might never have thought of before. And you just pick it up. So, you pick up so much from working together, and I think it's very beneficial to be training with the guys. It's important.
Unlike Desmond, Duffy doesn't have the safety net of funding when taking time off work to train in Abbotstown. It would take more than that to inhibit her from bettering herself in a High Performance environment, however. At 34, the reigning Irish featherweight champ has played the long game waiting for such a setup to be implemented, and remains rightly hellbent on honing her craft under career-best conditions.
"I've been here now, on and off, for a few months," she says. "I'm not funded so I obviously work. I drive up and down but I don't stay here – I live in Straffan.
"I really think the facilities are amazing compared to the old High Performance over at the Stadium. The strength and conditioning is great, we have more coaching staff, the food's here on campus, we've got nice rest areas.
"You feel more like an athlete, I suppose. You feel equal with these other teams."
And it's the HPU which keeps Duffy in tune during barren spells where fights are concerned. Back in February, she cast friendship aside in besting Moira McElligott, a Kerry native fighting out of St Michael's BC in Athy – a Kildare derby, of sorts.
Since then, however, she's had just two outings – at a tournament in Denmark and on an exhibition show in Monkstown. She remains unperturbed by her relative inactivity, however, maintaining that Abbotstown is a sufficiently competitive environment.
"You do find it harder to get fights, but you definitely feel a lot sharper when you're training up here.
"You're in the zone, because you're constantly surrounded by athletes the same as yourself, and everyone is focused towards one goal.
On bad days, everyone supports each other. That might be cliché, but it's actually so true. It can lift you up. And you just see the best of the best, like Joe Ward; there's days when they're not feeling it as well.
August will bring about Duffy's second EU Championships, and she'll be looking to go one better than her near miss in 2014. Optimal preparation, she hopes, will reap reward in central Italy.
"I was at one before in Hungary, and I got just beaten for a medal by France in what I felt was a very unfair decision. Hopefully this year it'll be different!
"We're going on a training camp in preparation for that in France, before we go to Italy. We'll be away a long time, but we'll get great sparring; these girls who we'll be preparing with out there will also be going to the EUs, so you get to see where you're at. But it is hard. By the end of it all, you're ready for a little holiday! But the men always do it, and it seems to work for them, so it's nice that they're doing it with the women as well.
"If you're just training with your club and going away to fight for your country, even as a team you don't know each other. You don't know the coaches even that well. But here, we're working with the High Performance Coaches every day; they're going to be in our corner when we go to these championships.
You feel better prepared, you know your body better because you're doing the same things every day. They're correcting your mistakes, they know, 'Okay, this is Dervla getting in now. We know what way she boxes, we know her style'. Whereas if they're not used to working with you, it could take them a round before they think, 'Oh, yeah, actually, she's a fighter', or 'she's better as a counter-puncher'. Here, they know you before you get in there [to the ring].
"It's of big benefit to be here, working with these guys."
Sat a ring down from Duffy, Irish light-flyweight champion Kristina O'Hara has just finished her first ever training session on the new campus, and is of a similar persuasion to her older teammate.
"Obviously every boxer wants to improve," she says, "so I'm improving every day – learning new things every day. I'm going hard at it in the gym, so I feel as if I'm improving every time I step through the ropes. Today is actually my first day here, and you know what, it's absolutely beautiful. It's a great setup."
The former underage standout would have been preparing for next year's Commonwealth Games but for the EUBC's decision to resurrect the EU Championships, and to say she's undaunted by the more immediate task at hand would be an understatement. Indeed, she maintains that such is the talent in this Irish team, nobody should be.
"They just came out of nowhere! But we'll train and give it a good go for these EU Championships, and hopefully we all come back with a gold medal – that's what everybody wants as a team. We'll push each other on, and once that's done, we'll start looking forwards again towards the Commonwealth Games.
"I actually went to the Europeans a few years ago at Junior, and won a gold medal. And again at Youth level I won silver. So this will be my third time, but my first international as a Senior. I just want the gold medal."
It's neither an uncommon theme nor a common team.
The42 is on Instagram! Tap the button below on your phone to follow us!