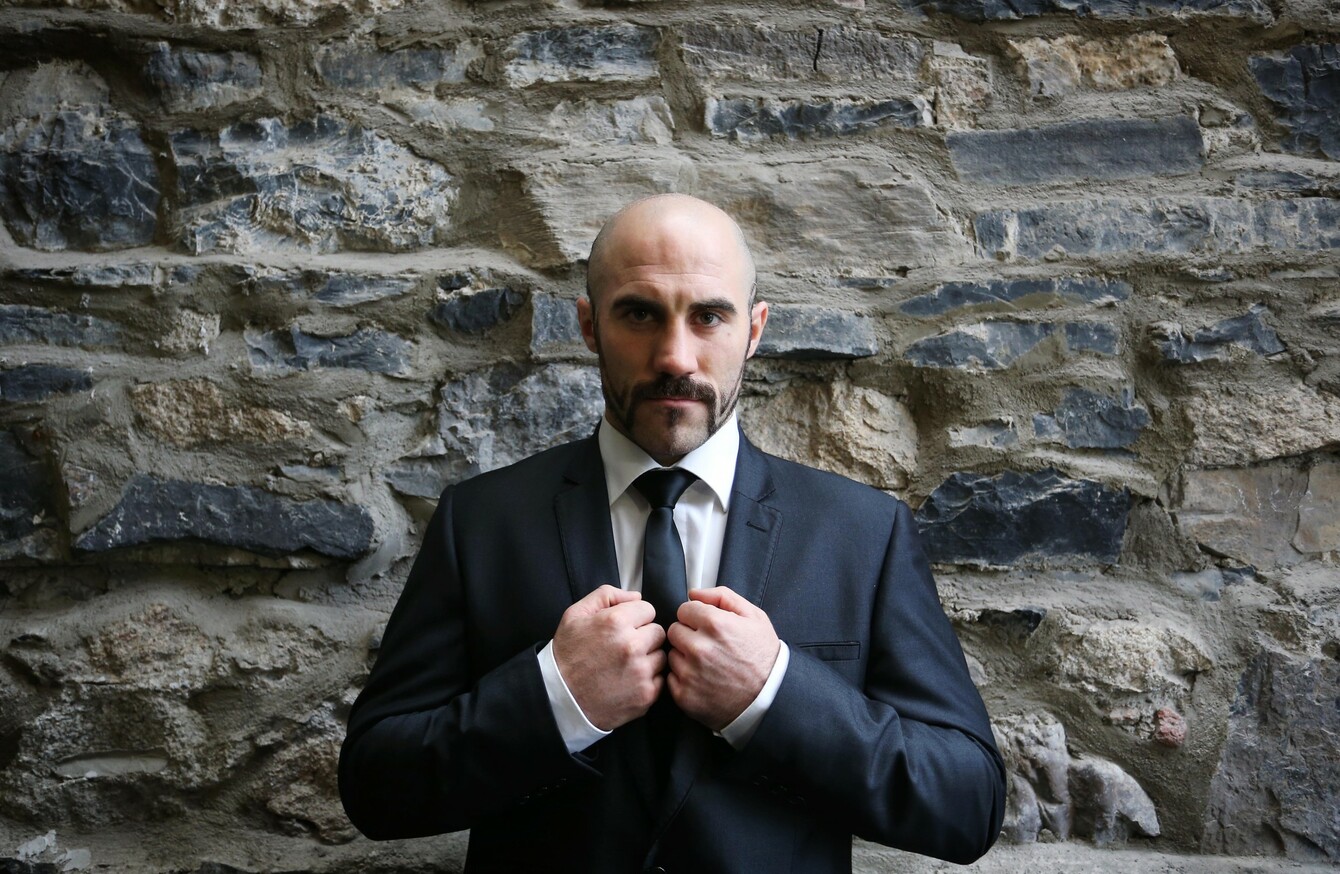 O'Sullivan fights Chris Eubank Jr on Saturday night.
Image: Clive O'Donohoe/INPHO
O'Sullivan fights Chris Eubank Jr on Saturday night.
Image: Clive O'Donohoe/INPHO
IN THE aftermath of his loss to Billy Joe Saunders two years ago, Gary 'Spike' O'Sullivan cut a dejected figure. The Cork middleweight did not so much struggle for words but he was clearly eager to strike a delicate balance in analysing his first, and so far only, professional defeat.
Speaking to Irish reporters in his dressing-room at London's Wembley Arena that night. O'Sullivan did not want to appear to be making excuses, but at the same time he attempted to articulate the reasons for a lethargic display which had seen him dominated – if not punished – by the fleet-footed Saunders.
'Rusty' was the main word that stood out after what was O'Sullivan's first fight in 14 months. Since then, however, he has revealed that he suffered a ruptured ear drum in the second round of the bout and the Mahon middleweight has become quite succinct in his assessment of that performance.
"It was an easy night for me, but I just done fuck all," says the 31-year-old, who carries a record of 22-1.
The loss could easily have marked the end for O'Sullivan as a 'contender' as he would spend another 11 months out of the ring as his promotional agreement with Frank Warren failed to flourish.
Instead, 'Spike' and his trainer Paschal Collins rebuilt his career, signing a new promotional deal with Ken Casey of the Dropkick Murphys and bookending a career-highlight knockout win (below) over Dublin rival Anthony Fitzgerald at Dublin's 3 Arena with a series of Stateside wins over middling opposition.
Source: Irish Boxing/YouTube
On Saturday night, he returns to the big stage as he takes on another long-time rival, Chris Eubank Jr, the son of the former world champion in a support bout to the heavyweight clash between Anthony Joshua and Dillian Whyte on the Sky Box Office pay-per-view card.
"Definitely, there was times I had doubts and even considered packing in boxing but I'm a believer in what's meant to be won't pass you by and I persevered eight years now through some shit, lean times in every sense," says O'Sullivan, who turned pro in January 2008.
"I never thought I'd get anywhere like fighting in these big arenas. Given my history and what's happened through my life and career, it's amazing  to be fighting in venues like the O2 and the 3 Arena," he continues.
"It's a dream come true for me now to be fighting Eubank. The first pro fight I went to was Collins-Eubank and to be fighting his son on Sky Sports is dreams come true."
The meetings of Steve Collins and the elder Eubank have been obvious nostalgic touchstones for the promoters and fight fans in the build-up to this bout, particularly considering O'Sullivan's connections to trainer Paschal, brother of the victorious fighter in those 1995 contests.
Collins infamously played mind games throughout the build-up to those fights, but the rivalry between O'Sullivan and Eubank Jr has been hallmarked by a war of words as the pair have traded insults on social media and at press conferences.
Their Twitter spats have attracted such attention that it has somewhat overshadowed the WBO world title meeting between Ireland's Andy Lee and Saunders next weekend, on Saturday, 19 December, and Lee has derided the O'Sullivan-Eubank bout as lacking in quality when compared to his showdown, much to Spike's irritation.
"I was disappointed, but I can understand where he's coming from also because he's the world champion and after all his fight is a world-title fight and our fight is getting more attention," explains O'Sullivan. "It takes a lot more to be a great fighter, there's more to boxing than that [fighting]. You've got to have a lot of things. You've got to have charisma and put bums on seats, which hasn't been a problem for us."
O'Sullivan has no interest in replicating the absorbing 12-round distance fights that Collins and Eubank Sr produced and the Cork man predicts an early finish against Eubank Jr (20-1), who has gained a reputation for starting slow and fighting at a lackadaisical pace.
Intriguingly, O'Sullivan's confidence is based on insight provided by Saunders, who became a sparring partner and friend after their 2013 fight before the Englishman went on to defeat Eubank last year.
"He (Eubank) has never been hit as hard as I'm going to hit him and I believe I will take him out at some point and that'll be it for him," says O'Sullivan. "Billy Joe has been in with both of us and he openly admits to me that I'm a far harder hitter than he is when we've sparred. He (Saunders) said he'd have a bet with anybody that I'm going to knock Eubank out."
Much like his fight against Saunders, this represents a crossroads moment in O'Sullivan's career. Win, and he guarantees himself a big-money shot at Brooklyn's  Danny Jacobs, who holds a lesser version of the WBA world title, while a unification bout against compatriot Lee could also be a possibility down the line. Lose, and he faces another laborious rebuilding process.
Despite being the underdog, Spike does not plan on offering another disappointing post-fight analysis to the media on Saturday night.
"I'm ready to flatten Mr Eubank," he says. "We're here now and what's meant to be won't pass me by. I'm going to become the middleweight champion of the world – it's my destiny."