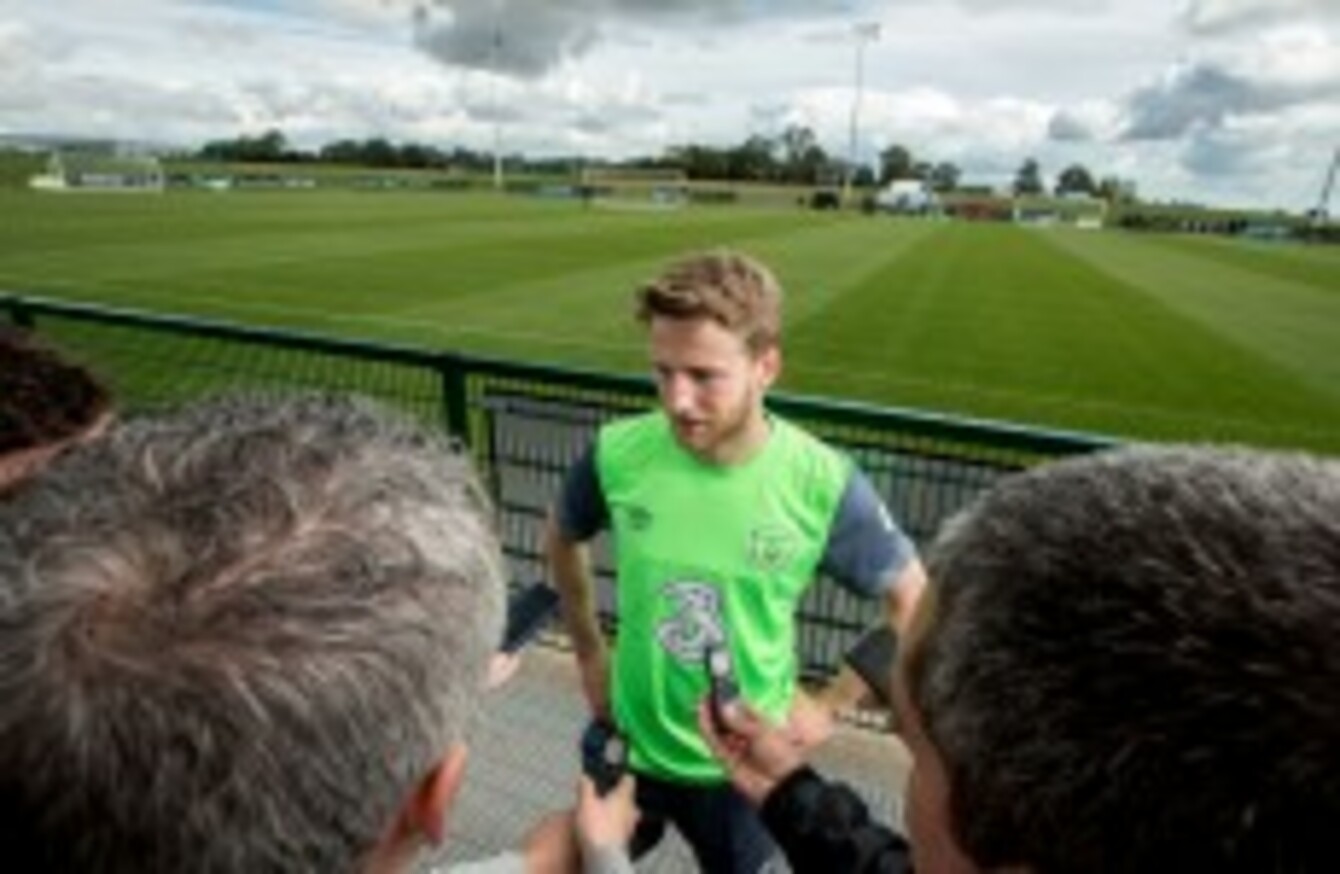 O'Kane taking questions from the media at Abbottstown.
Image: James Crombie/INPHO
O'Kane taking questions from the media at Abbottstown.
Image: James Crombie/INPHO
IT HAS BEEN a whirlwind month for Eunan O'Kane but Ireland's latest recruit appears to be taking it all in his stride.
The 25-year-old midfielder only made his Premier League debut for Bournemouth on the opening day of the season but impressed for the newly-promoted Cherries and manager Eddie Howe has started him in each of the three games since.
Those performances, including an assured display at Anfield, prompted Ireland boss Martin O'Neill to call his fellow Derry native up for the first time ahead of the Euro 2016 qualifiers against Gibraltar and Georgia later this week.
"Most of the lads played a lot of football at the weekend so Monday was a recovery day for us and we didn't do a lot," O'Kane said at Ireland's training camp in Abbottstown. "Today it was good to get into things and train properly for the first time.
I wasn't overawed by everything but the standard is definitely high. I don't think it's a big jump in terms of the standard that we have at Bournemouth and in the Premier League."
A former youth team player at Everton, O'Kane returned home to sign for Coleraine as a teenager before joining Torquay United in 2010. Two years later, a switch to then League One outfit Bournemouth followed and he has made 105 appearances for the Cherries on their remarkable journey to England's top flight.
Ironically, it was an injury to team-mate Harry Arter that has handed O'Kane his chance to shine for club and country.
"Obviously there is one less person to compete with for Bournemouth and at this level," O'Kane said. "It's not ideal for Harry with his injury as we want him fit.
"For myself, it's an opportunity and something that the manager at Bournemouth feels I've grasped with both hands. Hopefully by the end of the two games, the manager and the staff here will feel I've taken advantage as well."
O'Kane's international career could have been very different. He represented Northern Ireland from U16-U21 level before the Republic came calling in 2011 but says he is glad how things panned out.
"I wouldn't say that it was always (the Republic of) Ireland," he admitted. "I just wanted to play football and I wanted the opportunity to play at international level.
"When it came to the time to make a decision the route that I've taken has proved to be the best one. It's a decision at this point that I'm very happy with and that I'm glad I made.
"To be honest, I didn't," he replied, when asked if he had looked for advice from any fellow footballers before making the switch. 
"The decision is very personal to each individual and it's something you have to make your mind up on yourself. I don't think anyone other than your family or people that are close to you can influence that decision or give you an opinion on it."
Now a fully-fledged member of Ireland's senior squad, O'Kane plans to cement his place in the senior set-up and maybe even earn his debut in the near future.
"t's a great opportunity to come in and introduce myself to the squad and to him. If I can do enough in the next few days and get some playing time but if not then hopefully I can get myself into further squads and to give myself that opportunity in the future."
The other players have been making him feel at home already this week but his nerve will be tested when he is asked to continue the tradition of singing after dinner.
"Everyone has been very welcoming at breakfast, dinners and everything like that," he explained. "They have all been very friendly, asking questions about how I am and if there is anything I need. They've been friendly when it comes to the initiation as well."
Thankfully, he's got a song in mind.
"I think Kenny Rogers' 'The Gambler' is a safe bet as you don't really have to sing too much."