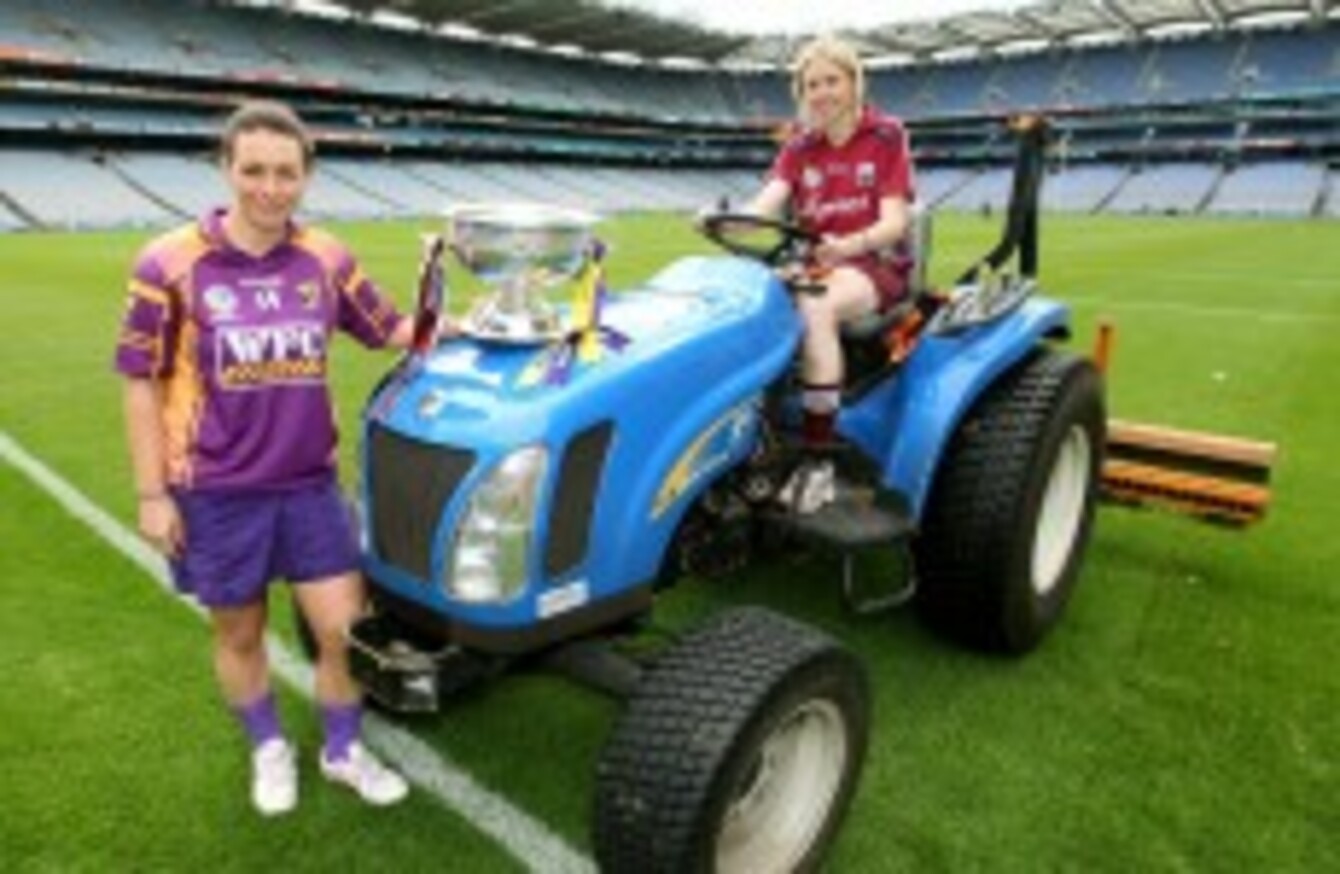 The sides, who are captained by Ursula Jacob (left) and Brenda Hanney (right), meet each other later today.
The sides, who are captained by Ursula Jacob (left) and Brenda Hanney (right), meet each other later today.
Who's playing?
Galway will be taking on Wexford in the final of the competition.
Where can I watch it?
If you don't have a ticket for the game in Croke Park, you can watch it live on RTÉ Two at 4pm.
How long has the competition been in existence for?

The competition has been in existence since 1932, with Dublin holding the record for the most wins (26), followed closely by Cork (24). The current holders of the trophy are Wexford, who defeated Galway 1-12 to 1-10 last year. The sport's popularity has been increasing ever since the final was first broadcast live on television in 1998.
Which players are on show?
The line-ups are as follows:
Galway: Susan Earner; Therese Manton; Sinead Cahalan; Lorraine Ryan; Ann Marie Hayes Therese Maher; Heather Cooney; Niamh Kilkenny; Ann Marie Starr; Noreen Coen, Martina Conroy; Aislinn Connolly; Tara Ruttledge; Brenda Hanney (captain); Veronica Curtin.
Wexford: Mags D'Arcy; Claire O'Connor; Catherine O'Loughlin; Karen Atkinson; Noeleen Lambert; Mary Leacy; Aoife O'Connor; Deirdre Codd; Josie Dwyer; Kate Kelly; Una Leacy; Michelle O'Leary; Lenny Holohan; Ursula Jacob (captain); Katrina Parrock.
How did the teams reach the final?
The camogie All-Ireland championship is organised differently from the hurling and football championships. Eight teams compete in a mini-league, playing each other once, with two points being awarded for a win and one point given for a draw. The teams who finish in the top four then advance to the semi-finals. Unsurprisingly, Galway and Wexford finished first and second respectively and advanced to the semi-finals, along with Cork and Kilkenny.
Galway and Wexford played one another in the league last June, with Wexford suffering their one defeat of the championship, as they were hammered 2-14 to 0-9. Galway also lost only once, when they were beaten in equally comprehensive fashion by Cork – losing 2-14 to 0-8. However, despite these losses, the two sides advanced from their respective semi-finals in a relatively comfortable manner. Wexford beat Cork 2-11 to 1-9, while Galway beat Kilkenny 2-13 to 2-7.
Who are the key players?
Galway's Veronica Curtin will need to have an impact on the game if her side are to prevent Wexford from securing their second All-Ireland title in a row. The two-time All Star certainly has the experience to make the difference, having featured in both the 2008 All-Ireland final and the 2009 All-Ireland club final. Meanwhile, Kate Kelly is arguably Wexford's star player, having received an All Star Award on three occasions (2004, 2006 and 2007). She also played an integral role in her side's success last year, particularly in the semi-final against Kilkenny, in which she scored twice.
What are the odds for the game?
Despite losing to Galway earlier in the year, Wexford are slight favourites, owing to the experience gained from winning the competition last year. However, expect a closely-fought encounter, as the odds indicate: Wexford are 2/5, while Galway are 9/4.