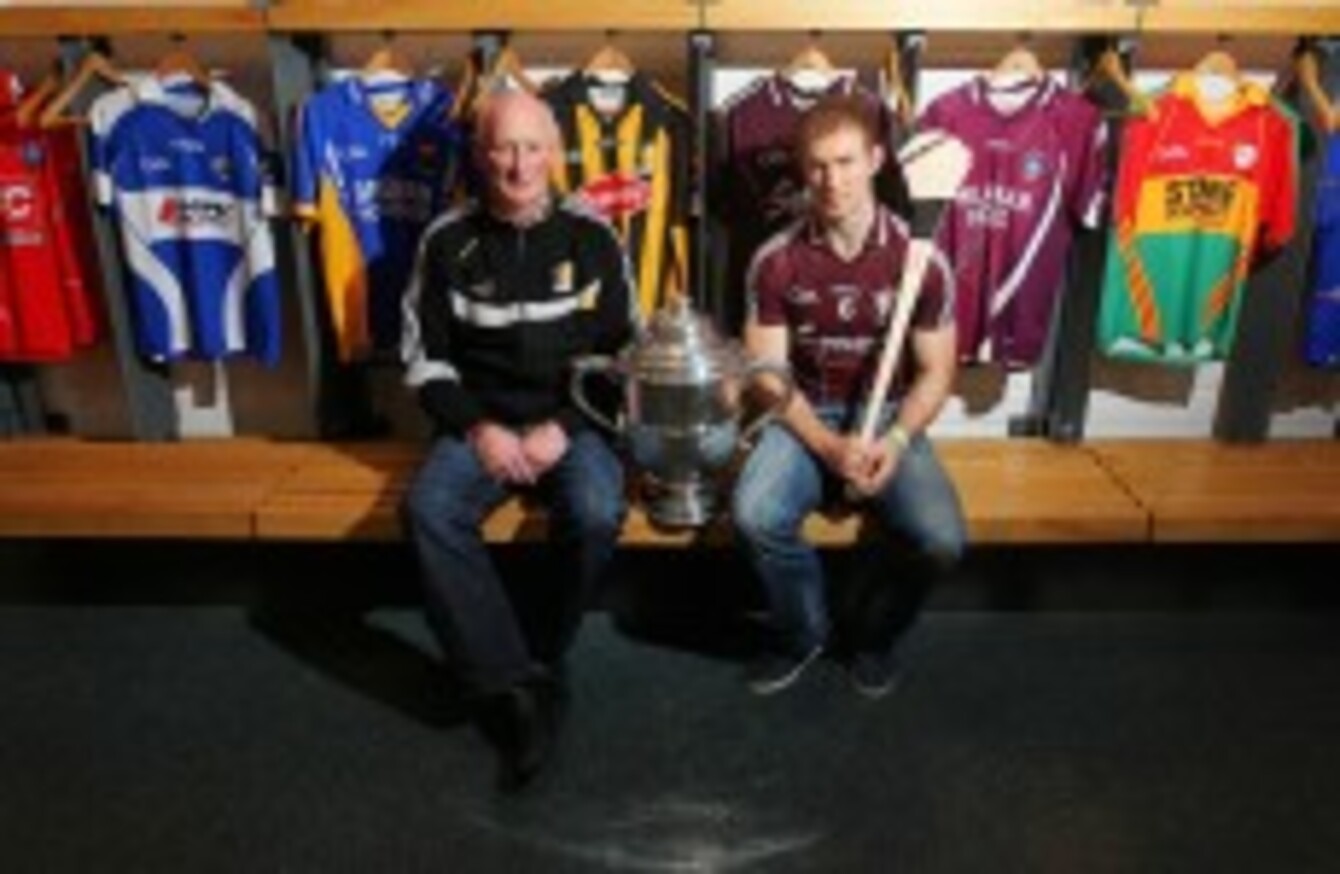 Tony Óg Regan and Brian Cody ahead of Sunday's Leinster decider.
Image: INPHO/Lorraine O'Sullivan
Tony Óg Regan and Brian Cody ahead of Sunday's Leinster decider.
Image: INPHO/Lorraine O'Sullivan
IT'S SEVEN YEARS since Galway claimed the scalp of Kilkenny in the entertaining rollercoaster ride that was the nine-goal All-Ireland SHC semi-final that season but days of glory against the Cats have been a scarce commodity since then for the Connacht oufit.
Tony Óg Regan is in a minority in the Galway camp these days as a survivor from that 2005 success. Next Sunday's Leinster final offers the latest chance to replicate that particular victory. But it's not an experience that Regan will be drawing on given the huge turnover in personnel that the Galway setup has seen in recent years.
"I think we have maybe three off that panel so I don't think it has any bearing whatsoever. If you're relying on confidence from seven years ago I think you're in a losing battle straight away. There's probably about six or seven U21′s starting next Sunday and out of our panel we have 20 or 21 lads under the age of 21. It's a huge changeover."
Helping to facilitate that transition for Galway was the appointment of Anthony Cunningham as senior manager last autumn, a man well-versed on the capabilities of those underage stars.
"I would have heard a lot of positive things about him with the U21 lads over the last couple of years," says Regan. "It's my first year working under him and I've been very impressed. There's a good freshness to it there now. The young players weren't overawed coming into a senior set up because there were so many of them around there from the U21′s."
Of further assistance to the players development is the regular schedule of games that Galway get at senior level these days. In comparison to previous seasons when the 28 year-old began his senior career, Regan is part of a squad now preparing for their third championship game of the summer by early July.
"From a players' perspective, we're delighted to be coming into the championship in early May as opposed to July. It doesn't take as long then to get up to championship speed so definitely the players would be looking to stay in Leinster. Now we're going into our third game and we should be close to our best."
Still Regan pinpoints a lack of consistency in Galway's play and the amount of goals – seven – that they have shipped in their first two championship games as areas of concern.
"The last couple of years we've probably produced one or two good displays and then the next thing we're down in our consistency. It's probably over the course of the 70 minutes that we need to play for longer and better spells rather than just doing it for 25 minutes. We need to have a really good spell for 50, 60 minutes to be winning the big matches. It was a basic lack of concentration when it came to conceding goals this year. At inter-county you just can't afford to do that, as they'll punish you."
And there is no better team to capitalise on opponents mistakes than the Kilkenny side that Galway will face next Sunday.
"That is the big threat playing Kilkenny," admits Regan. "They have the capabilities to hurt you from any area of the field. So we are really going to have to put in a huge defensive display to try to stop goals going in. We will need to brush up defensively on our first two displays next Sunday. Judging by the League final and their performance against Dublin they seem in rude health again. They have been very dominant and we're not the only team that are trying to catch up with them."