WHAT ELSE COULD I possibly do with £14 million?
Maybe I should spread it around instead of letting Robin van Persie hog every last penny.
For that kind of wedge I could take Ricky van Wolfswinkel and Iago Aspas on board.
Hmm… That'd stop me having to come up with five reasons to have faith in the finishing of Aaron Wilbraham – I'm on three so far: 'I heard of him last season, it might happen and, eh, someone has to score for Palace'.
I don't think I'm alone. We've all seen them on the way to work. Men who transformed over the summer into fit, sharp, clean-cut high-achievers.  This week they've regressed again, staring blankly into their phone while wearing yesterday's shirt and the day before's stubble.
It's what has kept us all awake in the fortnight since first venturing back onto PremierLeague.com and poring over names, prices and last year's points.  If it wasn't for the wildcard, we'd probably have worried our way into an early grave at this stage. What does it all mean?
I'll tell you what it means: It's a test of intelligence, mental strength and agility. Often, it's literally the reason we get up in the morning (if that morning is Saturday).
Kevin flippin' Nolan
No, (no matter what your significant other says) fantasy football is not just some silly little game. It's the difference between a happy, contented weekend and being tortured by your mate who for some reason made Kevin Nolan his captain an hour before he went out and scrounged a hat-trick. Jambag.
So here's to you, intrepid fantasy football gaffers. The boys and girls who make it up as you go along, lose hair and sleep over your weekly transfers and still can't decide whether RVP will give you better value than Alvaro Negredo and Nathan Delfounso combined.
After heated debate, and a bit of hair-pulling, here are the chosen few brave Premier League footballers we've decided to put our faith in this week.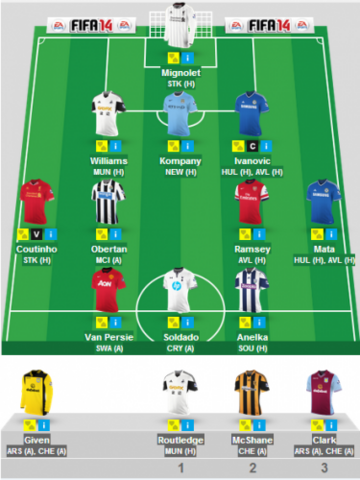 Join TheScore.ie's Premier League Fantasy Football League using this code: 800052-191374; http://fantasy.premierleague.com
Let us know your own predictions below.