EXCITEMENT IS BUILDING for the return of the Premier League and with it, the world's most played and loved fantasy game — the Fantasy Premier League.
Over three million people signed up to play last year and they've pulled out all the stops this season with the addition of some interesting new features. Accompanying the usual wildcard will now be three new 'chips' that can be applied once in the season.
Lets's take a look at each of these new features and analyse how they might affect your usual strategy and game-play.
Changes to the Wildcard
Don't worry, the wildcard feature — which allows a manager to make unlimited transfers without conceding any points deductions in a game-week — is still there for the new season, but there has been a small change in when you may be allowed to play it.
For the last few years, managers were allowed a wildcard during the month of January as well as a general one, which you could play at any time. This year we are given two wildcards, one for each half of the season. So, the deadline for the first wildcard is the 28th of December and the second wildcard can be played from the 29th right up until the end of the season.
Now, managers will have to ask themselves whether they should use their second wildcard to give their team a boost around February-March or wait until the last few weeks of the season to mount a late charge.
New 'Chips'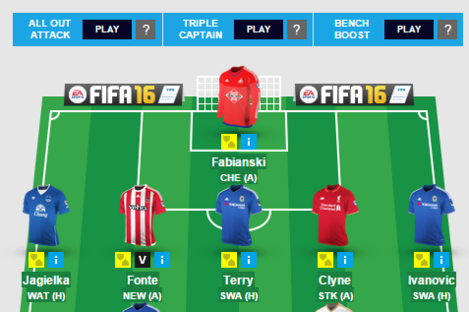 #1. All Out Attack
Managers are normally allowed to start no fewer than three defenders but the first of our new 'chips' allows you to line up your team in a 2-5-3 formation for one game-week of the season.
This chip will be most beneficial if used in a double game-week to provide you with an extra attacking option. There is one thing you should keep in mind when you're considering when and how to play this chip, however. If you're making out your team and you like to put a cheap player that you're not really planning to use in your fifth midfield slot, you'll have to shuffle things around in the weeks before you're planning on playing your 'All Out Attack'.
#2. Triple Captain
The simplest of the newest features is the 'Triple Captain' chip. Once a season you can pick a game-week where your captain will have his points tripled rather than doubled.
The choice of captains has always played a huge role in the success of your team and this new feature only makes it more crucial. Like the 'All Out Attack' chip, the smart move is to wait for a double game-week to play this chip. Keep in mind, however, that you cannot play more than one chip in a single game-week.
As per usual, if your captain doesn't play that week the bonus will be transferred to your vice-captain. BUT, if your vice-captain doesn't play either than your chip will be applied to nobody and you'll lose it.
#3. Bench Boost 
We've all been there, you're watching Jeff Stelling and the lads on Soccer Saturday and you see some random defender or midfielder has bagged a goal. Then there are the nervous few seconds when you begin to doubt yourself, you rush to check your team and discover that you've left him on the bench. Heartbreak.
The 'Bench Boost' chip allows you to accumulate points from not only your first eleven but, the entire squad. This chip is ideally suited to combine with a wildcard and have the best game-week of your life, all things going to plan….which they never do.
This chip can probably be the most effective if you use it right. At the back end of the season, due to cup games etc, there will be plenty of double game-weeks where several teams have multiple games. Potentially, this chip could make a huge difference in the run-in for your league title.
Are you a fan of the new features?