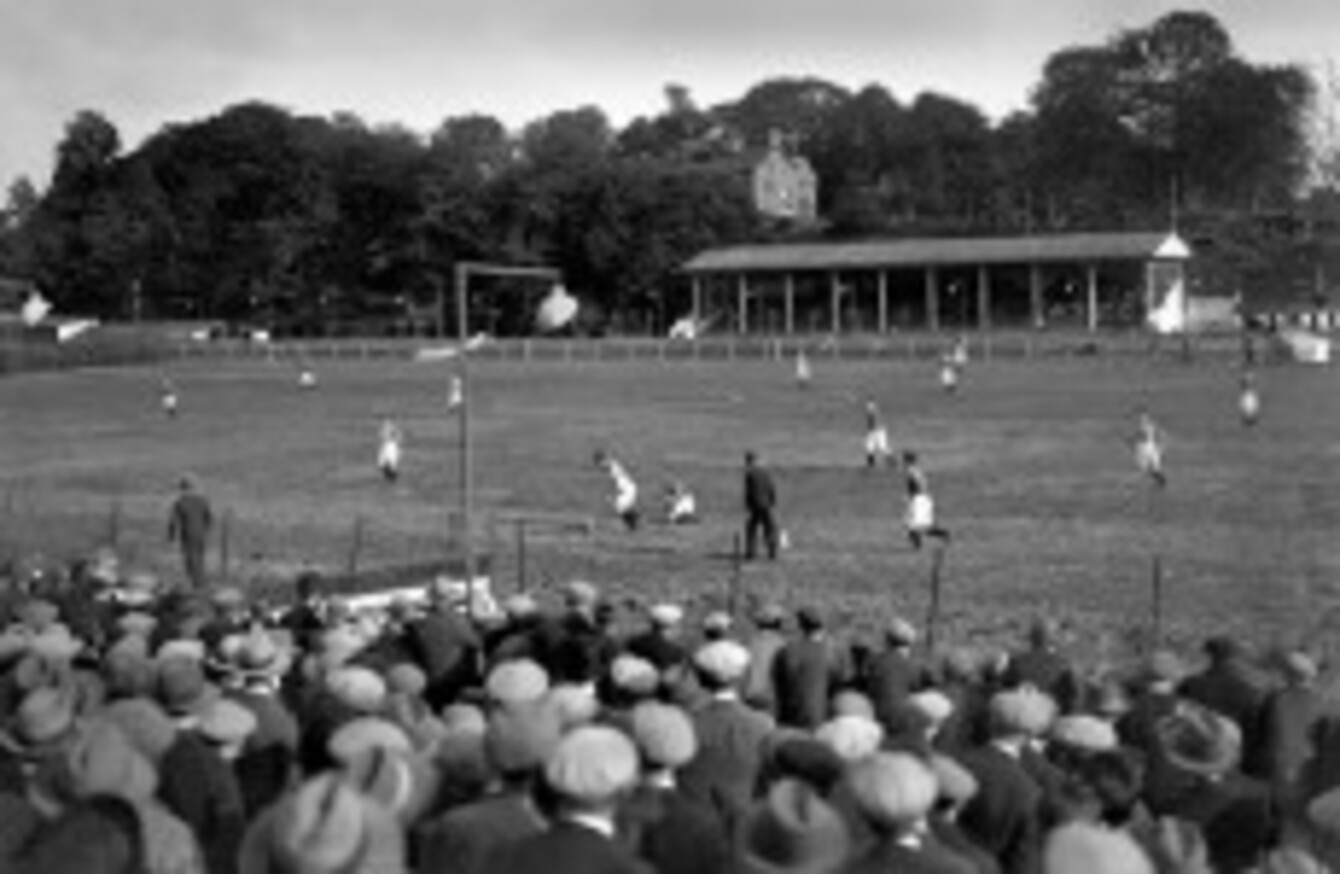 Cork Bohemians playing at the greyhound track that used to be behind Pairc Ui Chaoimh in 1932.
Image: Plunkett Carter
Cork Bohemians playing at the greyhound track that used to be behind Pairc Ui Chaoimh in 1932.
Image: Plunkett Carter
TODAY, SOCCER IN Ireland is hugely popular. A recent study indicated it has higher participation rates than rugby or GAA, and is just below swimming, running and general exercise in terms of its prominence.
Soccer in Ireland, however, was not always wholly embraced by the masses. In Munster, in particular, the sport's rise in popularity was gradual, with GAA the overwhelmingly dominant activity in many counties.
A new book by David Toms, an independent scholar and former UCC lecturer born in Ireland but now based in Prague, explores the often turbulent history of the sport in Munster.
Soccer In Munster: A Social History, 1877-1937 looks at the sport's increasing popularity in a rapidly changing Ireland during a tumultuous 60-year span.
For Toms, the book is somewhat of a passion project. It began, 10 years ago, as part of a Leaving Cert History project that focused the formation of a league in Waterford during the 1920s. He returned to the subject for his PHD and ultimately published the book.
"I was always interested in knowing what the history of football in Ireland was anyway," he tells The42. "It always struck me as being an interesting history and different to the history of the GAA."
The stereotypical perception of the time is of a fiercely nationalist Ireland, disinterested in engaging with foreign and particularly British culture. However, it is an exaggerated depiction, removed from the reality of the situation, according to Toms, though there was some veracity to it.
"The view of soccer as 'the foreign game' was overplayed a bit but there was some truth in it," he says. "One of the interesting clubs I came across was one in Waterville, Kerry. There was a football team there, because there was a cable company. There was almost no Irish players, because all the guys who worked for the cable company had been brought in from England and Scotland. And that's why you had this soccer team in Kerry. So it was a foreign influence. But it was unusual — I didn't expect to find that kind of stuff [in my research]."
And while the book covers a 60-year period, Toms cites one moment as especially key to the sport's development — the onset and subsequent consequences of the First World War.
"Even more so than the War of Independence, it totally changed the demographics," he explains. "The whole of Irish society was changed because of the people who died, and the politics of everything changed. But after that, it was a totally different set of people organising soccer in Munster.
"When the Munster Soccer Association re-established itself in 1922, the kind of people involved were from very different backgrounds to the people who were running the game at the highest level before that. The First World War is what really changed the makeup involved in organising and playing the game."
Nevertheless, while it may not have been hugely popular in Munster before the war, soccer in Ireland wasn't exactly in poor health, as evidenced by the national team's unprecedented levels of success.
(Tramore Rookies at their home ground with their train carriage dressing room in the background — Source: Andy Taylor)
Ireland, for instance, had won the 1913-14 Home Championships, getting the better of England, Scotland and Wales in the process.
"It was at the height of its popularity and the height of our international success, but then you've the war and whole thing changes in terms of the people," Toms recalls.
"After the war, soccer loses part of its association with the British, because the administration, especially in Munster, is now being run by ordinary people rather than by military guys.
"There was all this antagonism — the military guys would want games on a Saturday afternoon, but a lot of guys would work on Saturdays. Civilian teams couldn't play in the league officially because they wouldn't have time off work on the Saturday afternoon.
"In the 20s, when ordinary people take over the game following the end of the war, a lot of football is played on Sunday and this totally changes the access that ordinary people had to the game. They didn't have to worry about getting time off work on Saturday afternoon, they could just play on Sunday, which everyone had off. So I think it probably was good for the game, even if the war itself was not good for the country."
Despite certain individuals and in particular, authority figures, warning of the perils of outside influences, many Irish citizens ignored these orders and were happy to embrace foreign culture throughout the early 20th century, encompassing everything from jazz music to Hollywood cinema.
"People read English language books, listened to English language music, watched English language cinema. American culture was all of a sudden available to people. For a lot of people, you could be Irish through and through and still play soccer — it didn't mean you weren't Irish just because you played a game that happened to come from England. A lot of people tried to make it out that way, but most people tended to see through most of these things for what they are — and they still do today.
"If you enjoy a game no matter what, it's what you're going to do. And if it's what your friends do, you're going to do it. So social networks mattered more than their politics or what they identified with being Irish. In the book, that's what I tried to bring out — what matters more is the people you know and the community you grow up in. It matters more than the notion that 'I'm Irish, so I can't play that game.'
"At GAA dances, some of them would have local jazz bands playing the hits off the radio. This is what young people who were members of the clubs wanted to hear. It would be like if today, some sports club said: 'We're not going to have any rap music at the annual dinner dance.' There was an attempt to create a sense of shame around it, but I don't think it was very successful. Any authority figure will tell you 'you mustn't do that' and people will do exactly the opposite because of that."
(Crowds watching a training session for free at Turner's Cross — Source: Plunkett Carter)
This intolerance of all things foreign even extended to alcohol in certain quarters, with the consumption of Bass being frowned upon.
"There was a famous story — in the 1930s, the IRA had an anti-Bass campaign. They said that Bass was an English ale and that Irish pubs should only serve Irish drinks. They actually went around smashing up pubs who were serving Bass.
"So there was a GAA thing about jazz as an evil influence or the cinema. If it was foreign and not made by Irish and for Irish people, there were hardcore zealots [who would condemn it]. A lot of GAA people would have rejected it. And these kind of people are usually the loudest people in a crowd.
"So there was a 'if it's foreign it's bad' mentality that took a very black and white view of things. They were trying to create an Irish Ireland free from foreign influence. So they were always fighting against the tide a bit."
Unreliable newspaper accounts and the number of people who were participating unofficially means it is extremely difficult to even roughly estimate how many people played soccer in Ireland during its early days, but while it was successful enough to worry the anti-foreign sports brigade, its popularity and organisation still paled in comparison to GAA.
And oddly, while team sports such as soccer and rugby were viewed with considerable suspicion by many, most authority figures had no problem with other foreign sports such as tennis and golf.
"They said that the atmosphere was different at tennis and golf," Toms explains. "Basically, what they were saying was one is more popular than the other and you're not going to have rowdy crowds at tennis and golf. If you look at the sports they banned, they only banned team sports that had a reasonable chance of competing with GAA.
"Even people within the GAA at the time would say there's nothing wrong with rugby. One of the funny things was that there was an attempt to make rugby a game organised by the GAA. They were saying this is what we need to do.
"One guy writing in a newspaper — he thought rugby was a closer game to GAA than soccer — so he suggested that maybe if the GAA ran the sport rather than the IRFU, we could make it more of an Irish sport. So there were all kinds of mad ideas being bandied about: 'This is how we combat these foreign games, by bringing them into the fold.' So there was a real hypocrisy about what constituted a foreign game and people did see through it ultimately."
Soccer in Munster has come a long way since then and is now surely more popular than ever. The increasingly diverse makeup of the current Irish team reflects the growth of sport in areas that weren't traditionally thought of as soccer strongholds, with players such as Shane Long (Tipperary) and John O'Shea (Waterford) coming to the fore in recent years.
Toms cites TV as ultimately playing a vital role in introducing the sport to a wider audience in Ireland.
"What's an interesting development moving beyond the period I wrote about is the emergence of rural clubs from the 60s onwards after the emergence of RTE. The first World Cup that they televised was the 66 World Cup. They had 18 hours of live coverage. It wasn't 24 hours of television so to give over 18 hours was quite a lot. Then the 70 World Cup was 20 odd hours. So every World Cup that RTÉ has ever covered they've increased the number of hours they spent covering it.
"In rural areas where soccer maybe wasn't played very much, people were starting to watch it on TV. A lot of football clubs in Clare, their foundation dates are from 1965 to the late 1970s. So after all this soccer on TV, you suddenly have rural clubs being set up across the country."
Soccer In Munster: A Social History, 1877-1937 is published by Cork University Press. More info here.