AT BEST, FLOYD Mayweather could be described as a divisive figure.
The Michigan-born star is widely regarded as one of the greatest boxers of all time. He has won 12 world titles and the lineal championship, and has triumphed in all of his 49 fights as a professional over the course of nearly two decades (he made his pro debut in 1996).
Nevertheless, in spite of his many impressive and historic achievements, Mayweather has never been fully embraced by boxing aficianados and casual fans alike.
And the 38-year-old fighter hasn't always helped stem this tide of antipathy either. His last fight against Andre Berto, in which he equalled Rocky Marciano's record, was decidedly anti-climactic and considered a joke by many.
The much-anticipated bout with Manny Pacquiao last May was also widely considered a let down, while in general, the American has been accused of adopting an overly defensive and boring style of boxing.
Source: Red Gloves/YouTube
More troublingly, there is Mayweather's disturbing history of domestic violence, which he has repeatedly refused to apologise for or even acknowledge during interviews.
Therefore, the public's lack of love for Mayweather perhaps partially explains why there have been so few notable books written on one of the world's most famous sports personalities.
Boxing journalist Tris Dixon, author of a biography released earlier this year entitled The Life and Fast Times of Floyd Mayweather, says he was "surprised" by the lack of books about the boxer out there, and explains it was partially what motivated him to attempt a definitive account of his career.
A former editor of Boxing News, Dixon was unable to persuade Mayweather himself to participate in the project, but he did manage to track down several key figures in the boxer's career, as well as some of the more peripheral characters who nonetheless gained a degree of insight into this complex individual.
The hardest bit was trying to track down some of those early opponents who just sort of vanished and who now work in car shops or at assembly lines," Dixon tells The42. "They fought Floyd and then sort of disappeared into nowhere. But one of the things I enjoyed most was tracking down those guys, and I did manage to get in touch with them."
The result is an immensely readable, illuminating and comprehensive look at Mayweather's life to date, from his troubled upbringing and Olympic heartache, to his evolution into the one-man marketing machine that he has become today.
Mayweather comes across, more than anything else, as an obsessive winner, intent on making the most of his time at the top of the sport and earning as much money as possible in the process, while being largely unconcerned if he makes enemies in the process.
"What people overlook is what a fierce competitor he is and how he's always been driven to be the very best," Dixon explains. "And to be unbeaten is a really big deal. We're used to hearing about the money and the flash cars, and at the other extreme, the prison sentences and domestic violence and that sort of stuff."
Bulgaria's Serafim Todorov defeated Mayweather at the 1996 Olympics -- no one beaten him since. Source: AP/Press Association Images
One chapter in the book is entitled 'The Best Ever?' and while Dixon believes there is a case for Mayweather to be placed among the top 20 fighters of all time, comparing him to the likes of Sugar Ray Robinson and Muhammad Ali is another matter.
"I think you could make a case for him being in the top 10, but I don't think he belongs there. The main reason he doesn't is because I don't think he fought the best fighters at the right time," Dixon explains, adding: "I don't think Pacquiao (earlier this year) was the same force that he was several years ago."
One other aspect of Mayweather's personality that comes across in the book is that he is a consummate entertainer with a firm eye on the PR side of the sport. Aware of the millions previously generated by 'the baddest man on the planet' Mike Tyson, Mayweather was also keen to exploit the public's appetite for a boxing villain.
He's a very astute businessman who realises that for his fights to do well at the box office, you need a good guy and a bad guy.
"He's fought some great fighters and put in some great fights, but if you look at people like Mike Tyson and many fights over the years, there was a good versus evil theme running through all of them. So I think Floyd decided to cast himself as the bad guy."
Yet this bad-boy persona doesn't excuse his murky, problematic past outside the ring. The star's unwillingness to take accountability for past indiscretions has alienated a significant portion of fight fans.
Dixon suggests Mayweather may genuinely consider himself blameless in this situation, believing his own protestations of innocence, despite considerable evidence to the contrary.
"I think his image is hurt regardless (of what he does). There's a couple of schools of thought. If you tell yourself something a lot, you start to believe it, and I think he may be at that stage now. If he had come clean about it, I don't think it would be swept under the carpet, but America's quite a forgiving place and it would be old news by now. But the fact that he hasn't admitted to anything despite being sentenced for it and having been in serious trouble for it indicates that there is something there.
With it being Floyd Mayweather, it's strange that some people don't seem to care that much. If it were Wayne Rooney or Tiger Woods, you'd have to think it would be bigger news, front page news. Although it has been big news, it hasn't blown up to the extent that it would have with other characters.
"I think part of the reason might be because that's what people expect from boxers and boxing. Over the years, when you look at the number of fighters with tough, gritty back stories and criminal convictions, I think these things are almost expected, which is unfortunate, because there's a lot of nice, good-hearted fighters, so it's a little bit unfair, but at the same time, casual fans might just expect it from fighters or think it's the norm."
Be part
of the team
Access exclusive podcasts, interviews and analysis with a monthly or annual membership.
Become a Member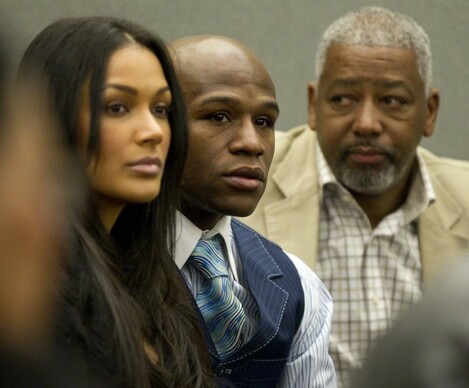 Boxer Floyd Mayweather Jr, centre, waits to be called in district court in 2011. Source: AP/Press Association Images
Yet even before the domestic violence issue became well-publicised, Mayweather wasn't exactly endearing himself to fight fans.
Dixon traces this sense of disillusionment with Mayweather back to controversial comments he made in 1999, in which he compared a $12.5million, three-year contract he was offered by HBO to "slave wages".
"To all intents and purposes, that was a pivotal moment," he says. "When he had that really hot year in 1998, he didn't really seem like he could do much wrong. He was fighting some of the best super-featherweights in the world, and he was beating them really convincingly.
"People had a lot of time for that and thought it was impressive that this young kid was taking on the best in the division and beating them well. You can't really cite anything before then. The jury was still in his favour. It was only later when he joined up with James Prince and that crew, I think that changed the public's perception of him, and not for the better.
Fame is bound to go to everyone's head when you're at that level. HBO Executive Lou DiBella, around the time of the 'slave wages' comment, said: 'I could take you down any street in America and not many people will know who you are.' Now, he could go down a street in America and everyone would know who he is.
"So it's sort of flipped on its head in many respects. But it's bound to go to someone's head, because that sort of fame will change the way you live your life and change the way you deal with it. It also allows him to play this bad guy, by being egotistical. It's exaggerated all the things he wanted to put across in the past few years. It's a caricature of this really wealthy, rich sportsman who can be portrayed as a bad guy very easily."
Yet beneath the consummate fighter and his cocky, arrogant surface lies a man who is the product of a troubled past and turbulent upbringing that made him the fighter he is.
Floyd had a really unstable childhood. His dad was dealing drugs. His two uncles were fighters and on the road fighting in different places. His mum was addicted to drugs. He was ferried between his Grandad and his uncles and then his dad went to prison, of course.
"He was taken to the gym at a young age and he always had boxing in his life. I think that's one of the reasons why he still boxes — probably the one place where he feels safest is in a boxing ring. He never experienced any harm in there, when you put the heartbreak of the bronze Olympic medal to one side, he's never really been hurt in the ring. It's outside the ring where everything has happened to him."
Tris Dixon's The Life and Fast Times of Floyd Mayweather is published by Birlinn. More info here.