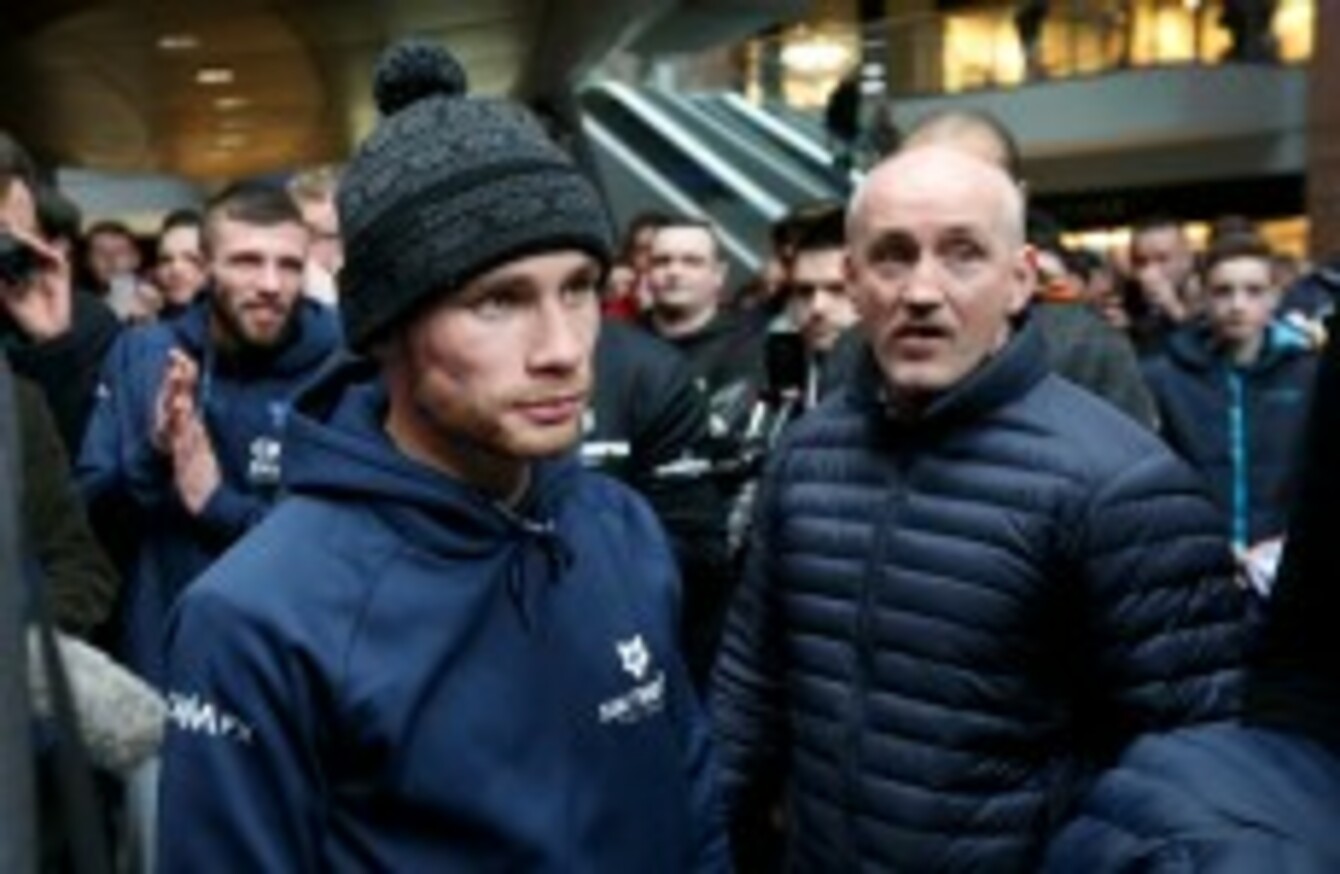 Frampton -- unbeaten in 19 professional fights.
Image: Matt Mackey/PressEye/CWM Cyclone/INPHO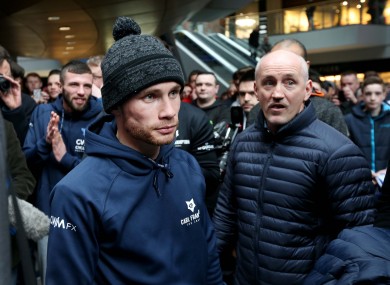 Frampton -- unbeaten in 19 professional fights.
Image: Matt Mackey/PressEye/CWM Cyclone/INPHO
CARL FRAMPTON WANTS to follow in the footsteps of mentor Barry McGuigan and build his legacy as one of Ireland's sporting greats.
Frampton puts his IBF super-bantamweight title and his undefeated professional record on the line in Belfast's Odyssey Arena tomorrow night.
Big-hitting American Chris Avalos is the challenger for the clash which goes out live on UTV Ireland and ITV — the first title fight on UK terrestrial TV since 2008.
The deal will put "the Jackal" in front of a massive TV audience and rekindles memories of McGuigan's heyday in the 1980s.
More than 18 million fans tuned in to watch the Clones Cyclone KO Eusebio Pedroza in Loftus Road in 1985 and clinch the WBA featherweight belt.
Frampton, who is making the first defence of the title he won against Kiko Martinez last September, wants to crack the mainstream and cement his legacy.
"I want to be a legend," he told UTV Ireland in an interview which airs this evening.
"Honestly, that's what I want to be, a legend in Irish sport.
"I think it's coming up to 30 years since Barry won his world title in Loftus Road against Pedroza and people are still talking about it.
I want to be like that 30 years from now, people are talking about my fights with guys like Chris Avalos and Kiko Martinez in the pubs all over Ireland.
"That's what I intend to do. I want to create a legacy. I want to keep beating big names. I want to get big fights, bring them back to Belfast as much as possible, and keep winning."
A bullish Avalos claims that he will be leaving Belfast with Frampton's belt but for McGuigan, the night is the next step on his protegé's road to superstardom.
"It's a great opportunity for the sport, not just Carl Frampton, but for the sport to get into the homes of people again," he said. "Not just those ardent sports fans who have Sky and BoxNation and Eurosport. This is free-to-air television.
"I said to [ITV Head of Sport] Niall Sloane, you're going to hit the ground running with a world class fight, with a carnival atmsophere, and with a kid who can really do it at the highest level."
– Frampton v Avalos: The World is Not Enough, UTV Ireland, Saturday 10.50pm