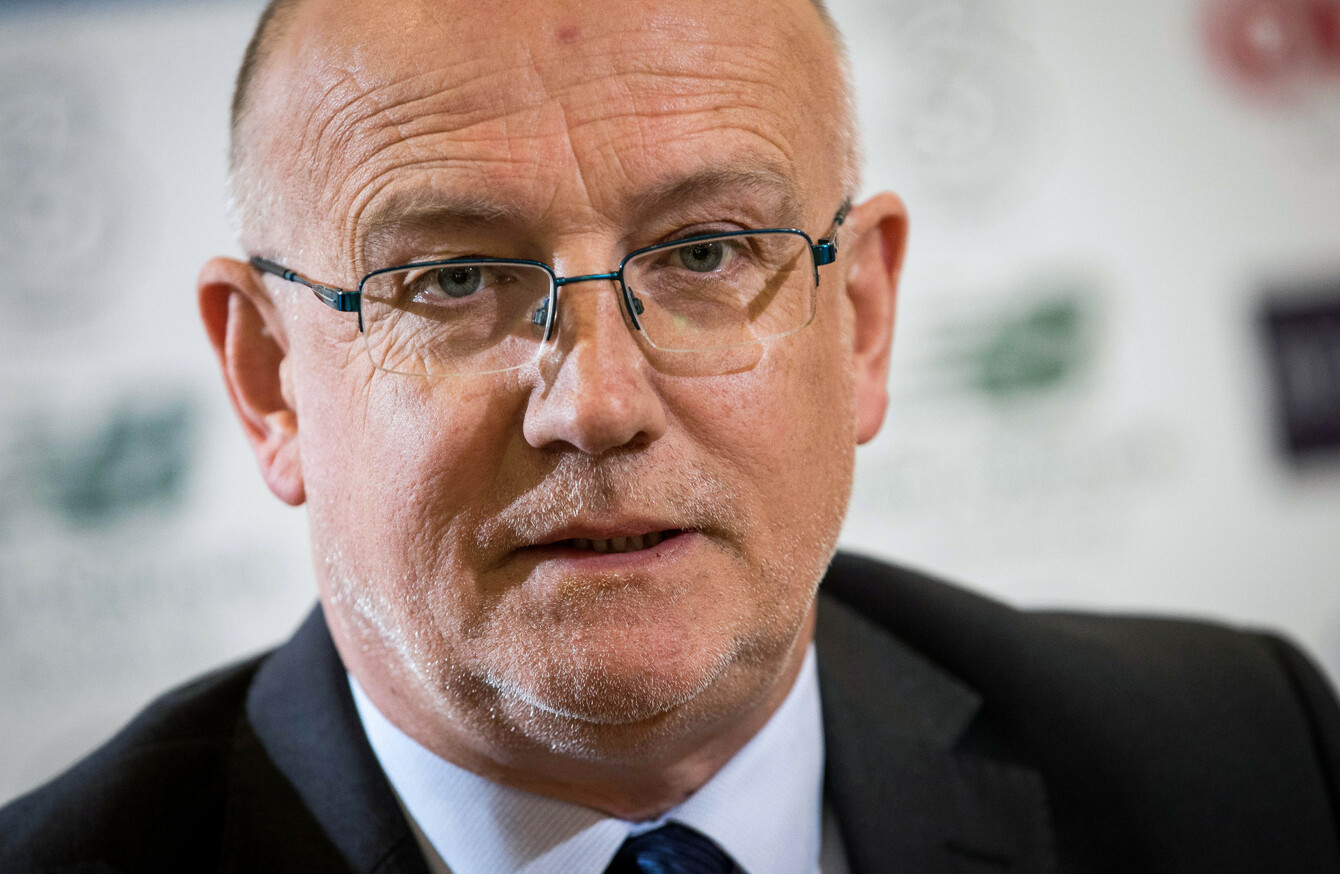 Fran Gavin (file pic).
Image: Ryan Byrne/INPHO
Fran Gavin (file pic).
Image: Ryan Byrne/INPHO
LEAGUE OF IRELAND Director Fran Gavin is confident Limerick will be "in good shape" financially by the end of the season, but feels there will always be problems in some form or another in the League of Ireland.
In recent years, a number of Irish clubs have been hit by financial problems, with Tommy Barrett's side the latest team to suffer.
Delayed payments of wages earlier this month led to unrest among players, with goalkeeper Brendan Clarke hitting out at a "bullshit, stereotypical, League of Ireland situation".
Speaking today at the FAI's headquarters at the National Sports Campus in Abbotstown, Gavin revealed that he has had several "open and frank" meetings with the embattled club.
"All the players have been paid," he said. "They're looking at revising their budgets. I'm confident that Limerick will be in good shape by the end of the season. So we'll be having discussions again next week with them."
Long-serving chairman Pat O'Sullivan revealed his plans to sell the club last January, and Gavin says those efforts are still ongoing.
In fairness to Pat O'Sullivan, he's invested huge money into the club over the years. He's openly looking to an investor. We're aware they are talking to some investors. And you'd hope that somebody could come in and support the good work that they're doing there in Limerick. You'd like them to continue. He's providing a platform at all levels for the best players around Limerick and the surrounding areas to show their skills and they've got very good coaches.
"The crowds haven't been what they expected them to be. There are a few issues, they're trying to address them."
He continued: "Once you hear there's a delay in payments, it's an absolute priority, I've said it before, that players get paid per their contract and on time. It's a worry when it doesn't happen, because over the last few years, we've tried to stabilise that situation. The PFAI tell you it's less and less issues around finance and the players in particular, and the licensing is a big help to that. You have to pay your players and you have to have no overdues towards players and the football family to receive a licence, and all the clubs are aware of that.
"It's always a concern, but in the talks we've had with them yesterday, if they revise their budgets and do what they propose they're going to do, I could see [Limerick] being okay."
Asked about the possibility of players leaving as they bid to become financially stable, Gavin did not say definitively whether that will be the case.
"That's up to the club to see how they get to that stage. It wouldn't be only the playing side, it would be other areas of the operation that they'd have to look after. They're very realistic about it.
Be part
of the team
Access exclusive podcasts, interviews and analysis with a monthly or annual membership.
Become a Member
"As I said, Pat has put huge money into the club, and he wants to make sure there's a strong Limerick team in the league. And they're all working towards that, everybody's working towards it long-term.
"They've got good facilities now, the place in Bruff, the training, that all takes funding. And it's investment. And it's long-term investment. I think it's just a short-term problem at the moment."
On the issue of licensing, Gavin added: "We review licensing every year, we see what parts work, what parts don't work and where we need to improve. And we'll amend them accordingly to try to ensure that you don't have issues in certain areas.
I don't think you'll ever get to a stage, I can't see it anyway, where there won't be an issue at some stage with something in a club, and that can be in any business. We're trying to limit those and make sure that the clubs themselves, who are being run very well at the moment, that they continue to do that. The clubs that have the problems learn from the issues and don't continue to have those problems and that's what we're trying to do.
"It can be frustrating when we get a position where something happens again in a club from everybody's point of view and particularly from a player's point of view, you can see it. But from the league overall, if things are going well generally, and you have an issue, it does reflect on everybody.
"That's the way it works and that's never a positive. And if we can do without sitting here and discussing this with you guys, I'd love to be discussing Graham Burke and that sort of thing, the positives that are happening. The Limerick situation has happened, the Bray situation has happened, and we're monitoring both of them and in discussions with both clubs."
Meanwhile, Gavin said that attendances in the Premier Division were up by "about 20%" this year, adding that First Division crowds were down "7-8%".
If we see any club and attendances are going in any way down, [the league's marketing executive] John McGuinness will ring the club, talk to them, see how they can improve it, see if they can have a family day. We try and look at the clubs and see how we can assist them and work with them. John does that on a regular basis."
Finally, on the issue of the proposed Saudi Arabian takeover of Galway United, Gavin said he had spoken to the club in relation to the matter.
"We read about it, the club has briefed us on it and there's a meeting there on Monday with the supporters, the members, to see if they're allowing third-party investment. We're aware of what you are aware of."
The42 is on Instagram! Tap the button below on your phone to follow us!