Ireland v France, Women's Rugby World Cup, Pool C (kick-off 19.45, RTE 2)
Sean Farrell reports From UCD
DAY EIGHT OF the Women's Rugby World Cup, already a third Test day for Ireland and by tonight the end of the trophy chase for all but four teams.
Evidence of the rigours of such a tightly scheduled tournament is borne by almost every player that makes their way around the UCD campus. Bruises on the back of calves, faces and stud marks across forearms are all part of the territory when playing five matches in 17 days.
Rotation, of course, helps to offset the unseen marks of fatigue. Ireland go in to tonight's do-or-die Pool C decider with France with four key players who have played all 160 minutes so far – captain Claire Molloy, Nora Stapleton, Ali Miller and Sene Naoupu – but in Jenny Murphy, Tom Tierney is unleashing a midfield talent who is positively licking her lips at the prospect of smashing into blue jerseys.
"Those are the kind of games I like," Murphy says of her hard-hitting 47 minutes against Australia, a shift cut short by a calf issue.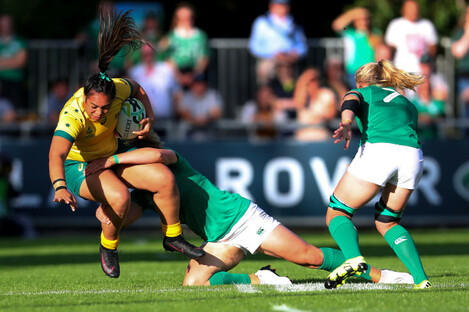 Murphy tackles Nareta Marsters of Australia. Source: Bryan Keane/INPHO
"It was the first big game since England, so it was good to get out there and put some nice big tackles in… even if they were a bit late.
"This is our cup final. We were aiming to be two from two at the start and now it comes down to this.
This is where we want to be, France are in our way. I'm just looking forward to it now and getting stuck in."
Getting stuck in is pretty much the theme of Ireland's big game build-up. The two wins on the board so far have featured inescapable problems that cast swathes of grey area as the squad and all watching them balance the joy – relief even – of victory with annoyance at the depth they had to dig to achieve it.
On the flip side of Ireland's trek to this point, France have skated along. Dismissing Japan 72 – 14 and rubbishing our opening night notions that Australia were a force to be reckoned with a 48  - 0 drubbing.
Les Bleus have lit up the late kick-offs in UCD with supreme athletes like openside Romane Menager, fullback Monserrat Amadee, centre Caroline Ladagnous and Caroline Drouin pulling the strings at 10. After struggling to contain Australia and Japan, how can Ireland cope with the tournament's most impressive attack?
"A lot of the talk is about how we'll have to stop France. Yeah, we will," Murphy says defiantly, "but we've also got some stuff that they're going to have to stop too.
"So we're not too worried about them at this stage. We've done that analysis on them and we're focused on what we want to do."
Neither is the Kildare woman concerning herself with the mindset of the visitors. She's fully dialled-in.
"I don't know what the feeling is like in the French camp. For us, we're going in to this with grit and determination and chomping at the bit. I don't care what the French are like. I know what we're like in camp. The mood is good and we want to get stuck in and (deliver) aggressive, accurate rugby from the get go."
"We've prided ourselves on defence, line-speed, getting square up on the ball  and we didn't implement that in our first two games. As a result we were caught out wide a little bit. We fixed it in training we just have to put it in our gameplan."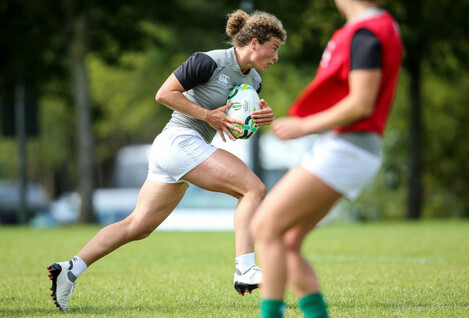 Source: Gary Carr/INPHO
The return of the midfield enforcer should be a major boost for Tierney's side, and her power in and after the tackle will complement the pack physicality at the heart of tonight's gameplan. To secure passage to the semi-finals, Ireland will aim to turn all those grey areas to screams of Bleu murder. They must make this contest an ugly one, force their guests to rein in their athletic back rows to do some work in the tight. In his bid to stop France 'at source', Tierney has picked the most physical pack at his disposal.
It's a pack that's bursting with carrying threat and the very same eight who started the February 13 – 10 Six Nations win in Donnybrook. Try-scorer that day Leah Lyons comes in at hooker with Sophie Spence and Maz Reilly in the engine room and Paula Fitzpatrick back at number eight flanked by Ciara Griffin and Claire Molloy.
Behind the scrum, Ireland have every reason to draw further confidence. The French clash this year was the match which caused much rancour as Naoupu, Miller and Hannah Tyrell were deployed with the Sevens squad in Las Vegas instead of the cold comfort of the long form of the game in the Six Nations.
Source: The42 Podcasts/SoundCloud
Today, all resources are being funneled in the one direction, Niamh Briggs aside, Ireland have a full deck to play with and with any luck  all the system and handling kinks have been worked out in the opening two games.
Having played through some quite literal dark days when this fixture was dogged and delayed by floodlight failure in Ashbourne, Murphy is desperate to show up and show off the heights this team can hit.
"Sometimes one or two ugly wins will do us the world of good. It's been our kick up the ass. We know ourselves, we've got together collectively and we know what we're capable of doing. We weren't happy with the performances we put in when we know what we are able to do.
"I'm looking forward to going out there and showing the Dublin crowd what rugby we can play and hopefully give them something to cheer about."
Please the Bowl, beat the French and the inevitable pain that day nine brings will be nicely dulled by the prospect of a Tuesday semi-final in Ravenhill.
IRELAND: Hannah Tyrrell (Old Belvedere/Leinster); Eimear Considine (UL Bohemians/Munster), Jenny Murphy (Old Belvedere/Leinster), Sene Naoupu (Harlequins), Alison Miller (Old Belvedere/Connacht); Nora Stapleton (Old Belvedere/Leinster), Nicole Cronin (UL Bohemians/Munster); Lindsay Peat (Railway Union/Leinster), Leah Lyons (Highfield/Munster), Ailis Egan (Old Belvedere/Leinster), Sophie Spence (Old Belvedere/Leinster), Marie Louise Reilly (Old Belvedere/Leinster), Ciara Griffin (UL Bohemians/Munster), Claire Molloy (Bristol/Connacht) (capt), Paula Fitzpatrick (St. Mary's/Leinster).
Replacements: Cliodhna Moloney (Railway Union/Leinster), Ruth O'Reilly (Galwegians/Connacht), Ciara O'Connor (Galwegians/Connacht), Ashleigh Baxter (Cooke/Ulster), Heather O'Brien (Highfield/Munster), Larissa Muldoon (Railway Union/Ulster), Katie Fitzhenry (Blackrock/Leinster), Louise Galvin (UL Bohemians/Munster).
FRANCE: Montserrat Amédée (Montpellier RC/FFR); Chloé Pelle (Lille Métropole RC Villeneuvois/FFR), Caroline Ladagnous (AC Bobigny 93/FFR), Elodie Poublan (Montpellier RC), Shannon Izar (Lille Métropole RC Villeneuvois/FFR); Caroline Drouin (Stade Rennais), Yanna Rivoalen (Lille Métropole RC Villeneuvois); Annaëlle Deshayes (Ovalie Caennaise), Gaëlle Mignot (Montpellier RC) (capt), Julie Duval (Ovalie Caennaise), Lénaig Corson (Stade Rennais/FFR), Audrey Forlani (Blagnac Saint-Orens Rugby Féminin), Marjorie Mayans (Blagnac Saint-Orens Rugby Féminin/FFR), Romane Ménager (Lille Métropole RC Villeneuvois), Safi N'Diaye (Montpellier RC).
Replacements: Caroline Thomas (ASM Romagnat), Lise Arricastre (Lons Rugby Féminin Béarn Pyrénées), Patricia Carricaburu (Lons Rugby Féminin Béarn Pyrénées), Céline Ferer (AS Bayonne), Julie Annery (AC Bobigny 93), Jade Le Pesq (Stade Rennais/FFR), Carla Neisen (Blagnac Saint-Orens Rugby Féminin), Camille Grassineau (Stade Français/FFR).
Referee: Graham Cooper (Australia)
Originally published 07.00
The 42 is on Instagram! Tap the button below on your phone to follow us!