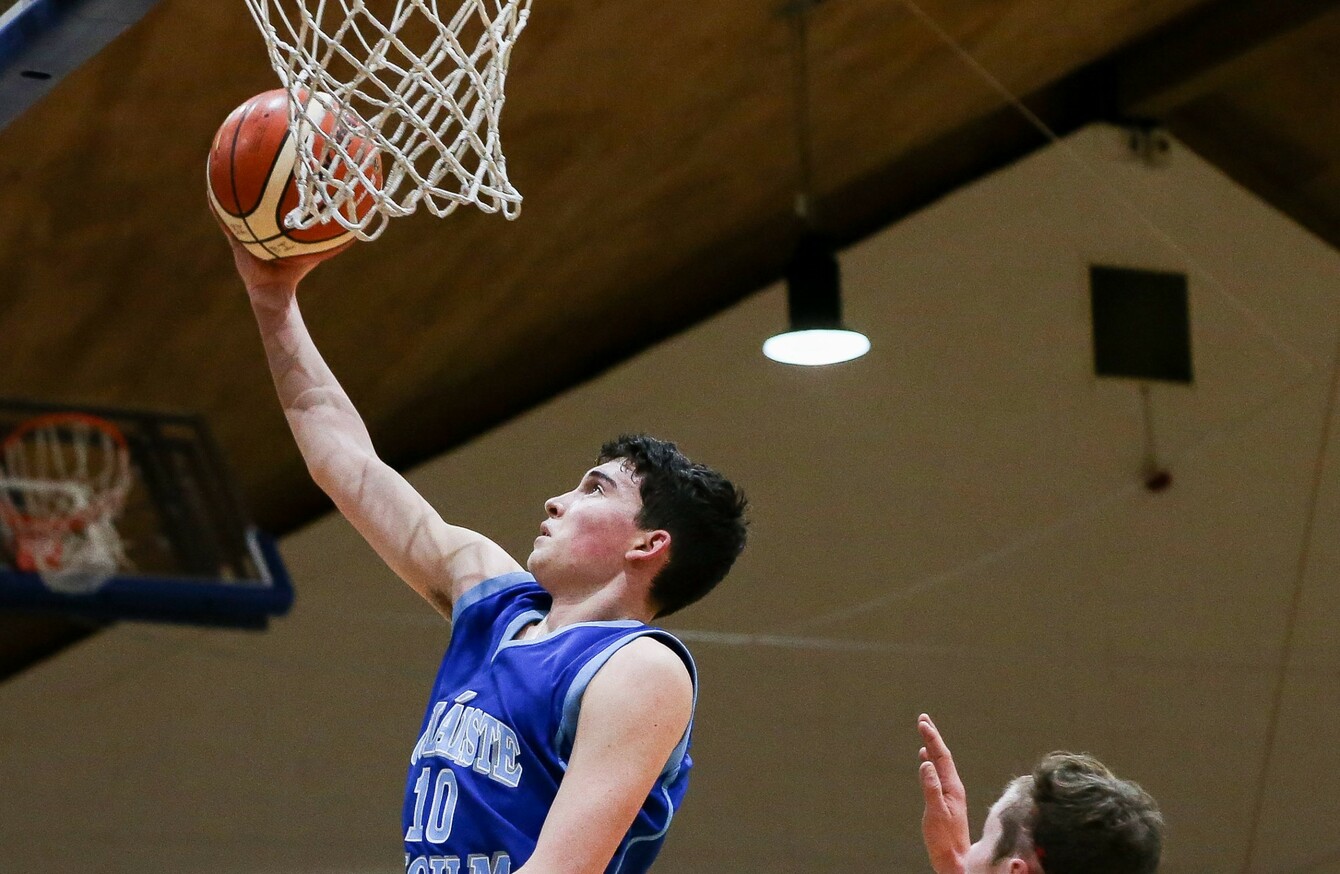 Ballincollig's Dylan Corkery is considered one of the best young players in the country.
Image: Gary Carr/INPHO
Ballincollig's Dylan Corkery is considered one of the best young players in the country.
Image: Gary Carr/INPHO
RECENTLY, IRISH BASKETBALL made international headlines when Deadspin published a piece under the headline: "The Fake All-Star Team On A Bender That Inspired Ireland To Play Basketball."
TL;DR: It tells the story of a rag-tag group of American former players who came together at the request of new Ireland coach Pete Strickland to form an All-Star team for an international basketball tournament in Cork but who spent more time downing pints than dribbling basketballs.
It's a good piece, and is in line with Kieran Shannon's brilliant 'Hanging From the Rafters' — and the 2013 documentary' We Got Game: The Golden Age of Irish Basketball' — but, as with so much coverage of the sport here, its focus is on the past, not the future.
If the past is a foreign country, perhaps it's time for us to leave the holiday snaps gather dust for a while and focus on what might be to come for basketball on this island?
That's certainly the view of Conor Meany of UCD Marian, a face you'll see all weekend on TG4′s coverage of the Hula Hoops National Cup finals though, as he points out to The42, he'd much rather be there having been eliminated at the semi-final stage.
"[The Deadspin piece] was interesting on the 80s stories and the influence that has on the league.
"And, don't get me wrong, whenever people are willing to talk about basketball, it's great but I thought it kind of glossed over some of the achievements of the last couple of years and simplified things just a bit too much.
"For example, the idea that basketball is back popular again because Kieran Donaghy is playing is a bit of a stretch.
"Again, at the moment, because we don't tell our own story very well, any coverage we get is welcome, especially if it gets people talking about basketball in Ireland."
That's a view shared by Emmet Ryan of BallinEurope – also a familiar face to TG4 viewers over the course of National Finals weekend — but he too puts more stock in focusing on the future rather than the past.
"[The standard here] has been a lot better, but it's a lot better now than it was when I first started covering the sport here in-depth four and a half years ago.
"When I first started — it wasn't terrible, don't get me wrong — but it was still reeling from the effect of the post-bust issues it had," he says.
"I think what's really important  is that there are now pathways in place for younger players to come through and that there are guys who are at the tail end of their careers now, but are there to give guidance to the younger players, and that's absolutely vital when you're playing ball internationally.
"And we've seen it across a range of sports — cricket, women's rugby, hockey — the goal is to make the sport bigger and the green jersey attracts people to the sport. And if the green jersey is doing something that's worth watching, then people are going to give a crap and the only way to make the green jersey worth watching is to develop the players," says Ryan.
Meany agrees that the return to international competition for Irish teams is crucial for the continued growth of the sport here.
"With Pete Strickland now involved, he's obviously a high quality coach and has amazing experience and the different select teams that have been in place over the years have laid the ground work for the restoration of the national team.
I think there's a more professional ethos in place too at the top-level of the game and we're striving to keep developing that.
"You really want to be able to tell people about the quality of the game here.
The make up of the national team and the league is a still a vexed issue in Irish basketball but Ryan believes there is a happy medium to be achieved between Irish-born players and the American imports.
"We're not just giving guys passports and handing them a green jersey. Anyone that is playing for Ireland has got connections to the country," he says.
"Obviously, you want to get the balance with developing young Irish talent but if you can get them playing with players of a higher level — and it just so happens they were not born here — there are definitely upsides to it.
Of course, you don't want to go League of Nations on it, but everyone seems to think there's no middle ground which is what I find bizarre because sport is made of shades of grey.
"Our end goal is growing the sport, keeping our existing players happy and giving younger players the opportunity to play at the highest level possible."
And Ryan also points out that, for both the men and women's teams, putting a good youth system in place is already allowing Irish basketball to reap the rewards.
"The youth teams coming back was the big one for me and having that youth system in place has been crucial, but especially on the women's side. You look at the performances of the U16s and U18s last year in particular and you can't help but feel it was really promising.
"The boys being back as a general thing is good. Having Jordan Blount, for example, who has not been able to play this year because of academic reasons, he's going to be playing Division I college ball in the US next year.
"Chatting to other basketball reporters in Europe, he's definitely at a EuroLeague standard but he thinks he has a chance of the NBA and, for an Irish player to even think that is amazing.
"But he's not alone, John Carroll is playing D1 standard at Hartford and you've guys who are going to be playing professionally around Europe too."
One way to see the stars of the present and maybe the future is to get to the Hula Hoops National Cup finals in Tallaght this weekend.
But for Meany, it's important that fans know this isn't the end of the season.
"I think it's still seen as the biggest weekend in Irish basketball every year. It definitely helps that there are finals across a number of different grades from U18s to U20s and everyone sees it as this pinnacle weekend.
"I suppose that's a good thing and a bad thing.
"It's good that everyone pays attention to it but, so often, people tend to ask in the first weekend of February 'is the season not over?'
"But the fact is there's still a lot of good basketball to be played, and the leagues have to be decided.
"It is something we need to do a little better at capitalising on people actually caring about it and reminding people there's a lot more to the sport than just one weekend."
The42 will have full coverage of the weekend's National Cup finals, starting with a preview of the men's final at 11am on Saturday 28 January. 
The42 is on Instagram! Tap the button below on your phone to follow us!