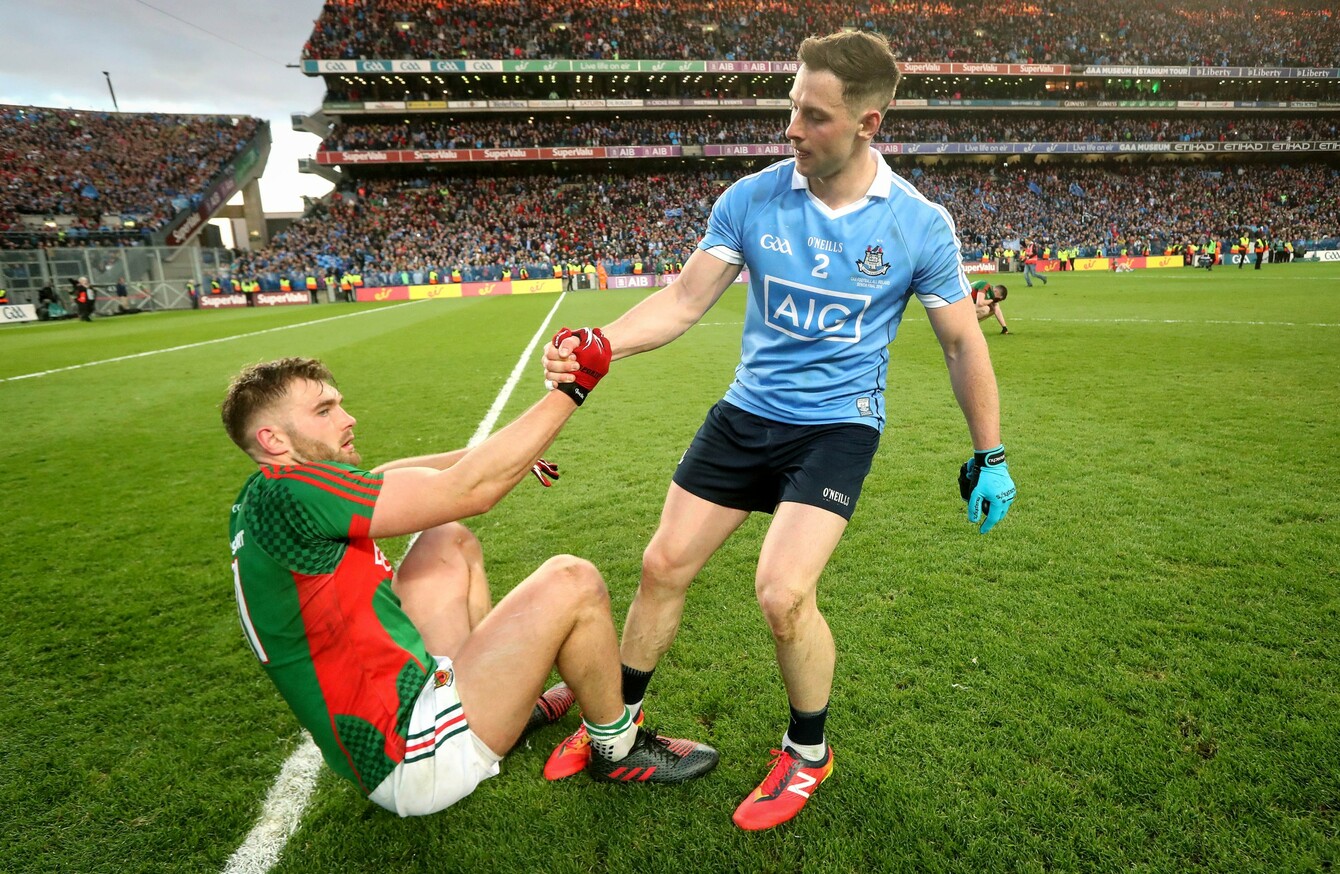 The Dublin-Mayo replay was a major financial boost for the GAA in 2016.
Image: Ryan Byrne/INPHO
The Dublin-Mayo replay was a major financial boost for the GAA in 2016.
Image: Ryan Byrne/INPHO
GATE RECEIPTS IN the GAA increased by 12% in 2016, despite attendances decreasing for the All-Ireland senior series games by 5%.
The GAA took in €30.1m in gate receipts in 2016, a jump from the €26.7m they raked in twelve months previously.
That gate receipt figure contributed to the GAA's revenue topping €100m. Last year's Beyonce and Bruce Springsteen concerts at Croke Park helped provide a windfall of over €4m for the association through stadium hire.
GAA income amounted to €100,986,508 last year with a net surplus of €3,109,549 after expenses.
The breakdown of the revenue last year was as follows:
Gate receipts – €30,110,910
Box, premium & catering – €27,718,207
Sponsorship & media – €19,717,759
Insurance premiums – €10,680,674
Stadium hire – €4,317,624
Other income – €8,441,334
The GAA's Central Council distributed €13.4m to counties in 2016, an increase from €12.5m in 2015.
This figure has steadily risen year on year since 2011 when €10.9m was distributed.
Football Final Replay
A major contributory factor to the improved gate receipts was last year's All-Ireland football replay between Dublin and Mayo – the first time the Sam Maguire showpiece game was replayed since 2000.
Ticket prices were cut for that game but not by as much as the hurling final replays between 2012 and 2014. Stand tickets were reduced from €80 to €60 and terrace tickets were cut from €40 to €30.
Attendances
There was a 5% drop in attendances, with about 40,000 less spectators attending All-Ireland championship games.
Football attendances were down by 7% last year but the All-Ireland final replay resulted in an increase in gate receipts of 15%.
Hurling championship attendances dropped by 1% with receipts increased by 2%. That was a result of the All-Ireland hurling semi-final replay between Kilkenny and Waterford, which was worth €1m.
There was also a notable increase in hurling league gate receipts, due to the replay between Clare and Waterford.
Championship Attendances
All-Ireland senior hurling
2016 – 269,745 (-1%) – 12 games
2015 – 272,996 – 11 games
All-Ireland senior football
2016 – 516,767 (-7%) – 33 games
2015 – 553,076 – 32 games
Gate Receipts
Football championship
2016 – €14.8m (+15%)
2015 – €12.8m
Hurling championship
2016 – €8.3m (+2%)
2015 – €8.1m
Football league
2016 – €2.8m (+11%)
2015 – €2.5m
Hurling league
2016 – €1.9m (+33%)
2015 – €1.4m
Other Competitions
2016 – €1.4m (+44%)
2015 – €1m
The42 is on Instagram! Tap the button below on your phone to follow us!