WHEN WE THINK about strongholds of Gaelic football, the town of O Grove in the Spanish province of Galicia isn't the first place that springs to mind.
Nevertheless, last Saturday it played host to the first ever international football friendly between Ireland and Galicia.
The event, the brainchild of Jerry Holmes, a student at IT Carlow who spent most of the last four months training the Galician teams, involved two friendly games for ladies and men.
The Irish teams were made up of club players from all over Ireland and faced teams of Galician all stars who had been selected as the best representatives from eight Galician clubs.
Few at home know about the strong Celtic links between Ireland and this semi-autonomous region above Portugal, where some academics believe that the earliest forms of the Irish language originated. Even fewer are aware that Galicia is home to eight Gaelic football teams, an incredible figure given the low numbers of Irish expatriates in the area.
In fact in the whole Galician league there are only two Irish players, both playing for Fillos de Breogan of La Coruna.
"In the beginning it was only like twenty people', says Carlos Seco, one of the founders of the Galician league in 2010 and manager of the Galician selection. "For over two years we were the only team in Galicia, but luckily now after working very hard people are starting to get involved, and now we've got this league where there are going to be up to eight teams."
Carlos' interest in the sport developed when he was working as a teacher in University College Cork for three years and spent some time playing junior C for Nemo Rangers.
"In the Iberian region and the Iberian GAA championship there are 8 teams, and 5 of them are from Galicia. You've got Madrid, Barcelona and Valencia, and sometimes a team from Andalucia and the rest are from Galicia, so in that sense we've kind of doubled the figures."
Source: Martín Burelauer
The Irish ladies won comfortably with a final score of 3.22 to 2.08. The Irish lads greatly underestimated the challenge posed by the Galicians. For most of the first half they trailed by a few points.
Ultimately though their ability to get the ball over the bar from difficult angles and the Galician tendency to go for goal at all costs meant that Jerry's boys came out on top with a final score of 3.21 to 5.10.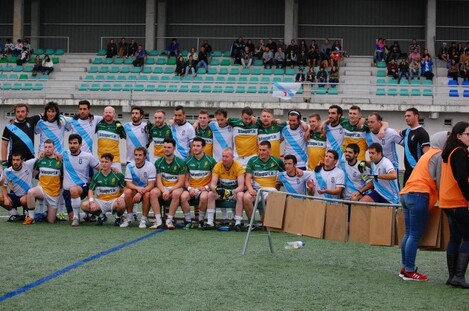 Source: Martín Burelauer
Regardless of the result, this is still a huge event for Galician Gaelic football.
"This is probably the biggest event so far for the Galician clubs… We're only starting really', explained Carlos Seco. "From here we're just going to grow.'
Although the sport's popularity in this part of the world may seem puzzling to some, Seco believes it's unsurprising given the connections between Ireland and Galicia.
"There are many things that link both countries, Ireland and Galicia, culture, music, food, tradition, and I think that's one of the reasons for the success of the sport here, the cultural connection."
Source: Pablo Ayagarim/YouTube