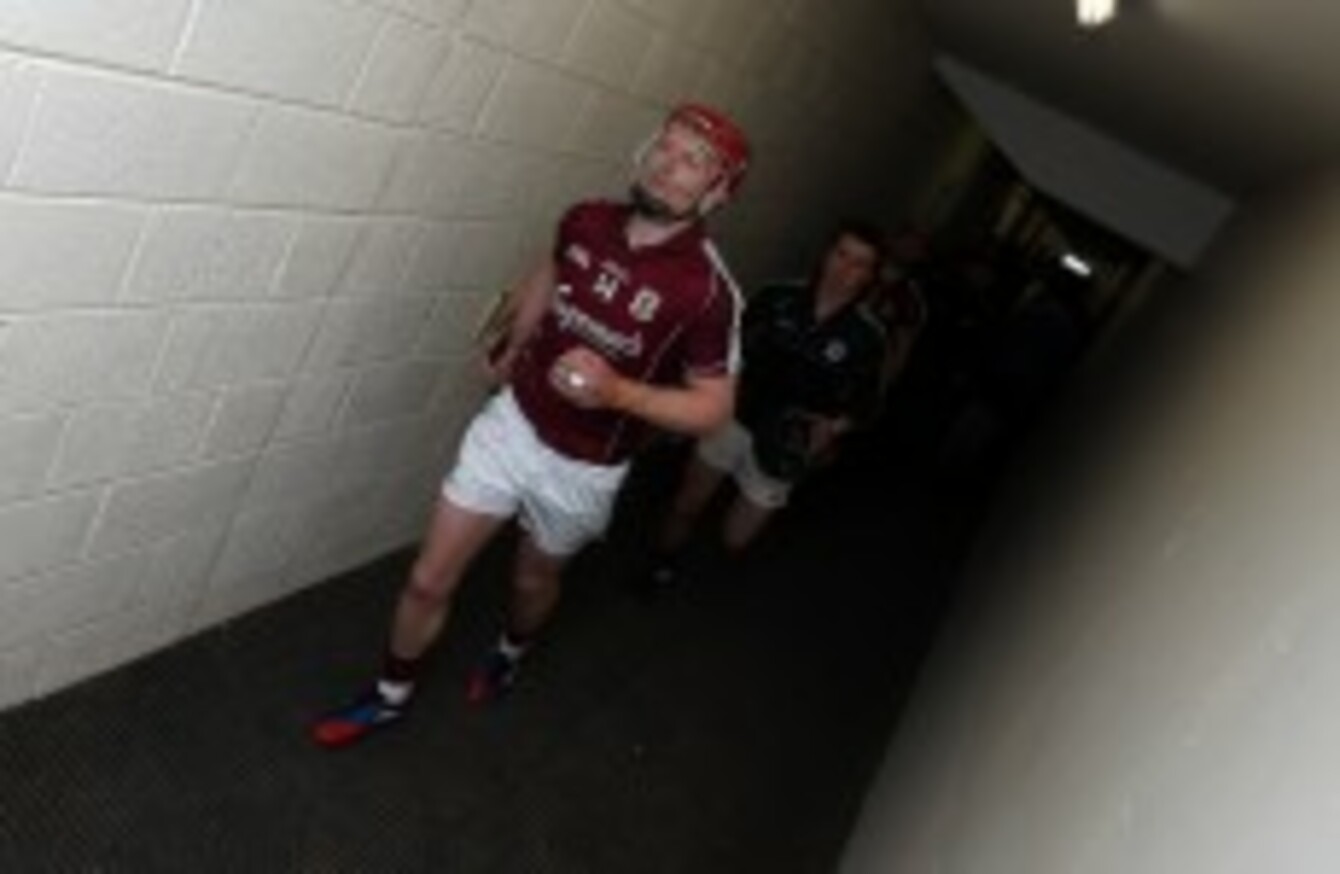 Can Joe Canning lead Galway out of the darkness?
Image: ©INPHO/Donall Farmer
Can Joe Canning lead Galway out of the darkness?
Image: ©INPHO/Donall Farmer
WITH THE GALWAY hurlers the one certainty is the great uncertainty. It will always be that way.
When hope and expectation are pinned to Galway shoulders, something strange can happen.
Suddenly Galway can stop firing. Where does the passion and purpose of the previous campaign drain to?
Still the one delicious irony is that somewhere deep in the heart, people get the sense that Galway could respond. That is why Galwegians will still hit Thurles on Sunday worrying, but also wondering about what may happen.
Unfortunately near misses are part of the Corribsiders' recent history, especially the year after an All Ireland decider has been reached. Can Galway buck this infuriating trend in 2013?
1990 & 1991
A Cork goalscoring blitz thwarted a Joe Cooney inspired Galway, who had been electric at the start of a fascinating All Ireland decider in 1990. Cork, though, had the craft to recover and despite Cooney's heroism Galway were outfoxed.
The maroons' were well stocked with Celtic cross holders back then so experience and guile weren't issues as Cyril Farrell frequently had them bouncing off the ground.
What happened in 1991? The most unheralded, but utterly gifted Michael Cleary went on the rampage in the semi-final as Tipp had the savvy to defeat a Galway team that had the 1989 Keady affair etched into their minds.
Following that loss Galway went through a dreaded transitional phase.
Joe Cooney on the attack for Galway
Pic: INPHO
1993 & 1994
Daring and ambitious in 1993 Galway left an All Ireland title behind them. Jarlath Cloonan had plotted an uplifting penultimate stage success over Tipperary. Inevitably Kilkenny were there to pounce when silverware was on the line; PJ Delaney and Adrian Ronan were in scheming mode and Galway were left reflecting on what might have been.
Joe Rabbitte's emergence, Padraig Kelly's style, and Joe Cooney's enduring excellence meant that Galway carried optimism into 1994. Offaly, though, had dethroned Kilkenny in Leinster and beaten Wexford in the provincial final.
Galway couldn't cope when the pace quickened as the Dooley's prompted the Faithful, who concluded their epic journey with a thrilling September triumph over Limerick
Action from the Galway Kilkenny 1993 final
Pic: INPHO
2001 & 2002
In 2001 a game that Brian Cody has never forgotten occurred. Galway, managed by Noel Lane, bullied Kilkenny in a mad All Ireland semi-final. Eugene Cloonan was a sharp attacking spearhead scoring 2-9 out of 2-15.
Galway went in to the final loaded with hope, but Nicky English's Tipperary had the blend of youth and experience required. Mark O'Leary flicked a couple of goals, Eoin Kelly's star was rising, Lar Corbett was all flicks and tricks and Galway went away thinking that 2002 could be their year.
It wasn't. A new system with the introduction of the qualifiers had Galway motoring nicely with wins over Down and Cork. Galway went into the All Ireland quarter final with Clare feeling good about themselves.
Unfortunately Galway departed pondering what might have been. Clare had the warriors to eke out a victory at the end of a claustrophobic and truly gripping game that is rarely recalled.
Joe Rabbitte of Galway on the attack in the 2001 All-Ireland final
Pic: INPHO/Lorraine O'Sullivan
2005 & 2006
The 2005 Championship essentially captured the promise and pace Galway can bring. It also confirmed their tendency to ultimately disappoint. A quarter final with Tipperary seemed to be slipping from Galway's grasp, but they finished with a flourish.
A Niall Healy hat-trick vexed Kilkenny in a goal laden semi-final. Cork, though, had the cocktail of cuteness and class to shrug Galway off when it counted most.
So Galway went into 2006 rated and respected. The qualifiers had a group stage in 2006 and a Walsh Park reversal to Waterford had an impact on Galway's mood and morale.
It ensured they ambled into a quarter final with Kilkenny at Semple Stadium with a few doubts and they subsequently left Thurles with a few more. Another adventure was over before the Galway Races.
Galway's Niall Healy with Tommy Walsh of Kilkenny
Pic: INPHO/Morgan Treacy
2012 & 2013
And still they hope out west. The past mightn't matter too much to the current crop, who cannot change history, but it has been 25 years since Galway were at the summit of the hurling world.
There were encouraging signs in 2012 Anthony Cunningham had Galway ready, willing, and able to stun Kilkenny in the Leinster showpiece. It was an electric and unexpected Galway July victory.
Composure was demonstrated a month later when dangerous opponents in Cork were fended off. Galway could, and some would argue should, have taken Kilkenny in the drawn All Ireland encounter.
Joe Canning's goal examined the Croke Park foundations as the Jones' Road venue rocked, but Kilkenny, ever the classy Cats, hung on in there. Henry Shefflin had the drive and desire, and Liam McCarthy was pocketed with the minimum of fuss in the ensuing replay.
So Galway are now back in a familiar place. The Dublin reversal was an obvious setback, but they venture for Thurles on Sunday with hurling folk trying to figure out where Galway actually stand. The impending trip to Tipp will be interesting.
Galway's Joe Canning celebrates scoring the opening goal against Kilkenny
Pic: INPHO/Cathal Noonan