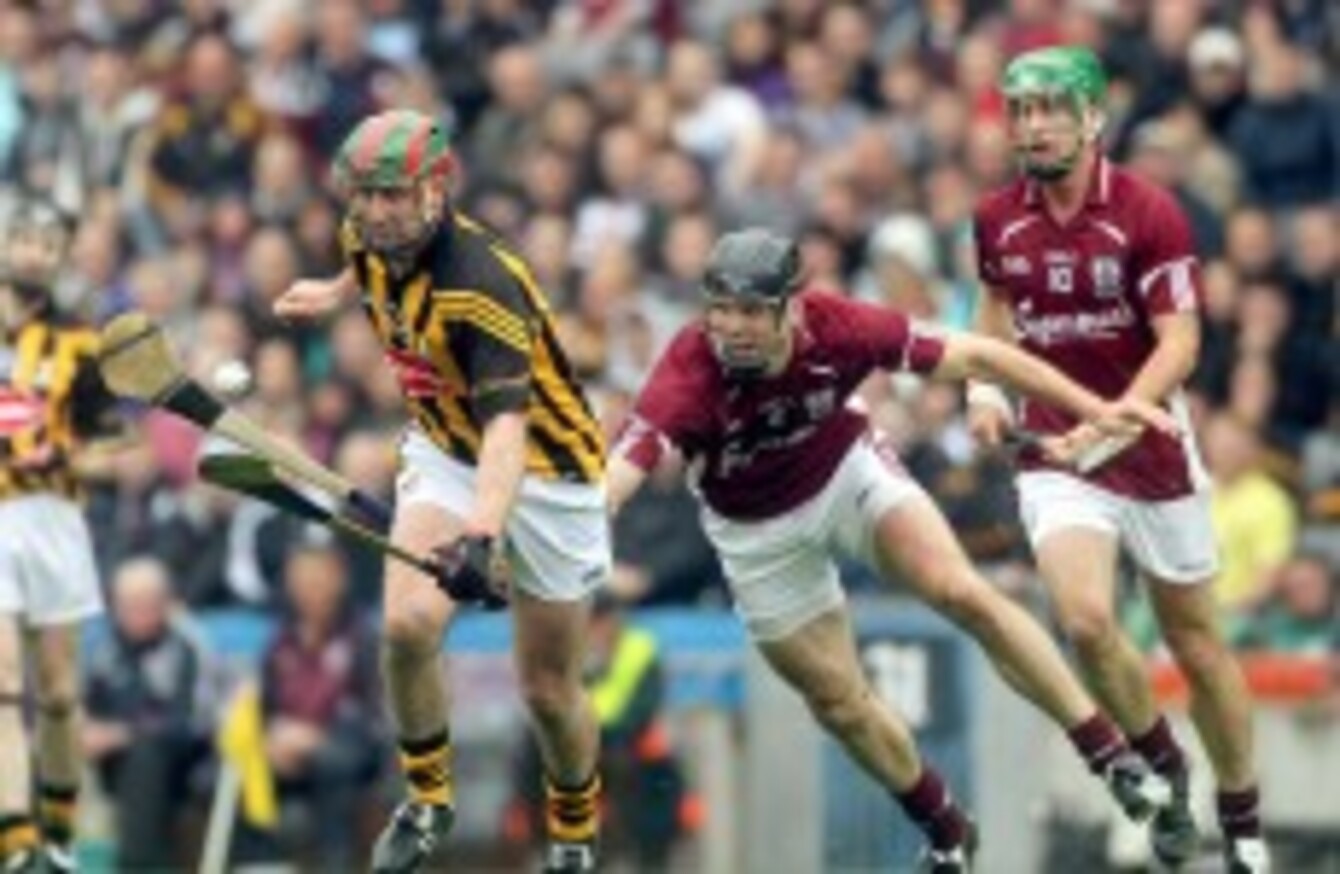 Eoin Larkin and David Collins battling in the Leinster final.
Image: INPHO/Ryan Byrne
Eoin Larkin and David Collins battling in the Leinster final.
Image: INPHO/Ryan Byrne
Sinead O'Carroll
Getting to see Joe Canning play in an All-Ireland final probably tops my list of things I'm most looking forward to about Sunday. The revised Leinster championship format has allowed us to see the Galway man play in Croke Park, where he belongs, but to see him there in September – and in front of a packed stadium – will be special. Hopefully, things will go right for him on the day and he can be moved up to stand with the likes of Richie Power and Lar Corbett as very special players in this era of hurling. (He'll probably need to bag a few more medals to touch Henry yet).
Gavan Reilly
Seeing whether lightning can actually strike twice – and just how the mercurial Joe Canning will perform on the biggest stage of all. Kilkenny have the art of bringing in young lads to a tee now, but still have a squad dripping in All-Ireland medals – while for Galway, what's rare is truly wonderful. I'm really itching to see whether Kilkenny – albeit with a few new-ish faces – can muster the hunger to get fired up for a seventh All-Ireland final in a row.
There's a real risk that after the Tipperary demolition, they'll assume they can just show up and exact their revenge on Galway – but on the other hand, Galway may fear the wrath of revenge after daring to plunder a Leinster title. Plenty of subplots to look forward to!
Daithi Regan
Seeing can the remarkable standards of the last few finals be maintained. In my view the best three All-Ireland deciders of all time have been the last three and the intensity, the skill and the physicality involved has been just incredible. There was a point that I remember Eoin Kelly scoring in the 2009 decider which encapsulated the quality of the hurling.
Jackie Tyrrell was marking him and did everything a defender could to halt his attacking opponents yet Kelly still managed to put the ball over the bar under pressure. That summed it up for me, two players at the peak of their powers going head to head. I'm looking forward to Galway and Kilkenny hopefully maintaining that trend tomorrow.
Tony Cuddihy
Some different colours, to be blunt about it. While it's hyperbole say that Galway have appeared from nowhere to reach their first All-Ireland final since 2005, it is refreshing to see some new faces after the Cats' and Tipperary's various battles over the last three or four years. I'm also interested to see if the newly-found defensive solidity Galway showed against Cork will be enough to quell a rampant Kilkenny attack. If the Tribesmen can keep some of their energy and discipline for the last 20 minutes, then we'll have a real contest. If not, the Cats will go on a spree.
Galway's Joe Canning. Pic: INPHO/Colm O'Neill
Be part
of the team
Access exclusive podcasts, interviews and analysis with a monthly or annual membership.
Become a Member
Ciaran Murphy
Joe Canning. I saw him first in the flesh at the 2006 All-Ireland club final, as a boy wonder inspiring Portumna to glory. I've watched him do things I barely thought were possible at minor, u-21 and Fitzgibbon level. I remember watching slack-jawed as he scored 2-12 in his first real senior championship game against Cork in 2008… and lose.  And now he gets his chance to shine.  It's not just Galway people who are delighted to see him there – everyone with an interest in hurling knows he deserves this.  I only hope he does justice to his wondrous natural ability.
Paul Fennessy
It's hard to single out one aspect of the game in particular. I think it's the final that most neutrals would have wanted and the outcome of this year's Leinster final adds an extra element of spice to the occasion. Galway need to prove that it wasn't just a blip on the Kilkenny team's CV, and that their victory was more than just a fortuitous anomaly, while there's the obvious revenge factor for Kilkenny. Moreover, Brian Cody's men need to silence the critics who suggested they might be waning at the start of the year, and consequently alleviate any doubts that they are the best side in Ireland.
Also, simply watching Kilkenny play always feels like a privilege, given that they're one of the greatest and most decorated teams in the history of the sport. Galway, similarly, have some outstanding players, so I'm essentially looking forward to what I suspect will be a hugely entertaining and closely fought game between the two best teams in the country.
Niall Kelly
Is it possible for a team to beat Kilkenny twice in the same summer? It seems crazy to even suggest it but that's what the Galway hurlers are looking to do come Sunday. I can't remember the last time I saw a side dismantle this great Cats side as thoroughly and efficiently as Galway did in the first 20 minutes of the Leinster final and I'm looking forward to seeing if they can come close to that level again. But Kilkenny don't take beatings lightly and something tells me that Brian Cody won't need to pin any articles up on the dressing room wall. Can they match the performance they put in in the second half against Tipp? They might need to.
Fintan O'Toole
What approach will Anthony Cunningham take to this game? It may be his first season as Galway senior hurling boss but the Peterswell native has already made his mark in 2012. He took down a team guided by the greatest hurling manager of all time in July and the rematch tomorrow is going to be fascinating. Brian Cody will be better prepared for Galway's challenge but does that mean Cunningham tries to repeat his Leinster final ploys or come up with a different tactical innovation? His exploits with Galway and Garrycastle this season have demonstrated Cunningham's managerial qualities already and how he fares on the biggest day of the hurling year will be intriguing.