1. The first hurling classic of 2015
There's no point disguising the fact that it's been a slow burning hurling summer. Finally today the previous tame clashes were discarded from memory as a bonafide classic materialised.
Three goals, 41 points and two penalties featured in a riveting encounter. The finale throbbed with excitement with Noel McGrath looking to have crowned a fairytale return to action after cancer surgery by nudging Tipperary ahead.
But U21 Jason Flynn popped up with a priceless point for Galway to level proceedings before Shane Moloney proved the hero on his senior championship debut by landing the match winner.
2. Galway's rising performance graph continues
It was desperately tight at the end but when the game is dissected, Galway's case for victory was stronger. They recovered from the body blows of conceding goals, particularly in the shape of Callanan's strike in the opening seconds, and produced powerful passages of play.
Goalkeeper Colm Callanan made some excellent saves while Daithi Burke and Iarla Tannian thundered into the action in the second-half. Up front there were several heroes with Joe Canning, Flynn, Cathal Mannion and Conor Whelan all shining.
This was a victory for Galway hurling to savour, a one-point Croke Park win against Tipperary five years after they were on the other end of a heartbreaking defeat against the Premier by the same margin.
3. Callanan's star showing can't save Tipperary
Last summer Seamus Callanan took the Galway defence for 3-8 on a Saturday night in Thurles. He managed to better that tally today with a brilliant 3-9 return but that display of magnificence could not push Tipperary into the winners enclosure.
Callanan's aerial prowess caused Galway untold problems as he fired home three goals and won a penalty late on where Colm Callanan prevented the 26 year-old from raising a fourth green flag.
Yet it wasn't enough to save Tipperary as they were too reliant on Callanan for inspiration. 0-4 from play from the remaining starting Tipperary forwards illustrated the lack of support Callanan received.
4. Penalties back in the hurling spotlight
Twice during the match, penalties were awarded at the Davin End but on both occasions we saw two of the country's best attackers unable to hit the net. At either end of the match, Joe Canning and Seamus Callanan were thwarted by goalkeepers.
Galway had sufficient time to recover from the setback of not seeing Canning score while Callanan's shot was a huge turning point, given that he was closing in on goal when he was fouled.
Seeing two penalties awarded but no green flags raised from them, again brings into question whether the current rule is punishing attackers.
5. End of the Tipperary road for Eamonn O'Shea
Today's gut-wrenching defeat sees Tipperary head to the 2015 exit door and also spells the end of Eamonn O'Shea's spell in charge. This was pre-ordained to be O'Shea's last season with Michael Ryan set to fill the hotseat in 2015.
After being a Liam MacCarthy Cup winning coach in 2010, O'Shea held a huge desire to attain that honour as a manager. Three seasons at the helm have passed but the Tipperary boss has fallen short of his ultimate goal.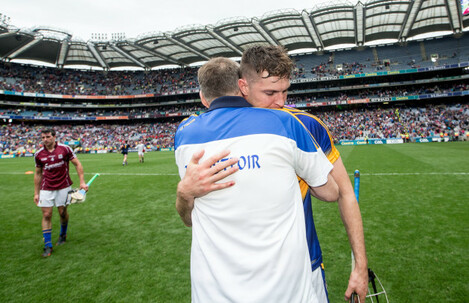 Heartbreak for Tipperary's Eamonn O'Shea and Seamus Callanan Source: James Crombie/INPHO
6. Galway to get second crack off Kilkenny
Anthony Cunningham's post-Leinster final comment to Brian Cody about seeing him again in September now looks prophetic. The Galway manager has guided his team through the backdoor and they're 70 minutes away from ending the county's Liam McCarthy drought that stretches back to 1988.
Today was a superb success for the Tribesmen. They possess serious momentum and have an array of brilliant forwards at their disposal. Their full-back line needs attention in light of Callanan's performance today but Galway are in a good place.