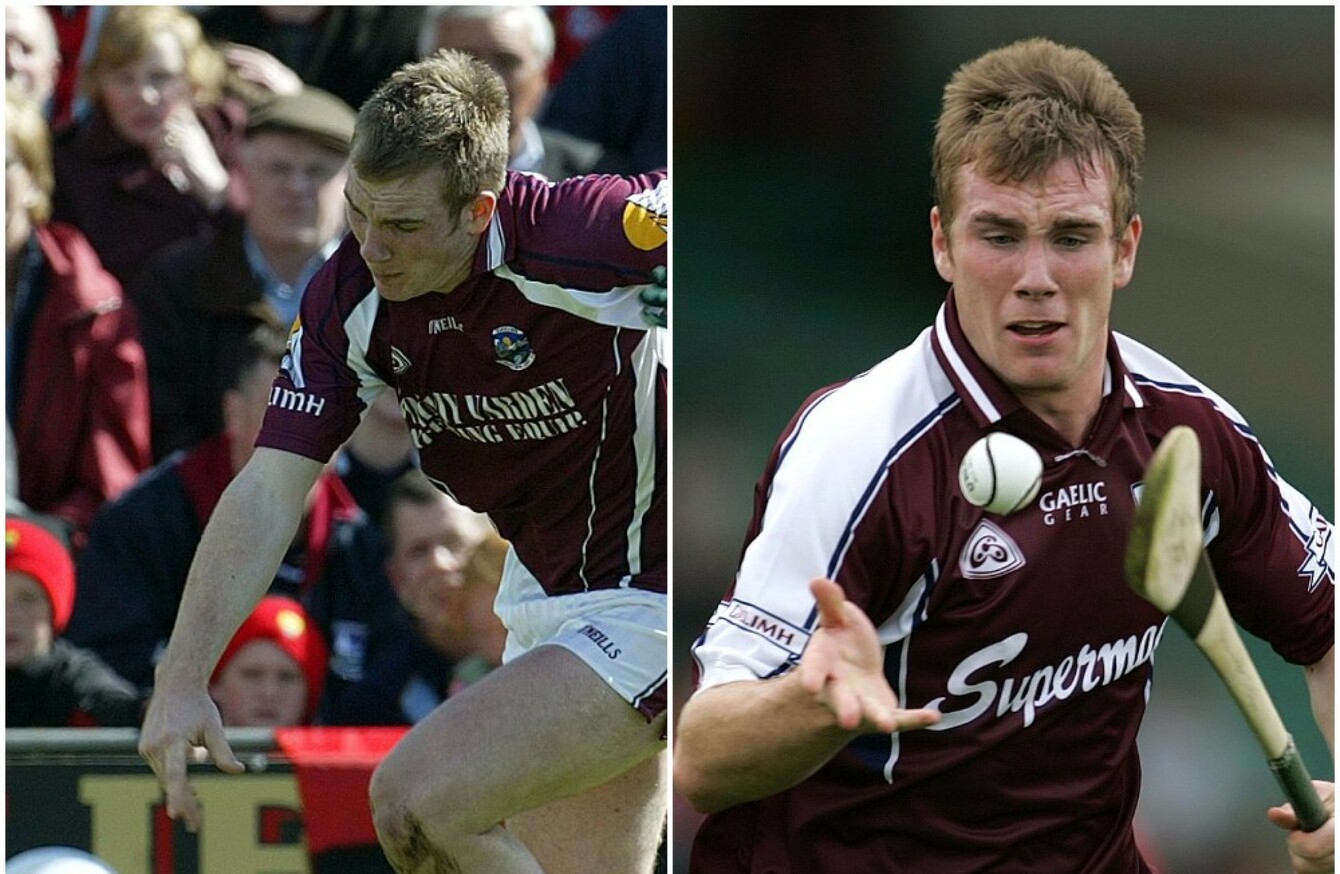 2005 was a special year for Barry Cullinane.
Image: INPHO
2005 was a special year for Barry Cullinane.
Image: INPHO
THERE WERE ONLY 11 white flags raised on All-Ireland U21 football final day 12 years ago.
You'd be forgiven for looking at that stat and being glad at missing a drab and dour game of football.
But the reality was more uplifting considering that Galway and Down raised 10 green flags between them that afternoon in Mullingar.
When Barry Cullinane, the towering midfielder on that Galway team, recalls their 6-5 to 4-6 victory, his most vivid memory is the crazy and madcap manner in which the goals flew in.
Galway had two lethal attacking weapons in their arsenal, Michael Meehan and Sean Armstrong hitting a hat-trick apiece.
It was no surprise that they were the stars of the show. In the semi-final win over Cork, they kicked 15 of the 17 points that Galway notched.
"It was a freakish game, you won't have too many All-Ireland finals like that," laughs Cullinane.
"It's not giving away state secrets, people knew we'd a strong set of forwards. It was a matter of getting quality ball to them and giving them the opportunity to do the damage.
"The boys, Army and Mikey, certainly did it that day. It wasn't just the two lads though, we'd good forwards up there working hard and making space for them.
"You can look at the scoring of the two lads but they worked fantastically. If we were under a bit of pressure, that's where you really saw their true worth.
"In the semi-final Cork brought it back to a point. The more flashy forwards that mightn't like the graft, mightn't have helped out as much but Mikey and Army, were unreal to help grind out the result."
Just under three weeks ago Cullinane was in Croke Park, on punditry duty for Galway Bay FM, and watching that prized pair back involved as the Galway senior side ended that long, barren 16-year run since their last win on Jones Road.
"It was brilliant to see and Finian Hanley was there as well. With his injuries Mikey has had a lot of time off. He built the miles on the clock up when he was younger, he seemed to be playing for a huge amount of teams.
"If he can get his ankle right, he should be fresh and whatever about making the team – though I know he'll want to make a contribution – just having him around there and seeing how he conducts himself, it'll be invaluable to have him.
"Sean took a bit of a sabbatical but he'd a great county championship last year with Salthill. Corofin couldn't get a hold of him in the county final.
"He came back in the start of the year and maybe he found it a little difficult at first to get to grips with the pace of it.
"But as the games went on he blossomed and he was fantastic in the final against Kildare."
Cullinane went on himself from that 2005 U21 win to put in a good stint as a senior midfielder with Galway, part of a Connacht title win in 2008 against Mayo.
He'd to put his hand up a few years ago though and concede that a troublesome knee was halting his career.
"I've just a cartilage (problem) and a bit of arthritis in the knee. I've had five operations on it, it doesn't stand up to much at the moment. But it's grand, I can get by."
With playing days behind him, he's been able to devote himself to his other GAA passion in getting involved in the coaching game.
This evening Cullinane is back at the heart of an U21 final battle, a selector as Galway bid to be crowned All-Ireland champions against Dublin in Tullamore. He goes back a long way with Galway manager Gerry Fahy.
"I won a Sigerson with Gerry in charge in 2003 with NUIG. Then he got asked to do the freshers in NUIG last year and I got involved with him in that.
"From that then he got nominated for the Galway U21 job and I got on board with him. The freshers was very enjoyable and this year's U21 has been very enjoyable."
It's a grade that Cullinane freely enthuses about, a level of competition that holds special memories for him and has proven to be particularly fruitful.
That victory over Down wasn't the only All-Ireland U21 win he cherished in 2005. When the Galway hurlers were celebrating a Gaelic Grounds success over Kilkenny in September, Cullinane had anchored their defence at centre-back.
He hails from an area that skirts two heartlands of Galway GAA, the football in the north and the hurling in the south.
Cullinane hurled for Turloughmore and kicked ball for Claregalway, going to school in Athenry stoking his interests in both sports equally.
"It was unreal. I was blessed. I only came in late on in the year, I'd two games of hurling with Galway and turned around and we won an All-Ireland out of it.
"We'd a great team with great forwards like Niall Healy and Kerril Wade. They'd experience of getting beat by Kilkenny at minor and made a pact of not getting turned over again.
"It wasn't looking great for a while in that final but we ground it out. It was a great year for me however I managed to get two All-Ireland medals."
It's a unique feat, Cullinane is the only Galway man to have shared in two national U21 triumphs in a single season. A bunch of Cork men from the early 70s are the only other players alongside him in that bracket.
He's kept the dual role going in his coaching career, working at senior hurling level with his club. Last Sunday he saw the Turloughmore flag flown on the Galway team that demolished Tipperary in Limerick.
"It was brilliant to see the lads last Sunday. Daithi (Burke) has been around a long time and has a couple of All-Stars but for Sean (Loftus) to get on is such a great experience for him as he's new to it.
"I was delighted for them and Ronan Burke as well that's knocking around the panel. We're trying to do things right in Turloughmore but we're under no illusions that we've a long way to go."
Interest in their club swelled when they added ex-Mayo football boss James Horan to their management ticket last winter.
"It raised a lot of eyebrows at the start of the year," admits Cullinane.
"But we felt we needed someone to come in and see how we approached things in terms of professionalism and standards. James had done a little bit of work with the club in the month previous.
"It's a credit to our chairman Tom Shiels that he had the foresight to go and talk to James and show him the merits of getting involved.
"Fair play to James as well, it was a chance that he willing to take. So far it's been great, he's a very professional guy that drives the highest of standards."`
Clipping the wings of the reigning champions St Thomas in a group game earlier month got the Horan era in Turloughmore off to a flying start.
That win came a week before Galway toppled a heavily-fancied Kerry U21 football side in Ennis.
"I read some place the week of the game where someone was tipping things to do at the weekend in sport and one of them was go to see this Kerry team, that they were the best U21 team of all time," says Cullinane.
"To me, it was jumping the gun a small bit. They'd a couple of good minor teams but still hadn't won an U21 in a long time. I think Jack O'Connor had said he expected it to be Mayo they were playing.
"We were 1/7. You can insulate players as much as you want from that stuff but they do see it and they do hear it.
"I'm sure it galvanized our lads to put in a performance and in fairness we got it."
The month of April has seen Galway teams habitually hit high marks. Today's U21 decider is the chance to maintain the buoyant mood in the county.
"It's great, social media is awash with Galway GAA. We're very lucky in the county that we have role models there that can generate a bit of excitement.
"The youth are taking to these lads and the older generation are enjoying the bit of success. We're under a small bit of pressure now with the hurlers after winning the league and the footballers after winning the league.
"But this is a place where we want to be and we're hoping to add to the enjoyment of Galway supporters."
The42 is on Instagram! Tap the button below on your phone to follow us!