Liveblog
Good afternoon. Kevin O'Brien here and welcome to our coverage of today's All-Ireland SHC final between Galway and Waterford.
I'll be taking you through all the action in this novel final pairing. We're getting close to throw-in time, here's how the sides will line-out. No word of any changes yet.
Galway
1. Colm Callanan (Kinvara)
2. Adrian Tuohy (Beagh)
3. Daithi Burke (Turloughmore)
4. John Hanbury (Rahoon/Newcastle)
5. Padraic Mannion (Ahascragh/Fohenagh)
6. Gearoid McInerney (Oranmore/Maree)
7. Aidan Harte (Gort)
8. Johnny Coen (Loughrea)
9. David Burke (St Thomas – captain)
10. Joseph Cooney (Sarsfields)
11. Joe Canning (Portumna)
12. Jonathan Glynn (Ardrahan)
13. Conor Whelan (Kinvara)
14. Conor Cooney (St. Thomas)
15. Cathal Mannion (Ahascragh/Fohenagh)
Waterford
1. Stephen O'Keeffe (Ballygunner)
2. Shane Fives (Tourin)
3. Barry Coughlan (Ballygunner)
4. Noel Connors (Passage)
5. Tadhg de Burca (Clashmore / Kinsalebeg)
6. Austin Gleeson (Mount Sion)
7. Philip Mahony (Ballygunner)
8. Jamie Barron (Fourmilewater)
18. Kieran Bennett (Ballysaggart)
10. Kevin Moran (De La Salle)
11. Pauric Mahony (Ballygunner)
12. Jake Dillon (De La Salle)
13. Shane Bennett (Ballysaggart)
14. Michael Walsh (Stradbally)
15. Darragh Fives (Tourin)
Your essential pre-game hype video:
Likely line-ups: Jonny Glynn to go full-forward?
We're underway! Both teams start as selected.
Galway 0-1 Waterford 0-0
1 min – Great start from Joe Canning who gives Galway the lead.
Galway 0-2 Waterford 0-0
2 min – Johnny Coen adds a second.
Galway 0-4 Waterford 0-0
4 mins – It's all Galway so far. Joseph Cooney gives them a three-point lead and moments later Cathal Mannion makes it four.
GOAL! Kevin Moran hits the net early on for Waterford!
Galway 0-4 Waterford 1-0
5 mins – That goal will really give Waterford a boost after a slow start to this game. Kevin Moran leading by example to net his second goal in two games.
Galway 0-5 Waterford 1-0
5 mins – Conor Cooney hits another point as Galway retain their 100% shooting record.
A standing occasion for Tony Keady in the sixth minute.
Galway 0-6 Waterford 1-0
7 mins – Six shots by Galway. Six points. David Burke with the latest.
Galway 0-6 Waterford 1-1
8 mins – Mahony converts a free for Waterford's first point of the game.
Galway 0-6 Waterford 1-2
11 mins – Moran brings his tally to 1-1 already.
Galway 0-7 Waterford 1-2
12 mins – Cathal Mannion with the latest from Galway, who are happy to pick off their points from distance.
Galway 0-9 Waterford 1-2
13 mins – Canning and Conor Cooney add a score apiece. Galway's shooting is electric so far.
Galway 0-9 Waterford 1-4
18 mins – Mahony and 'Brick' Walsh drag the Deise back into the contest.
Galway 0-9 Waterford 1-2
Galway 0-10 Waterford 1-4
21 mins – David Burke pops over his second.
GOAL! A second three-pointer for Waterford!
Kieran Bennett's long ball into the area may have got a touch from Shane Bennett and into the net. Not sure who will claim that one.
Sub: Maurice Shanahan for Shane Bennett, who looks like he has an ankle injury.
So that's Waterford's trump card being used very early on in the form of Shanahan.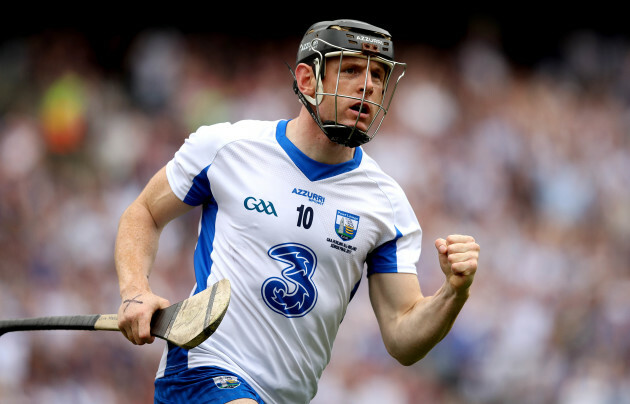 Source: Ryan Byrne/INPHO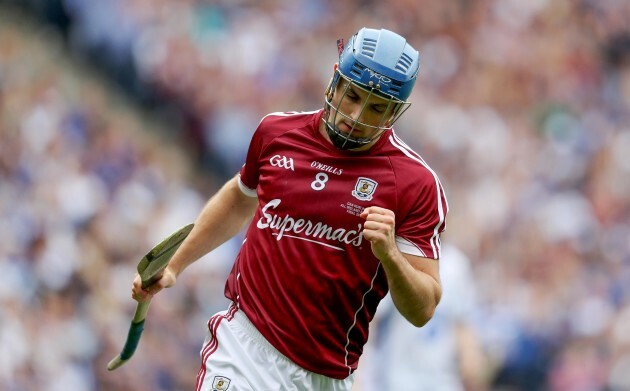 Source: Tommy Dickson/INPHO
Galway 0-11 Waterford 2-4
Joe Canning, who is having an influential first-half, cuts over a wonderful sideline.
Galway 0-12 Waterford 2-4
Conor Whelan hits his first score of the game. His marker Noel Connors has gone down injured.
Galway 0-13 Waterford 2-5
31 mins – Joseph Cooney races forward and splits the posts.
Galway 0-13 Waterford 2-6
Gleeson plays it short to Jamie Barron who opens his account for the day.
Yellow: John Hanbury for a high challenge.
Galway 0-14 Waterford 2-7
35+2 mins – Lovely little inter-play between Brick and Jamie Barron, with the latter scoring. At the far end Joe Canning slots over his first free of the proceedings.
Half-time: Galway 0-14 Waterford 2-7
The attendance is 82,300. And the second-half is back underway.
Galway 0-14 Waterford 2-8
Mahony nails a close-range free to level us up for the fourth time this afternoon. Joe Canning has moved to centre-forward having spent much of the first-half at left-half forward.
Galway 0-15 Waterford 2-8
Whelan takes on de Burca and is fouled near the end line. Canning applies the finish from the placed ball.
Austin Gleeson is gone into full-forward and is being tracked by Gearoid McInerney.
Meanwhile, Shanahan hits Waterford's fifth wide of the game.
Galway 0-15 Waterford 2-9
Jamie Barron bursts forward and somehow picks out Mahony with a neat hand-pass. Mahony splits the posts. Barron has stormed into this game after a quiet opening 10 minutes.
Yellow - David Burke is booked after a miss-timed tackle.
Galway 0-15 Waterford 2-10
Mahony does the business from a tricky free. The Deise lead.
Subs: Niall Burke is in for Glynn who was very ineffectual today.
Galway 0-16 Waterford 2-10
Cannings nails a free to level us up for a sixth time.
Galway 0-17 Waterford 2-11
Mahony is giving Padraig Mannion a roasting and he fires over his seventh of the day. David Burke raises a white flag immediately in response.
Galway 0-17 Waterford 2-12
Mahony tips over his eighth, this one from a free.
Bad wide by Moran, he should have scored from there.
Galway 0-18 Waterford 2-12
Burke tags over a fine score from the sideline.
Sub: Brian O'Halloran is on for Dillon.
Galway 0-19 Waterford 2-12
Burke has a second point after being sent through by Whelan. Burke is looking sharp.
Waterford need to get Austin Gleeson on the ball, he's been very quiet.
Galway 0-20 Waterford 2-12
Three in-a-row by Galway, with the latest a free from Canning.
Galway 0-21 Waterford 2-12
David Burke's fourth of the game sends the Tribe three in front.
Galway 0-21 Waterford 2-13
O'Halloran strokes over an excellent score from the wing.
Galway 0-21 Waterford 2-14
Pauric Mahony, who has been excellent today, wins the break and gives a great ball inside where Shanahan is fouled. Mahony converts the free.
Galway sub: Jason Flynn in for Cathal Mannion.
Waterford sub: Tommy Ryan is in for Brick Walsh
Galway 0-22 Waterford 2-14
Jason Flynn scores a point with his first touch. Galway lead by two.
Bad wide by Darragh Fives, that was a big chance after a good Deise move.
Galway 0-22 Waterford 2-15
Sub Tommy Ryan bombs down the flank and lands over an incredible score for Waterford!
Yellow - Barry Coughlan (Waterford)
Galway 0-23 Waterford 2-15
Waterford concede a very harsh free after Shane Fives appeared to be fouled. Canning sends it over the bar for his eighth.
Galway 0-25 Waterford 2-15
Conor Cooney and Flynn hit a point each in the space of a minute. It's Galway's to lose now.
Waterford sub: Colin Dunford is on for Jamie Barron.
Waterford sub: Patrick Curran is in for Kieran Bennett. Waterford look like they're pushing up man-on-man now.
Gleeson sends a sideline cut wide.
Mahony sends his free wide from midfield.
Galway 0-26 Waterford 2-16
Galway are happy to foul now in midfield. Mahony hits his tenth point from a free and Waterford's first in ten minutes. Niall Burke catches a high ball and Canning slots over the free.
Galway 0-26 Waterford 2-16
Mahony gets another free after Ryan is fouled. It's a three-point game once again.
Three minutes of stoppage-time left.
Austin Gleeson lands a long free from his own half wide when Shanahan was waiting on the edge of the square.
Conor Cooney hits a wide at the far end. Waterford are chasing a goal desperately now.
Galway 0-26 Waterford 2-17 – FT
Galway are All-Ireland champions!
What a game that was! Thanks for joining us. Keep an eye on the site for plenty of reaction and analysis from that thriller!
Contribute to this story: