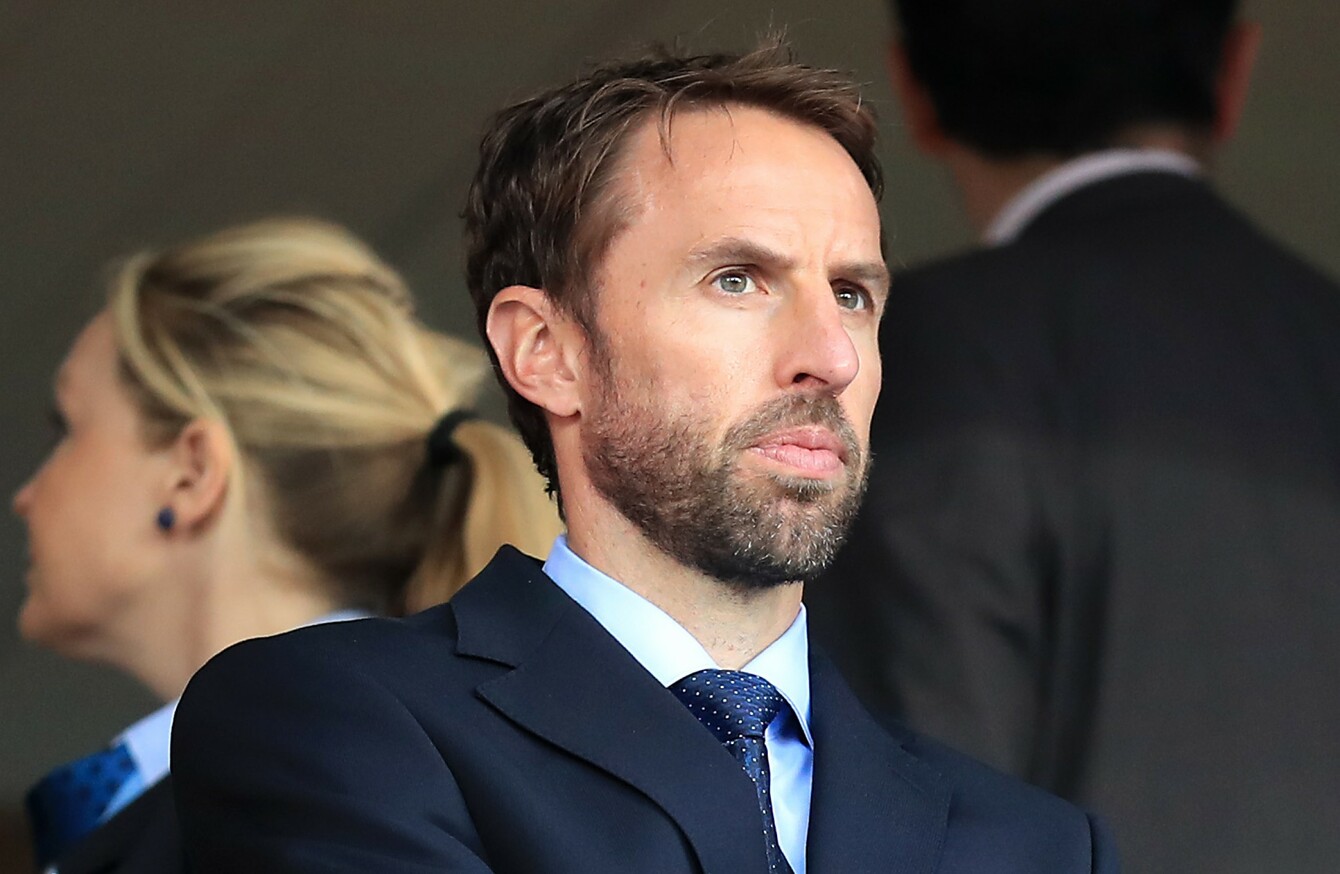 Southgate: the bookies' choice to succeed Hodgson.
Image: Mike Egerton
Southgate: the bookies' choice to succeed Hodgson.
Image: Mike Egerton
THE CHIEF EXECUTIVE of the Football Association has hinted that Gareth Southgate will become interim England manager and suggested a female coach could succeed Roy Hodgson on a permanent basis.
The FA is looking for a new England manager after Hodgson, 68, announced his resignation following Monday's humiliating elimination by Iceland at Euro 2016.
Martin Glenn hopes to have appointed a successor by the start of England's 2018 World Cup qualifying campaign in early September, but said that if not, "we have an interim plan in mind".
Asked if he was speaking about Southgate, currently England U21 coach and the bookmakers' favourite to succeed Hodgson, he said: "We are not talking about names today, but it would be a pretty obvious one to pick."
Glenn revealed that he, FA technical director Dan Ashworth and FA vice-chairman David Gill, the former Manchester United director, will lead the search for Hodgson's replacement.
"We clearly need an inspirational manager who can harness the big resources that the English game has got, everything we have now got at St George's Park (the national training centre), to make us more resilient in tournaments," Glenn said.
Raising the possibility of a first female England coach, he added: "As I said, it has got to be the best man or woman for the job.
"More likely a man, but it's the best person for the job. I don't think we are ruling out anything."
Glenn also said that the FA would be prepared to leave an interim manager — or even a collection of temporary coaches — in place for a few months in order to get the long-term appointment right.
He said that he was "not ruling out a non-English coach" and Hodgson, who made a reluctant appearance alongside Glenn at England's Chantilly media centre, said that the nationality of his successor should not be an issue.
"I don't have a problem with it," said Hodgson, who admitted that he had not initially wanted to speak to the media.
"It would be very hypocritical of me to do so, having been the national coach in Switzerland, Finland and the UAE. It's got to be the best person for the job."
Hodgson's comments were echoed by England captain Wayne Rooney, who has played under two non-English national coaches in Sven Goran Eriksson and Fabio Capello.
"Of course it's better if he's English, but he has to be the right man for the job," Rooney told reporters after the 2-1 loss to Iceland in Nice.
"He has to have the credentials and the ability to do the job. Whether he's English or not, we'll wait and see."