IT'S NOT TOO often that the provincial CEOs are wheeled out in front of the media, so it's always an interesting occasion when that rarity occurs.
Yesterday in Limerick, Munster's Garrett Fitzgerald held court at the Castletroy Park Hotel in a press event ostensibly called to outline the details around Andy Farrell joining the province on a temporary consultancy basis.
Donall Farmer / INPHO Fitzgerald spoke in Limerick yesterday. Donall Farmer / INPHO / INPHO
While that topic certainly did take some precedence, there are deeper issues around Munster that also needed to be addressed. The southern province are at a low point, of that there is no doubt.
Out of Europe at the pool stages for the second season in a row, attendances in Thomond Park falling, the loss of experienced playing personnel in recent season and an apparent inability to consistently attract world-class players from abroad – those are just some of the issues.
Munster's famously loyal support base is losing its patience. With the prospect of the province being genuinely competitive in Europe fading by the season, many are calling for changes, and not just to the current coaching staff.
Increasingly, there is a backlash against Cork native Fitzgerald, who has been with the province since December 1999. Following last weekend's defeat to Stade Français in Paris, some have even called for the Munster CEO to step down from his position.
Is it a move he has considered?
The situation is you are involved in a business; every day you consider your position," said Fitzgerald. "Lots of things go on in this job that you look at and you wonder, 'Am I doing it the right way? Is this the best thing for the organisation?'
"It isn't as if I considered it this week. The nature of the individual that I am and the way I approach things and the way I feel about an organisation, I could be thinking this every week and it may not be about the team. It could be about facilities, it could be about the club game, it could be about underage interprovincials. Ultimately, I am employed by the IRFU, appointed by the IRFU to be the CEO in Munster.
"We do an annual review every year where there are certain KPIs set out for each CEO. I try my level best to achieve them and to work beyond what those are. To date all my reviews have been satisfactory. Maybe someday someone will say they are not satisfactory, they are not happy with them.
"I am around long enough in this business to know that everyone's day comes at some stage. That is what happens.
"Have I considered my position? I frequently think about it, but I am positive. I think I am making a contribution, think I can make a contribution and I would be very fast the day I think I am not making a contribution to question myself."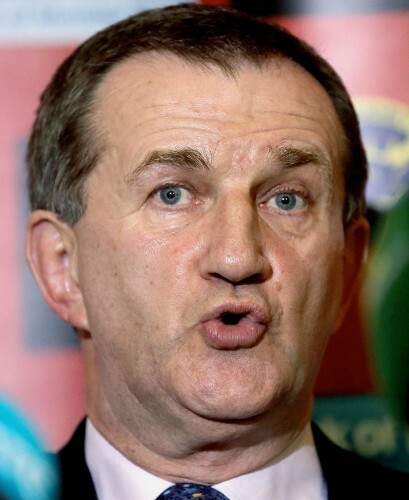 Donall Farmer / INPHO Fitzgerald worked in banking before joining Munster in 1999. Donall Farmer / INPHO / INPHO
Fitzgerald is of the belief that Munster are not in a permanent decline in European terms, pointing to a number of reasons why the province can remain competitive.
The move to one training base in the University of Limerick next season is chief among them, with the new facility currently under construction. The crazy situation of having the squad split between Limerick and Cork – meeting for training days twice a week – will be no more.
The province will retain a training base in Cork for younger players, but the senior squad will now all live and train together in Limerick. It's a move that should have happened a long, long time ago but at least it is finally on the way.
In terms of the financial situation, Fitzgerald and Munster expect a boost from a determined move to sell the naming rights to Thomond Park this year. He recognises it as an emotive issue, but stresses that this is how the sport works.
The reality is that that is what is happening in every business in every professional sport, you see it all over the place," said Fitzgerald. "We've actually employed a consultant and signed with a consultant to promote that in 2016."
Again, it's probably a move that should have been made before now, perhaps when Thomond Park was a more intimidating fortress than is currently the case, but the belated move will provide a boost to the province's coffers.
Fitzgerald complimented the IRFU for their support in financially helping the province with recruitment in recent seasons as they continue to pay off the debt created by building Thomond Park.
Ulster and Leinster appear to enjoy greater transfer market muscle than Munster at present, as evidenced by Ulster's signing of Charles Piutau on a contract worth in the region of €700,000 per season.
However, Fitzgerald says Munster still have the power to match their interprovincial rivals.
"Can compete financially with Ulster… the answer is yes. Could we have competed for him [Piutau]? Yes. So, it's not an issue, we can compete."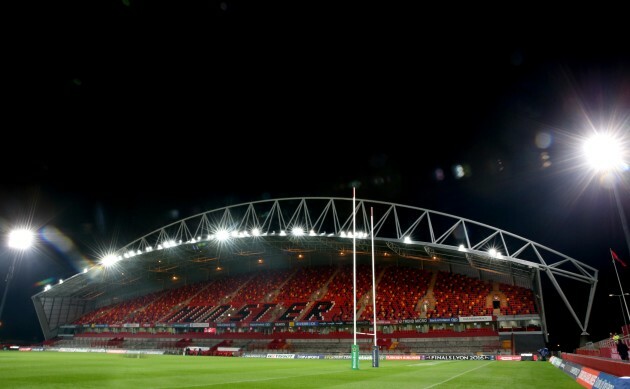 Dan Sheridan / INPHO Crowds in Thomond Park have dwindled. Dan Sheridan / INPHO / INPHO
So all is rosy at Munster? Fitzgerald does recognise that disinterested rugby fans are increasingly voting with their feet by not turning up at Thomond Park, but he suggests that the same is true in many stadiums in England.
Fitzgerald says Premiership champions Saracens have seen gate figures falling, while stating that Northampton are the only English team maintaining their attendances.
What is Fitzgerald's message to those Munster supporters who are losing hope?
"The first thing I would say is that I think we have fantastic supporters," said Fitzgerald. "A lot has been written about gates being down, which is quite acceptable and true.
"Obviously there is a huge expectation – 26,000. That is the way it has always been, things have changed, life has changed, sport has changed, and we haven't delivered the performances in the last year we would like to have delivered, especially at home.
Last year's failure for us was the Clermont game at home. The expectation to win at Saracens became much bigger when we didn't win the Clermont game. When you don't win your home games in European competition you are always going to struggle, with the exception that I hope Ulster prove me wrong in that scenario.
"As regards falling off the top of European rugby, that whole scene has changed an awful lot, you know that as well as I do; availability of players, budgets, everything has changed. It is way more competitive than it has been. It is harder to get up to that level.
"But to our supporters I would say you have got to be patient, you have to be realistic and you have got to see what is happening other teams as well. Our ambition is nothing else but to win trophies and that hasn't changed.
"If very year you don't, it hurts people every week you lose. Me, personally, I feel it that way."
With Munster and Leinster's European seasons already at an end two games out from the conclusion of the pool stages, there has been much talk of the provinces fading as forces at a time when the IRFU is attempting to further streamline the Irish game towards ensuring ongoing national team success.
It has created quite a tug of war for many supporters, who have a deep attachment to the provincial game. The fear is that an increased focus on the national team's priorities will leave the provincial game by the wayside.
Dan Sheridan / INPHO Munster's glory days are far behind them. Dan Sheridan / INPHO / INPHO
"At different stages, Leinster, Ulster and ourselves were dominant, if you want to use that word, but the reality of it is that it's international rugby that funds rugby in Ireland," said Fitzgerald on the topic.
"The provinces don't fund Irish rugby, so it's the international rugby game that funds everything in the Irish game. Obviously each of the four professional provinces generate a large proportion of their own money, but never enough – so you need assistance from [the IRFU].
"I think the national game has to take precedence. I think it becomes more topical when results aren't going the way they're meant to go. Leinster were disappointed early on in the year, we're disappointed now, but the game hasn't changed that much in Ireland in what we're doing.
"What has happened is that other teams are powering up more, when you look at the number of overseas players that are in Toulon, what Stade have and Clermont. That's the big change.
We all want to win and we all want more and we've got to do it and do it to the best of our ability, but at the end of the day the national team has to take precedence.
"That's what funds rugby in Ireland. But I'd love to be playing on Saturday and to be still in the Champions Cup and that hurts everyone. We've got to move on and that's it."
With Munster already out of this season's Champions Cup barring the two upcoming dead rubbers against Stade Français and Treviso, all their focus now centres on the Guinness Pro12 and ensuring that they finish strongly in the league.
Doing so would in turn present a more manageable pool next season in Europe, though Fitzgerald admits Munster cannot be so complacent as to presume that they will even finish high enough in the Pro12 to qualify at all.
"It's not something that we want to happen," said Fitzgerald of the prospect of missing out. "In any one year it could happen, and it has happened to lots of others clubs and it could happen to us as well, but we have got to do everything we possibly can to make sure it doesn't happen."
One measure in that regard is the introduction of Farrell as a consultant to Anthony Foley and his coaching team. Fitzgerald and Munster's Professional Games Board first began looking for someone like Farrell "three or four weeks ago."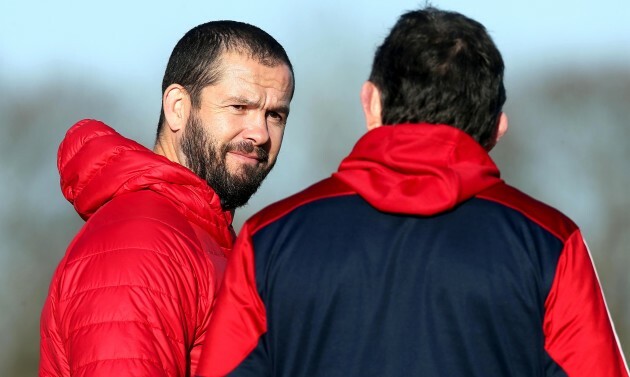 Donall Farmer / INPHO Farrell has been parachuted in to help Munster. Donall Farmer / INPHO / INPHO
In one sense the move is a recognition of the fact that Foley's coaching team should have included an experienced, non-Munster indoctrinated voice all along. Fitzgerald doesn't quite see Farrell's appointment in that manner, however.
"The answer to that is you could very easily say yes, you could very easily say no," said Fitzgerald, who confirmed that Brian Walsh, Ian Costello, Jerry Flannery and Mick O'Driscoll are all out of contract at the end of the season, before stating that "no discussions" have taken place in regards to their futures.
"Sometimes you could be winning all your matches and the actual dynamic might not be as good as when teams are losing. There is only one great way of getting experience and that is to be stuck in the middle of the whole lot of the thing itself, so it is very hard to say a definite yes or no."
Either way, Fitzgerald will hope this measure helps to ensure Munster secure Champions Cup qualification, finish the season on a high in the Pro12 and show clear signs of progress.
Otherwise the calls for patience from Munster's support will go unheeded.