WHILE THE WIN over Canada will be swiftly sent to the back of most Ireland supporters' memories as they look towards this weekend's visit of the All Blacks, the day will forever be a major milestone in the lives of eight men.
Jack O'Donoghue, Garry Ringrose and Billy Holland earned their debuts in Joe Schmidt's starting team, while John Ryan, Luke McGrath, James Tracy, Dan Leavy and Niyi Adeolokun all won their first caps off the bench in the second half.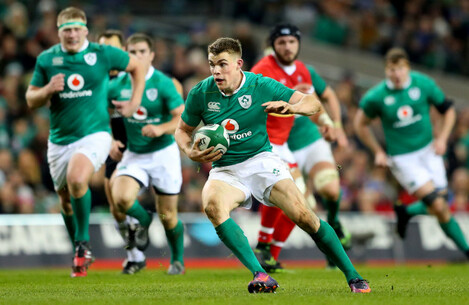 Ringrose enjoyed a promising debut for Ireland. Source: James Crombie/INPHO
The collective performance from Ireland was patchy and frustrating at times, but there were some excellent individual displays on Saturday.
The likes of Sean O'Brien, Peter O'Mahony, Keith Earls, Ultan Dillane, Paddy Jackson and Cian Healy did enough to provide Schmidt with a number of selection headaches for his matchday 23 this week.
The fresher faces in the Ireland team delivered several promising glimpses of a bright future. Outside centre Ringrose was chief among them, suggesting that he can push Jared Payne hard for the 13 shirt over the coming seasons as he continues to develop.
The Leinster midfielder's class has been widely flagged over the past three seasons, so it was not a major surprise to see him looking at home in a Test match against the 18th-best nation in the world.
The 21-year-old almost had an early debut try, only for the score to be correctly ruled out for Paddy Jackson's forward pass. Undeterred, Ringrose was largely excellent throughout for Ireland.
His skill set is wide-ranging, even encompassing good fielding of kicks.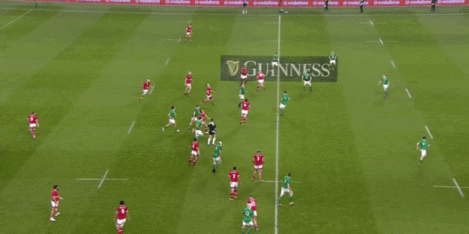 It's a technically strong catch from Ringrose, as he chops his feet heading towards the ball, leaps with his right knee in front to shield himself and gets his hands up to the dropping ball.
While Matt Evans does get into the air to compete with Ringrose, we must not overlook the work of captain Peter O'Mahony ahead of the ball in preventing further pressure.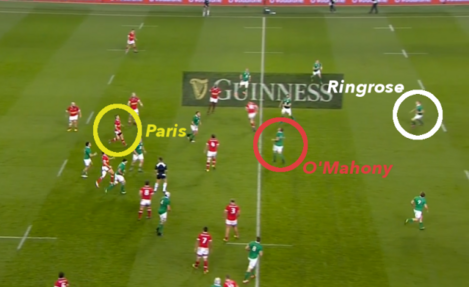 With the ball in the air above, we can see Ringrose beginning to approach its landing point, while Taylor Paris puts on a chase of the kick.
In between that pair, O'Mahony is looking at the ball but he then instantly transfers his attention to providing protection for Ringrose.
O'Mahony's running line subtly takes him in front of Paris, essentially blocking him from getting to the ball or Ringrose.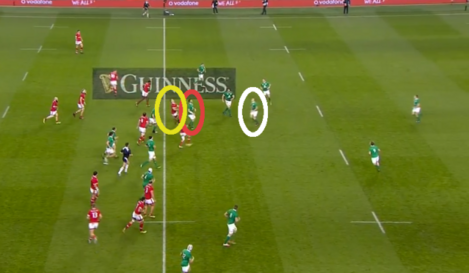 This 'shepherding' is a key part of modern rugby and can often be the difference between winning and losing an aerial contest. In this case, it means that Ringrose is under less pressure as he goes up to field the kick.
Evans does get through on the other side, but O'Mahony's actions underline his role as an experienced head making life easier for a new cap.
Not that Ringrose needs much minding. He was confident at stepping into first receiver for Ireland when required, even providing a sharp inside pass that allowed Paddy Jackson to break through the Canadian defence early in the second half.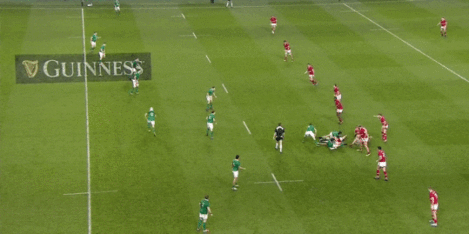 Here we see Ringrose's habit of taking the ball at the defence before passing. He gets smashed for his troubles, of course, but the regularity with which that occurs after he passes points to an intelligent and selfless player.
It's a simple detail, but Ringrose's focus on moving forward to the line – his starting point is in yellow below and passing point in red – both fixes defenders and gives Ireland initial gains with ball in hand.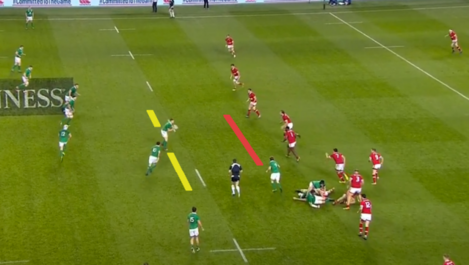 Ringrose's own linebreaking threat was apparent against the Canadians too, as he twice burst through their defence in the second half.
His first linebreak came as he beat a weak tackle attempt from out-half Connor Braid off an Ireland scrum.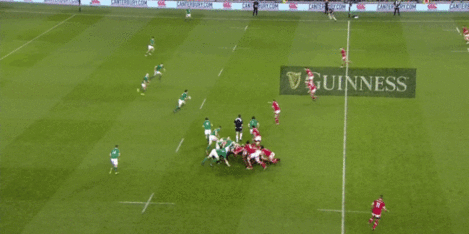 The timing of Ringrose's run is ideal, as he just delays the moment he steps on the accelerator to keep himself open for Jackson to hit. Ireland out-half Jackson initially does well to interest Braid by eyeing up the Canada 10′s inside shoulder.
Ringrose's pace takes him through the weak tackle effort and he then offloads calmly to Jackson as Gordon McRorie scrags him from behind.
Perhaps as impressive as the actual break from Ringrose is his follow-up clearout having been tackled.
Hungry to have another involvement, Ringrose bounds back to his feet and arrives at the breakdown to hammer into Canada openside Lucas Rumball before he can get into a good jackal position.
Ringrose's work rate ensures a sub-three second ruck for Ireland and leaves Canada's defence struggling to recover.
The second linebreak from Ireland's outside centre in this game comes from a lineout, underlining his value as a strike runner on set-piece possession.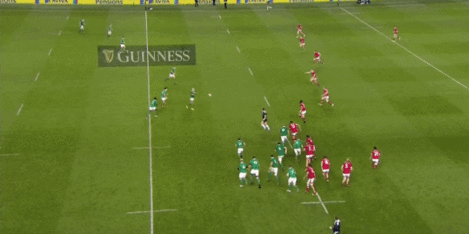 Clearly this is poor defence from Canada, with Matt Heaton and Admir Cejvanovic both biting down on Luke Marshall and Braid sliding up beyond Ringrose to open a huge hole for him to run into.
Nonetheless, it's an excellent line from Ringrose as he arcs in from the outside, in front of Joey Carbery and Niyi Adeolokun, then gets back towards the left touchline as he meets the defensive line.
Once in behind, Ringrose shows intelligence in stepping back out to the left, understanding that one of fullback Tiernan O'Halloran, left wing Keith Earls, and back row Dan Leavy – positioned wide on the left for this lineout attack – should be there to link.
Ringrose finds Earls with a simple pass, allowing the wing to burst up to within seven metres of the Canadian tryline.
The forwards take over from there with some powerful carries, although Carbery also aids the process with a jinking half-break, before Ireland finally work a position from which they can strike for the try.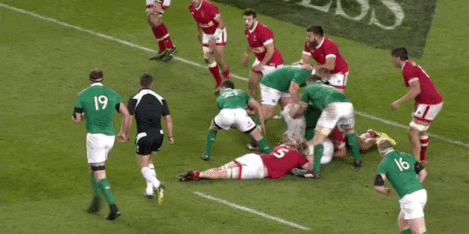 It's a relatively simple finish in the end, but Ringrose does well to provide the scoring pass – again showing his composure on the ball.
This time, it's Marshall who does the work to provide Ringrose with time to use his skill.
The Ulsterman starts wide left, outside Ringrose, and runs an unders line across the front of his 13.
Below, we see the positions of Marshall, Ringrose and key Canadian defender Conor Trainor just as Carbery is about to accept Luke McGrath's pass.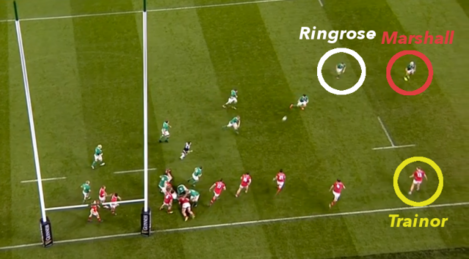 With the Canadians having failed to get ideal spacing in their defence after good carries from James Tracy and Dave Kilcoyne, they're left with a situation where the fourth defender out from the ruck, Brett Beukeboom, is worried about Ireland's first receiver – Carbery.
That in turn means Trainor has to concern himself with both Irish centres, and Marshall's aggressive late change of angle interests Trainor enough to see him briefly sit down on his heels.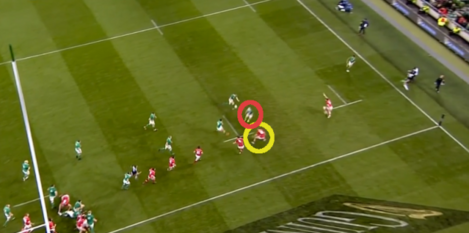 Trainor's attraction to Marshall is only momentary, but it means that DTH van der Merwe on the right edge of Canada's defence also turns his shoulders in, as he presumes he's now going to have to engage with Ringrose.
That leaves O'Halloran completely open on the left touchline.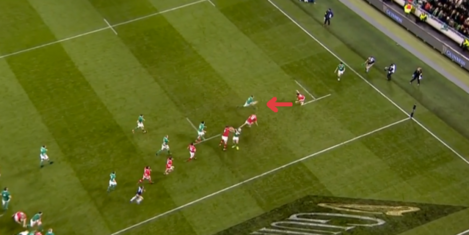 All of this occurs in just over two seconds, meaning that Ringrose's decision-making skills must be razor sharp.
He recognises the cues in Canada's defence competently, putting a slight delay on his pass to O'Halloran just to ensure that van der Merwe does turn his shoulders infield.
There's a nice punch on the pass from Ringrose to provide the assist, with O'Halloran having to stop himself and turn to catch the pass after initially getting very flat with the ball in Carbery's hands.
Clinical skill from Ringrose and co.
Defensively, Ringrose completed seven tackles and missed one on Saturday, although perhaps more important than any stats were the quality of technique and game reading he demonstrated.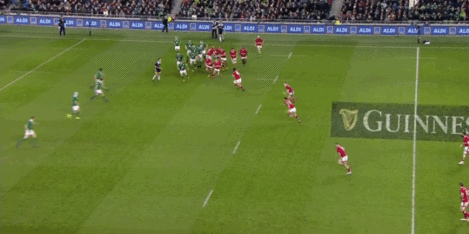 The instance above shows us Ringrose's reading of the game, even though he doesn't actually make a hit in defence.
The Canadians carry to the line through Heaton, and Ringrose recognises the threat of Braid running behind inside centre Ciaran Hearn.
Aware that Marshall has Hearn well covered inside him, Ringrose rushes up towards Braid.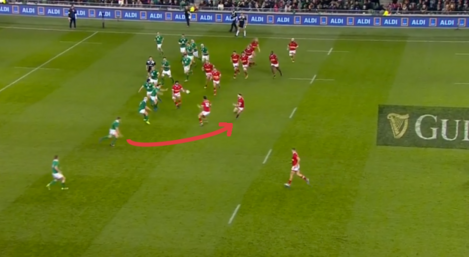 Now the pass doesn't go here, but it's a good sign that Ringrose is not getting caught ball-watching and that he doesn't doubt his defensive instincts.
He has become progressively more decisive in these situations in the last year, very often making the right decision about when to shoot up and when to sit off.
When Ringrose does go into the tackle, he brings intelligence there too, either chopping in low around the legs on explosive ball carriers, hammering a shoulder into the upper body when he's in a position of dominance, or wrapping up the attacker's arms to prevent offloads.
Ringrose was involved defensively within one of the Canadian tries, and it's certainly something Schmidt and his players will have reviewed.
See Sport
Differently
Get closer to the stories that matter with exclusive analysis, insight and debate in The42 Membership
Become a Member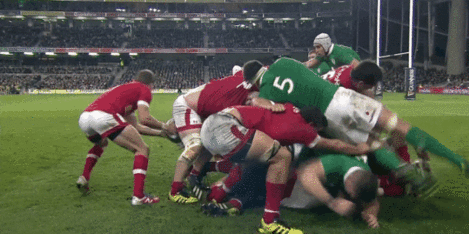 This is the Matt Evans try that was confirmed by the TMO in the second half and Ireland will have been disappointed with the circumstances around it.
Ireland's organisation at the very start of this passage will be one source of frustration. An excellent sack of the Canadian maul by O'Mahony brings a halt to the initial attack and provides Ireland with a full 10 seconds to organise their defensive line.
Their spacing to the right of the ruck is not ideal, however, and it leaves Jackson rushing up towards Canada out-half Braid.
Had Ireland spaced themselves a hint wider in this instance, Sean O'Brien could have been the one rushing forward towards Braid, with his duty as third defender out from the ruck being to deal with the first receiver.
That in turn would have allowed the rest of the Ireland defensive line to shuffle a few steps to their right and therefore covered the Canadian attackers more comfortably.
Instead, we can see that Ireland are already very narrow in defence above, with right wing Craig Gilroy in line with the posts in the middle of the pitch.
McRorie fires a long skip pass to inside centre Hearn, bypassing five Ireland defenders, and Ringrose reacts by hammering up out of the line, looking to smash Hearn ball-and-all.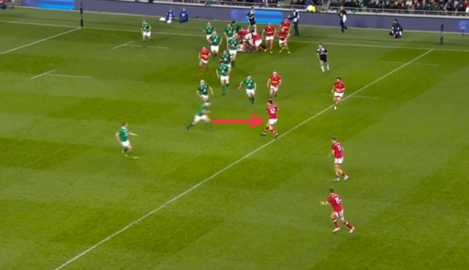 Initially, Gilroy looks like he's going to come on that blitz with Ringrose, closing down Trainor to the left of Hearn, as we see below.
We can see that Gilroy has a long way to go, but with the ball still in the air heading towards Hearn and with his pace, the Ulsterman can probably get forward quickly enough to smash Trainor ball-and-all or at least force a passing error from him.
Instead, Gilroy appears to feel that Trainor is deep and that he may not make up that space in time to stop the ball on the Canadian 13.
The initial narrowness of Ireland's defence is also at play here, with Gilroy suddenly lining up on Trainor's inside shoulder, rather than having the advantage of coming from his outside.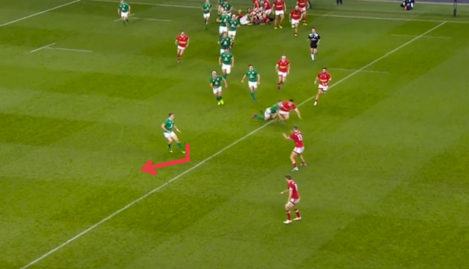 Gilroy decides to stop coming forward towards Trainor, and instead eases off his linespeed and begins to drift out to Evans as Trainor fires off his pass.
That in turn means Ireland fullback O'Halloran must ease off and drift out to left wing Paris.
The Canadians' width and Evans' pace mean Gilroy is struggling to cover across onto the fullback.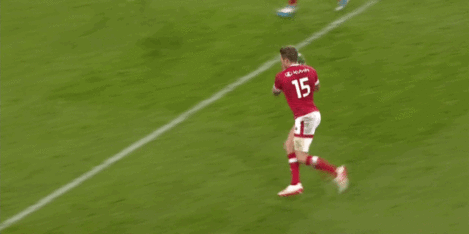 Evans dummies towards Paris to commit O'Halloran onto the Canada left wing, then he gets in a good fend on the diving Gilroy to beat the Ulsterman's tackle, bouncing himself towards the tryline in the process.
O'Halloran makes a desperate last effort to get underneath the ball, very nearly doing so, but the TMO confirms a try for Canada.
For Ireland, the damage was done earlier, by the narrow nature of their defensive line even when given ample time to set themselves up ideally.
Ringrose might question his read and decision to hammer up in this instance; was it time to sit off and allow those inside him to drift out the line, allowing Marshall to get to Hearn and therefore pushing Ringrose out onto Trainor?
That said, Ireland's defensive philosophy under Andy Farrell has been very aggressive and it's likely that they have agreed to bring linespeed in this area of the pitch.
Gilroy may feel he should have committed to hammering up on Trainor as soon as he recognised Ringrose's intention to pressurise Hearn.
Of course, we don't know exactly what Ireland's system calls for in this instance but certainly they will have been extremely frustrated to allow the Canadians to throw three passes across their defensive line around the 22-metre line.
Next time, they are likely to look for greater width in their defensive line initially and then a collective linespeed that stops the ball dead in midfield.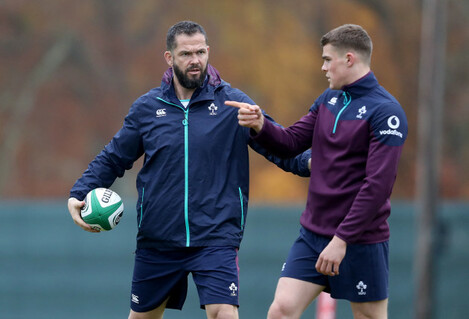 Ireland defence coach Andy Farrell with Ringrose at training today. Source: Dan Sheridan/INPHO
As for Ringrose, he will be hopeful of getting another opportunity for Ireland in the next two weekends. He was an unused replacement against the All Blacks in Chicago, although the return of Keith Earls does put his matchday squad place under pressure.
There is still another Test against Australia to look forward to on 26 November and it would make some sense for Schmidt to give Ringrose another opportunity at 13 in that fixture as he looks to grow Ireland's depth.
While Jared Payne is clearly still Ireland's first-choice outside centre, a new element of competition will be good for him and the entire squad. Ringrose looks like he will be a vital part of Ireland's plans moving forward.
The42 is on Instagram! Tap the button below on your phone to follow us!