FOR THE FIRST time in the Pro12 era, Leinster will play in the final round of league matches knowing that they can take a holiday immediately after the clock hits 80 minutes. But while the stakes might not be very high for the province this weekend, there is still opportunities to impress ahead of next season.
For some, that might mean getting Joe Schmidt's attention ahead of autumn's World Cup, but for younger members of the squad it means continuing their progression into senior rugby.
To that end, it will be interesting to see if Matt O'Connor uses Saturday's league finale to blood some of the young talent coming through at Leinster. For instance, it would be very intriguing to see what Garry Ringrose might add off the bench at centre or if Ross Byrne is close to being a steady professional out-half.
Interestingly, Leinster skills coach Richie Murphy confirmed that a number of young players had been training with the senior squad and namechecked a few who might be under consideration to play a part this weekend.
"Those guys have actually been very close to the squad over the last couple of weeks," Murphy said.
"They have spent a lot more time with us, himself [Garry Ringrose], Cian Kelleher, Ross Molony. Their time with the senior team and trying to understand what is expected of them at this level has gone up a lot in the last couple of weeks. There might be an opportunity for one or two of those guys this week. We had no real injuries last weekend but there might be an opportunity to drag one or two of those guys into the squad."
Another reason it would be beneficial to expose the young guns to the Pro12 now is with a view to next season's World Cup period. Leinster will be without almost 20 players due to World Cup commitments so they will be looking for a number of relatively untested guys to step up.
Arguably the most exciting prospect is Ringrose, who has excelled for the Ireland U20 team in the last few years and has already been brought in to train with Joe Schmidt's squad to get a taste of international rugby.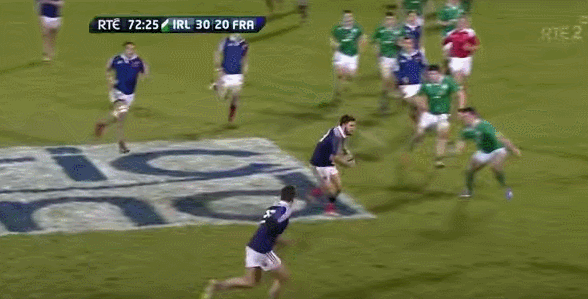 Murphy acknowledged that Leinster will be relying on this new generation of players to reach a high standard while the World Cup is on.
"They will definitely be a big part of the squad," he said.
"For those young talented guys, there will be a lot of responsibility on them come World Cup time. There are seven or eight games that they will have to play in and they are going to be judged as Leinster players rather than as young players playing for Leinster. They are going to have a lot of responsibility on their shoulders and that was the thought process in trying to get them more involved in our team training sessions over the last couple of weeks."
It will be interesting to see what the league looks like during that World Cup period, with reports today saying that the Italian teams might be leaving. This comes soon after rumours that London Welsh and London Scottish might make the competition into a Pro14, but Murphy prefers the current make-up of the league.
"I think it would be disappointing to see the Italians leave the Pro12," Murphy said.
"Their results probably haven't been the same as their performances – they are very difficult teams to play against. Having the Italians there as well as the Welsh, the Scottish and ourselves gives the league a more rounded feel. I'm not sure whether we need more teams but I think those two teams are important to keep."