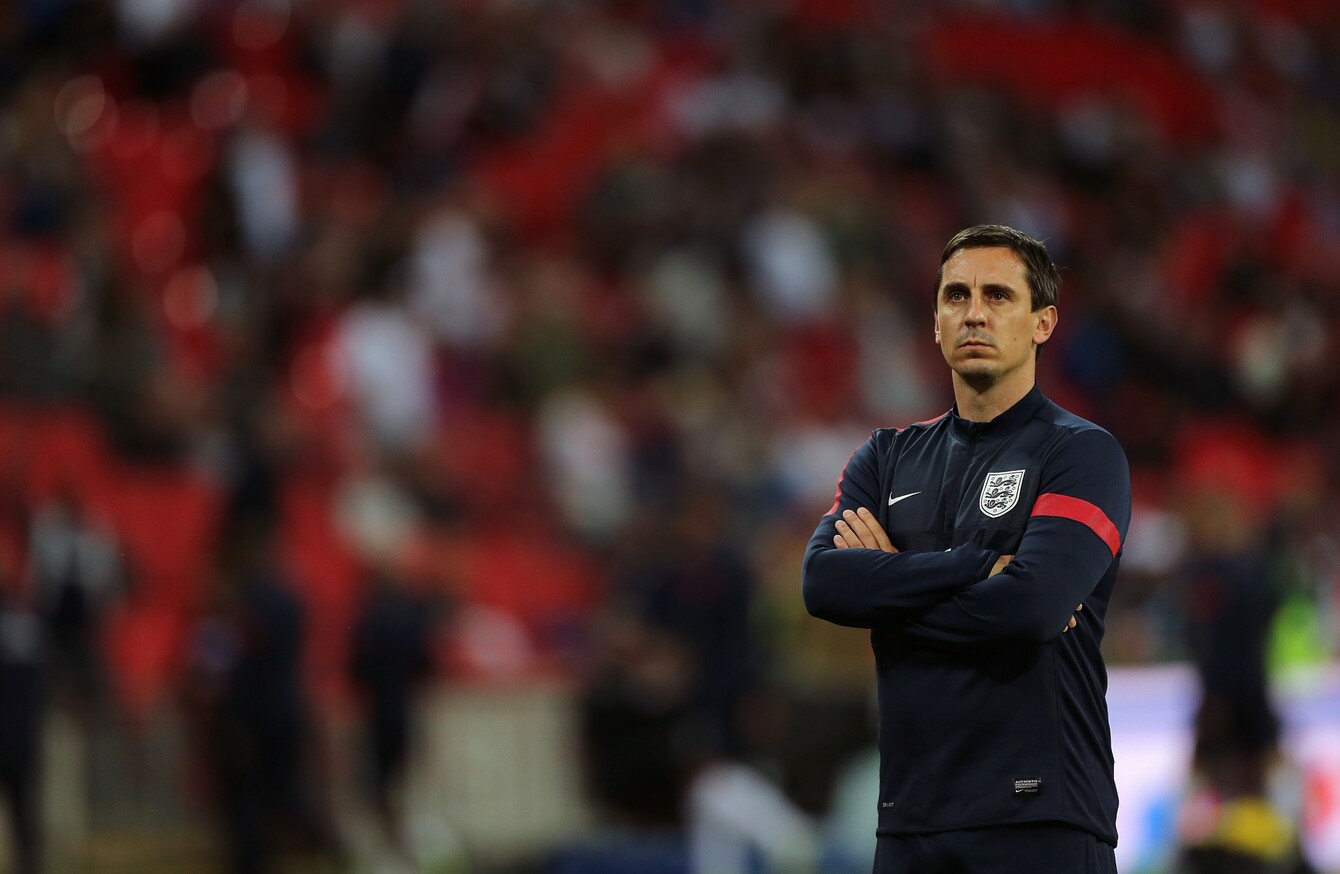 Image: Nick Potts/PA Archive/PA Images
Image: Nick Potts/PA Archive/PA Images
BACK IN OCTOBER, Gary Neville made the front pages of newspapers. For anyone associated with sport, that's normally a bad thing.
Instead, it was about the old Manchester stock ex
change – a space Neville and former Manchester United team-mate-cum-business partner Ryan Giggs (co-owners of Hotel Football and non-league football team Salford City along with Phil Neville, Nicky Butt and Paul Scholes) planned to turn into a luxury boutique hotel.
When homeless activists moved into the unoccupied building, Neville told them they could stay through the coldest months of the year.
"I burst into tears and thought 'What a guy'", said one squatter.
"He doesn't need to do this. This should be an inspiration to other famous people, other celebrities to put their efforts into other projects. He is such a great, down-to-earth guy. He is going out of his way to make sure all the health and safety issues are sorted out".
Friend to the homeless: it was just the latest string to Neville's bow.
As a player, Neville was an irritant. It wasn't a coincidence that one of the most intense and iconic Premier League moments only came about because of him.
Source: Most Amazing Videos/YouTube
Opposing players and fans despised him. And yet, since retiring, he's earned nothing but the highest respect from all sorts.
Maybe it even extends a bit further back.
Against West Brom on New Year's Day in 2011, Neville was ripped to shreds at the Hawthorns. Off the pace and with injuries having taken their toll, he just couldn't do it anymore. During the first-half, he was caught for pace as Graham Dorrans burst through the middle. Neville knew exactly what he was doing and brought him down. It was cynical, despairing and more than a little sad.
Writing about the experience afterwards, Neville said:
"I deserved a red card; if justice had been done, my career would have finished there and then with a lonely, embarrassed walk to the dressing room."
In the dressing-room at half-time, he came to the conclusion that it was over.
"What am I doing out here? How soon will this be over?
My mind was racing at a thousand miles an hour, full of doubts and vulnerabilities. This wasn't like me at all. I was normally full of drive and commitment and focus. Normally I'd be the one barking instructions, telling others to concentrate.
I'd prepared for every game in my life knowing that however much my opponent wanted it, I wanted it more."
United won 2-1 that day but Neville was hauled off with twenty minutes to go. It would prove his last appearance.
On his own terms, he retired. In the middle of the season, with his club still battling for a host of honours. At 35, he didn't want to be 'a passenger', someone in the shadows who couldn't contribute anymore.
It can certainly be argued that such a noble decision was the starting point in a general appreciation of Neville's character and intelligence among the wider football community.
But his media career has certainly been the game-changer.
When he signed on as a pundit with Sky Sports, there was a feeling that his passion for Manchester United would cloud his judgements, that his deep-rooted love for the club would lead to some bias, however subtle. But that never materialised.
During David Moyes' tenure at the club, Neville was heavily critical of United's performances. When Moyes was sacked, Neville was scathing in his comments about the way his former employers handled the entire undignified situation, saying 'It's not the way in which the club should portray itself'.
Arguably his best TV work came when discussing the goings-on at other Premier League teams like Arsenal, Liverpool and Tottenham. While other pundits merely pay lip-service to teams with a lesser profile, Neville seemed intently focused on giving them their dues.
In many ways, Neville re-invented the role of a football pundit. There was a precision to his words. And, most importantly, they were backed up with hard, concrete evidence – the majority of it clearly picked through with a fine tooth-comb. In an age when society rewards those who scream the loudest, Neville's calm, composed and clinical work was a real treat.
Neville's business deals have all hit the mark too, attracting as much admiration as his television work. Though he's a director of a Manchester-based sustainable design consultancy firm called Zerum, many would prefer to focus on the headline-grabbing ventures. Given his track-record, was it a surprise to anyone that Salford City – the fabled Class of 92′s passion project – performed a heroic giant-killing act last month when they beat Notts County in the First Round?
"I wake up at 6am for work but at 5.30am Gary's already sending text messages, nearly every morning", said Anthony Johnson, the club's co-manager. 
"I think Gary's said there aren't enough hours in the day for him, so he gets up that extra bit earlier to do what he's got to do".
Neville has always been a man obsessed by a strong worth ethic. As a young player, he never had the same natural ability as others. So, that brought about an intense desire to do more than them. Essentially, he was fueled by his own insecurities and weaknesses which eventually pushed him to becoming captain of Manchester United.
Lee Sharpe tells a story about being in the United canteen and hearing a relentless and annoying noise coming from outside. When he poked his head out to investigate, he saw a young Gary Neville repeatedly hurling a ball against the wall. He was practicing his throw-ins.
Through his entire life, Neville has failed at very little. When The Guardian went behind the scenes of Monday Night Football last year, they found Neville to be 'something of a control freak whose enthusiasm and quest for perfection borders on the endearingly psychotic'.
As a manager, details are important but there's plenty more to perfect. Neville will relish the challenge and will expect the same level of dedication from his players.
What's also intriguing to see is how Neville reacts to being the main attraction. All throughout his career, he's been the little lad that could – all effort and stress and huff and puff – before eventually growing into something hugely influential.
Now, he's starting from that place. He takes up a management role having been a decorated player, a magnificent servant to his country and an incredibly well-regarded authority on the game.
Much will be expected of him and he's not entirely used to that.