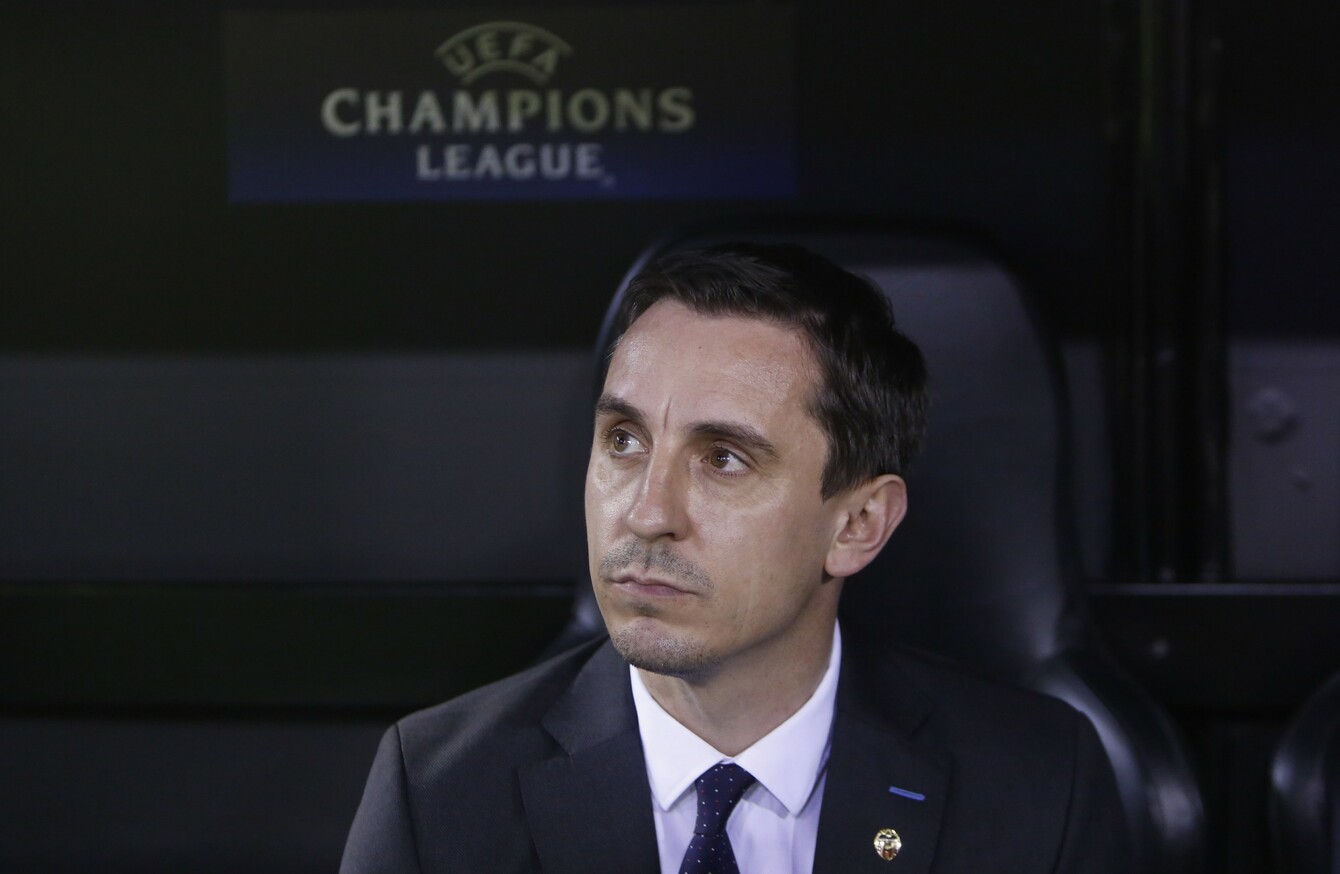 Image: Alberto Saiz/AP/Press Association Images
Image: Alberto Saiz/AP/Press Association Images
I WAS TALKING to a guy recently who's heavily immersed in football coaching at a high level. He's been in his current job for a while. He's successful, experienced, reliable and has a range of contacts. I asked if he had ambitions to step up to the top tier of management.
His response was as unequivocal as it was surprising.
"I would never do that. It's insane."
His main issue was that the end game is becoming increasingly blurred. When you're appointed as a football coach for a relatively high-profile organisation, what's the best-case scenario? 18 months of job security? And is it ever really secure anyway? When a bad result hits, the emphasis is on making sure you don't get another one because that's called momentum and it's a real bitch to stop.
After that, it doesn't take long for the media to scrutinise. We love managers under pressure. In press conferences, we like to see them lose their temper or point their finger or swear at a journalist for asking if they feel that their job is under threat. Any reaction becomes a symptom. Say nothing and you're uptight. Be animated and you're merely putting on a brave face.
You see, away from the writing and the talking and stuff, we moonlight as psychologists too.
A 2014 survey of what British children wanted to be when they were older found that 40% of answers were either 'rich' or 'famous'. Maybe it's too much to want to be an explorer or an astronaut or a president anymore.
What's clear is that standing out from the crowd and being different is the worst possible thing you can do. That's the culture we're living in and what's promoted everywhere we look.
In the 2014/2015 league season in England, 47 managers lost their jobs. It was the highest figure since 2002. Of those made redundant, 17 were first-time managers.
And to put their plight in context, let's crunch some more numbers.
Much is made of the pressures involved in the Premier League. But the average tenure for a top-flight manager is 1.8 years. For the Championship, quite incredibly, it's almost half that long: 0.86 years.
In English football, you don't just cut your teeth in the lower leagues. You get brutally assaulted and left scarred for life.
There's also the collateral damage to consider. Last season, there were more than 150 coaches that lost their jobs because of the turnover.
And fans wonder why their team hasn't won anything in a few years. Probably because it's tough being managed by three different guys in the space of twenty months.
There are two immensely frustrating aspects to Gary Neville's sacking by Valencia.
Firstly, it was so inevitable.
He took over with the club in 9th and he leaves with the club in 14th. Has it really been that bad? Well, according to some, it's a managerial disaster.
But context matters little in these situations. It doesn't matter that he had never managed before. Or that he didn't speak the language. Or that the club have had fourteen managers in ten years. Or that the appointment was a mixed-up contradiction to begin with – hiring a young, raw coach until the end of the season. You either have faith or you don't. It was clear from the beginning that Valencia just weren't sure.
So, is Neville to blame for taking the job? Should he have started off small?
Why though? Would the Huddersfield or Rotherham job stood him in good stead for a subsequent, glitzy switch to the Mestalla? No. Neville would've been ridiculed and criticised there too, and probably in a worse way than what he experienced in Spain where supporters patiently waited until the recent defeat to Celta Vigo before asking him to go.
Neville was offered a big job, believed in his ability and took it. Hard work has always got him places before- essentially, his entire playing career came about because a work ethic made up for a lack of natural talent – but football management isn't a rational environment.
Football management is where Derby's chairman sacks a young, astute and eager manager in Paul Clement because he had the audacity to target promotion to the Premier League. That was, according to Mel Morris, not the plan. They had a long-term strategy, he outlined. And then he went and hired Harry Redknapp as a director of football until the end of the season.
Football management is where Garry Monk was sacked by Swansea after getting them to their highest-ever position of eighth in his first full season in charge. His crime? A slump. His first since taking over. He was 36 and had never managed before.
The second major irritation to Neville's departure is that intrinsic vitriol that many find so hard to hold back.
Instead of lauding his desire to step out from the crowd and offer something a little different to the football world, there's an exhausting wave of 'We-told-you-sos' instead.
In a football world where there's such a dearth of originality, Neville's first foray into management should be applauded and not ridiculed.
His drive and determination means he'll be back in management soon and he'll no doubt grow into a very sharp and influential coach but that still doesn't change the fact that Neville has gone the way of so many other young, raw coaches: dismissed and discarded before they've even got started.
The42 is on Snapchat! Tap the button below on your phone to add!