GAVIN PEERS CAN laugh now when he recalls a conversation he had with Stephen McGuinness early in 2008.
"If you want to win anything," said McGuinness, "you'll have to leave Sligo."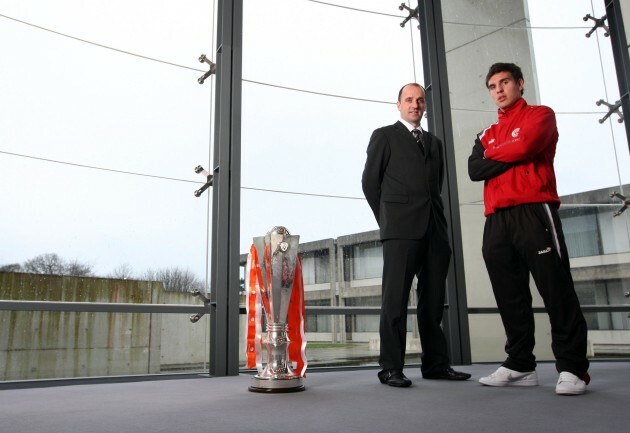 Donall Farmer / INPHO Gavin Peers with Sligo Rovers manager Paul Cook at the launch of the 2008 League of Ireland season. Donall Farmer / INPHO / INPHO
It was a reasonable piece of advice from the general secretary of the players' union, the PFAI.
At the time, Peers only had an FAI Cup semi-final appearance and a couple of mid-table finishes to show for his two years at the Showgrounds. There was no shortage of interest in his services from clubs higher up the pecking order. Yet the defender saw a bigger picture.
"Fair play to Stephen because he was coming from a good place," says Peers. "The likes of Bohs, Cork and Drogheda were pumping money in and people obviously didn't think a club like Sligo could compete with that. But I believed in what was around me. We were building something. I knew it was going to come."
Peers is glad he didn't act on the former St Patrick's Athletic defender's recommendation. Six years later, he had won every major honour in Irish club football. It's largely why regrets are scarce when he reflects on a football career that began in his native Dublin with clubs like Tolka Rovers, Stella Maris and Home Farm.
Shortly after Ireland's exit at the 2002 World Cup, while his schoolmates were heading into fifth year and preparing to tackle the Leaving Cert cycle, Peers left Dublin behind and crossed the Irish Sea. There were options at Burnley and Aston Villa, but his parents nudged him in the direction of Blackburn Rovers due to the reputation of the club's academy.
Peers was satisfied with how he progressed as a promising young right-back with the Premier League club. In 2004 they reached the semi-finals of the FA Youth Cup, only to be stopped by an Aston Villa side that featured Gary Cahill and Gabriel Abgonblahor.
The future looked bright when he returned as an 18-year-old for his third season at Blackburn, where he was now rubbing shoulders with the likes of Tugay, Lorenzo Amoruso and Brad Friedel.
PA Archive / PA Images Former Blackburn Rovers manager Graeme Souness and midfielder Tugay. PA Archive / PA Images / PA Images
"I had a really good time at Blackburn. Mostly anyway," he says. "In that third year I was brought in to train with the first team in pre-season. I started in most of the friendlies and I thought I was going to get a run in the cup games when the season started.
"But things took a turn then. I was actually offered a new contract — it was a one-year extension — but that was taken away when Souness left. The next manager came in and had a different opinion. That's football, I suppose."
The departure of Graeme Souness for Newcastle United worked against Peers. He didn't feature in the plans of new boss Mark Hughes and dropped down to League Two after being released in the summer of 2005. His next stop was Mansfield Town, who were under the stewardship of former England international Carlton Palmer.
"I remember being told there [at Mansfield] that there were Championship clubs interested and that if I kept doing what I was doing then I wouldn't be there much longer, which sounded great," Peers explains.
"We started off well but then we ended up going on a dodgy run. Carlton Palmer quit as manager, a new manager [Peter Shirtliff] came in and eventually I wasn't really enjoying it over there anymore. It was the day after St Stephen's Day when I went in and asked to have my contract cancelled.
"I actually had the boat booked before I went in and spoke to the club. I didn't have anything lined up at any other club but I just wanted to get out. It might sound a bit hasty now but when I get something into my head I generally don't let it go. I had been in England for well oevr three years at that stage. I just wanted to go home."
Naturally, a former Blackburn Rovers player who had just turned 20 had plenty of options in the League of Ireland when news spread regarding his return home. Having just been promoted back to the Premier Division, Sean Connor and Sligo Rovers saw off competition from Waterford United, Cork City and the defunct Dublin City to secure his signature.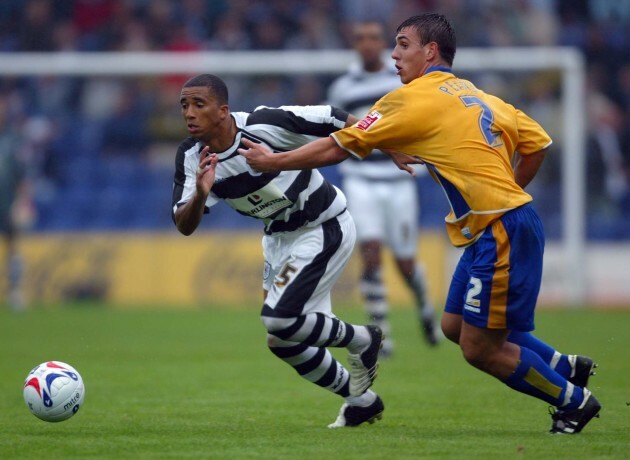 Barrington Coombs Peers tracking Darlington's Carlos Logan while playing for Mansfield Town. Barrington Coombs
"I didn't know anything about the league, if I'm being honest," Peers admits. "I certainly had no connection to Sligo but something just told me that they were the right club to sign with. It turned out to be a good decision."
Paul Cook's appointment as manager in 2007 proved to be somewhat of a turning point — for both Gavin Peers and Sligo Rovers. As well as finding a new role for Peers, Cook — who's now in charge at Wigan Athletic — ushered in the most successful period in the club's history.
"I had a great relationship with him," Peers says. "He brought in some really good players, we went from strength to strength and ended up winning every trophy. Things clicked into place and we had some great success."
Under the Englishman, Sligo secured European football for the first time in 13 years, won a cup double in 2010, retained the FAI Cup a year later and finished second in the Premier Division. They did so with Peers anchoring the defence.
Cook switched Peers into the middle of his back four, which created an opportunity for an 18-year-old from Donegal to fill the vacancy on the right. Eighteen months later, Seamus Coleman had earned himself a move to Everton.
"Seamus was a good, hard-working lad," Peers says of the current Republic of Ireland captain. "He kept his head down and focused on his football. I got on really well with him. Myself and Keith Foy lived with him so we would have looked after him. We did what all lads at that age do — went home after training, played a bit of computer and had a bit of craic.
"As a player, he was very good at going forward, especially back then. He still says I allowed him to get forward because I was so used to playing right-back that I covered it naturally when I was in the centre. He was so good at going by people that you just had to let him push on."
James Crombie / INPHO Seamus Coleman keeping tabs on Daryl Kavanagh during a 2007 game between Sligo Rovers and Waterford. James Crombie / INPHO / INPHO
Peers soon became regarded as one of the country's top central defenders. He played twice — and scored against Slovakia — for a home-based Ireland U23 side, and was later incldued in a League of Ireland XI to play Manchester United in the opening game at the new Aviva Stadium in August 2010.
In tandem with Ken Oman, Peers was tasked with shackling Wayne Rooney and Michael Owen. It started well too, with Peers paying particularly close attention to Rooney. However, things went awry when he intervened to block a low cross from the right from Park Ji-Sung.
"I don't think I'll ever stop getting stick over that," laughs Peers, reflecting on the blunder which allowed United to open the scoring in a 7-1 win. The Sligo defender hesitated, his attempted clearance was blocked by Park and the ball ended up in the back of Gary Rogers' net.
"It was a great experience overall," Peers insists. "You learn from stuff like that. I certainly never did it again. I was waiting for Conor Powell to move to his left so I could pass it off to him, but he didn't move. The next thing the ball was going into the top corner. They went on and won the Premier League that season though so I suppose it wasn't a bad team it happened against."
Despite the inauspicious beginning, Peers would go onto enjoy plenty of good days at the Lansdowne Road venue. He was on the winning side in three FAI Cup finals over four seasons, the first of which was the most memorable.
In November 2010, three months after parking the Park Ji-Sung episode, Peers was back at the Aviva as Sligo Rovers won their first FAI Cup in 16 years by overcoming Shamrock Rovers after a penalty shootout. With 36,101 spectators in attendance, the game was played in front of the biggest attendance for a cup decider in over 40 years.
Peers: "Winning three FAI Cups with Sligo was obviously fantastic but the first one probably stands out as the best. Such a big crowd and playing against Shamrock Rovers as well, it was a brilliant occasion. They won the league that year so it was nice to get one over them because I felt we were the better team overall, even though it didn't translate into points."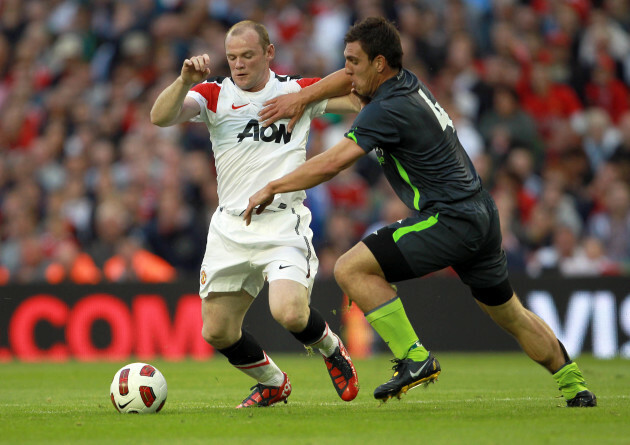 Donall Farmer / INPHO Peers getting to grips with Manchester United's Wayne Rooney. Donall Farmer / INPHO / INPHO
Sligo finished four points adrift of their Dublin namesakes in 2010 and '11, but the club's wait for a Premier Division title finally ended after 35 years. While Paul Cook's departure for Accrington Stanley on the eve of the new season could have left Sligo Rovers in crisis, the transition to Ian Baraclough was seamless.
On a Saturday afternoon in October 2012, a five-goal thriller against fellow title contenders St Patrick's Athletic at the Showgrounds ended in a 3-2 win for the hosts. After providing an assist for Raffaele's Cretaro second goal, Peers was also central to a dramatic climax when the teams were level entering the closing stages.
As Sligo went in search of the winner, an 88th-minute volley from Peers from a corner struck the hand of Pat's defender Conor Kenna. Referee Damien Hancock pointed to the spot, Mark Quigley converted the penalty and Sligo were back at the summit of Irish football for the first time in three-and-a-half decades.
"That was an incredible day," Peers recalls. "It was mostly a sense of relief that we had won it. It was an amazing game to play in. They [Pat's] probably felt hard done by but it was a peno at the end of the day. My son was there on the day as well so it was a very special experience.
"There are actually two other games for me that stand out from that season that people might not think of. We got a draw away to Shels in the first game of the season and we were down to 10 men. We went on a good run from there.
"The other one late on was Cork away — it was just before that Pat's game. It was very tough down there because they were on a good run but we ground out a 0-0. They're the kind of games that win you a league. They're the ones that stick in my head anyway."
Although Peers enjoyed a clean sweep of domestic honours with Sligo Rovers, success in Europe was harder to come by. The Bit o' Red were responsible for one of the best results ever secured by an Irish team abroad in the Europa League in 2014, but Peers was absent.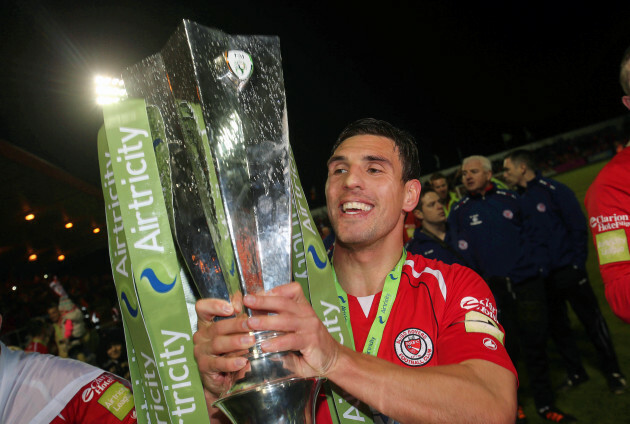 Donall Farmer / INPHO Peers gets his hands on the Premier Division trophy. Donall Farmer / INPHO / INPHO
Having ruptured his anterior cruciate knee ligament in their win against Drogheda United in the 2013 FAI Cup final, he was sidelined for eight months. He made his return as a substitute as Sligo progressed in Europe for just the second time in the club's history by defeating FK Banga of Lithuania 4-0 at home after a goalless first leg.
Exclusive Six
Nations Analysis
Get Murray Kinsella's exclusive analysis of Ireland's Six Nations campaign this spring
Become a Member
But there was better to come for Sligo, who were now under the stewardship of John Coleman following the departure of Ian Baraclough. Rosenborg may have progressed from the tie, but Sligo recorded a 2-1 memorable win in the first leg in Norway.
Peers explains: "I came on in the second leg of the first round [against FK Banga] and then we played UCD on the Sunday. I was only supposed to get 15 minutes but I ended up playing the full game. My hamstring was screaming at me afterwards because in the operation they take out the hamstring tendon and put it into your knee as the replacement ligament.
"When we got to Norway the manager pulled me to one side and said he was going to start me at right-back. My hammy was still on fire and he was asking me to chase Morten Gamst Pedersen for 90 minutes. I had to be honest with him.
"I just said it was too much to expect of myself after only coming back from that kind of a long-term injury. I had been out for eight months, I didn't want to set myself back any further. As much as I would have liked to, you can't play 90 minutes twice in the space of four or five days when you've been out for that long."
In 2016, Peers was honoured by Sligo Rovers in his 11th season at the club with a testimonial. Seamus Coleman was among the many former team-mates who returned to the Showgrounds to pay tribute to Peers for a game against Paul Cook's Portsmouth.
At the end of the season, however, his time with the club was over. Peers regularly turned down offers from elsewhere while he was with Sligo, but now the time and circumstances were right. St Patrick's Athletic and manager Liam Buckley were the beneficiaries.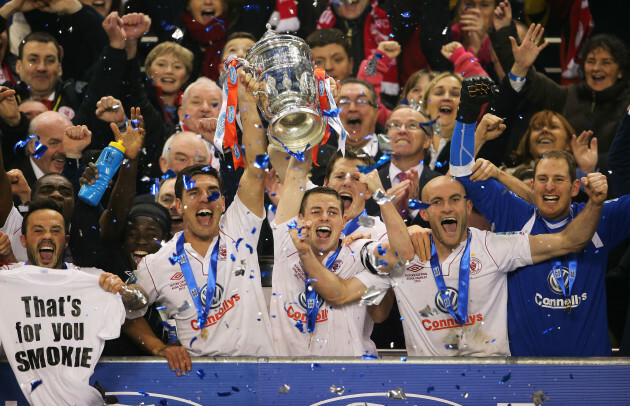 Cathal Noonan / INPHO FAI Cup winners for the third time in 2013. Cathal Noonan / INPHO / INPHO
"I just couldn't agree a deal with [Sligo] and I did with Liam," Peers explains. "At the end of the day, you have to choose the best option for yourself and your family. I always gave Sligo the first option on anything. I had spoken to plenty of clubs over the years but at that stage the best offer came from Pat's."
In spite of his decision to move back to Dublin for the 2017 season, Peers is still held in the highest regard in Sligo. The feeling is mutual too. In just shy of 350 appearances, he gave the club everything he had and subsequently played a pivotal role in their most successful period.
He says: "Apart from this year, Sligo Rovers was all I knew in Ireland. It's my club, do you know what I mean? It'll always be a part of me. That'll never be taken out of me.
"I got very close to a lot of people there, people who I'll probably always be close to. No matter where I go I'll give my best for any club, but there will always be special feelings towards Sligo.
"I just really enjoyed it there — not just in a footballing sense either, but Sligo itself. I'd call it home. I played a lot of football, won trophies and played alongside some really good players. That's always going to be a recipe for being happy in what you're doing."
A career in England was once his objective, but Peers doesn't look back and wonder what might have been if Graeme Souness hadn't been lured to Newcastle, or if he hadn't asked for his contract with Mansfield to be torn up. Altering the course of his career would have denied Peers the success in Sligo that still gives him so much satisfaction now.
"I don't have any regrets about England," he insists. "At the time it was my gut feeling on what the best decision was. I'm very happy with the career I've had since then and I wouldn't have done that or met the people I've met if things had turned out differently.
Tommy Dickson / INPHO In action for St Pat's, tangling with Ronan Finn of Shamrock Rovers. Tommy Dickson / INPHO / INPHO
"I had offers to go back over but it never worked out, which wasn't that big a deal either. The last one was with Accrington Stanley in 2015. It just wasn't worth it financially to go back over.
"It's actually getting easier for lads to go over and slot in now too. The team that we had at Sligo, any of us would have walked into a team in England. The league is being taken notice of now because of what Dundalk have done in Europe and stuff like that. It's going in the right direction in that sense."
Peers is now putting plans in place for life after professional football. A Uefa A licence holder, he's coaching at St Kevin's Boys and Maynooth College. The pursuit of a business management degree at Griffith College is also keeping him busy.
But Peers is adamant that he still has plenty to offer on the pitch. He may be a League of Ireland veteran, but at 31, the finish line isn't on the horizon just yet. Injuries have disrupted his first season at Richmond Park but he's keen to play a part in the Saints' bid to pull clear of the relegation zone between now and the end of October.
"We obviously have to get out of the situation we're in over these next few weeks," Peers says. "I've given it my all when I've been in. The fans seem to have taken to me — they have a little chant for me, which is my first chant ever!
"For me, this year was about getting really fit and pushing on from there. A lot of people have said to me that I'm looking lean and that I've been playing well. I suppose I just got injured at the wrong time because Liam brought in some experienced players and they helped to turn things around.
"It's up to me now to get back into the team and get back to my best to push the team on. But I'm definitely not done yet."