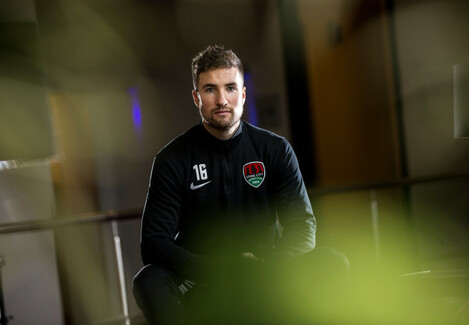 Cork City midfielder Gearoid Morrissey at this week's media event at the Cork International Hotel. Source: Cathal Noonan/INPHO
ON THE NIGHT when Cork City were last crowned League of Ireland champions before they ended a 12-year wait last month, Gearoid Morrissey was with his pals in the stands.
Morrissey could talk about idolising players like Alan Bennett, and dreaming of one day playing alongside him for his hometown club.
He could, but he'd be embellishing.
The reality is that while he was indeed present at Turner's Cross for that 2-0 win against Derry City in November 2005, instead of paying much attention to what was happening on the pitch, Morrissey was preoccupied by the type of mischief you'd expect from a group of 13-year-old boys in such a setting.
Yet in hindsight, the occasion clearly left a mark. Those memories came flooding back on Friday when City were presented with the SSE Airtricity League Premier Division trophy at the Cross. After all, less than five years after that 2005 triumph, an 18-year-old Gearoid Morrissey was pulling the strings in midfield on the same pitch.
"I do remember that night in 2005 fairly well," he says. "I think it was my friend's dad who brought us out to the game. I was only a kid so I didn't appreciate it properly at the time. I was just having a laugh with the boys.
"But I was aware of what was going on at the same time. It's nice to think now that I've been there on such special nights for the club as both a fan and a player."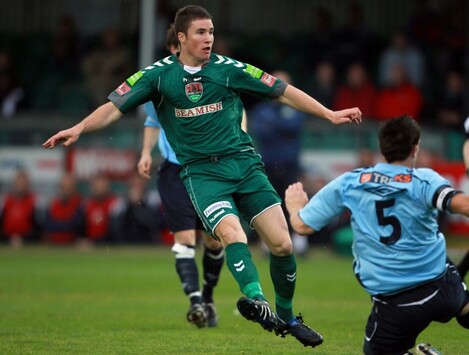 At the age of 18, Gearoid Morrissey made his Cork City debut in 2010. Source: Donall Farmer/INPHO
When Cork City announced last week that Morrissey has signed a new two-year contract with the club, the comments in the press release from manager John Caulfield gave an indication of how pivotal the midfielder is to the newly-crowned champions.
"Gearoid has been a massive player for us," Caulfield said of the 25-year-old, who debuted for City in 2010. "He is a local lad and is coming into the peak of his career now, so I feel that in the next three or four years he will be the standout player in the league."
Morrissey has consistently delivered a high level of performance during his two spells with the club, which followed respective stints with Blackburn Rovers and Cambridge United. However, the well-rounded Mahon native became one of the stars of City's victorious 2017 campaign after injecting additional goals and grittiness into his game.
Having twice tested the waters in England, he knows that happiness as a footballer isn't guaranteed to the east of the Irish Sea. Committing his future to his hometown club became an even more attractive proposition recently when City confirmed that they're now in a position to pay their players for 52 weeks of the year.
"In the time that I've been here, not getting paid for the 10 weeks in the off-season has always been the main flaw. No matter how well you were doing, that always hung over you," says the former Ireland underage international.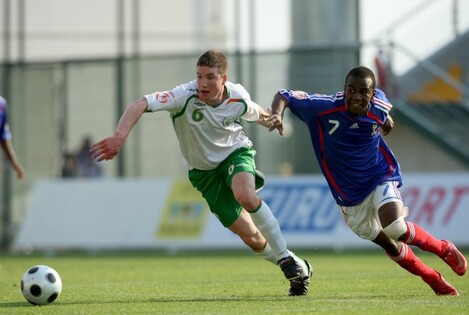 Morrissey tangling with France's Gael Kakuta during the U17 European Championship in Turkey in 2008. Source: Donall Farmer/INPHO
"You could be a hero on a Friday night in front of a packed Turner's Cross and then you're in the dole queue on the Monday morning. You're doing school visits and you're being built up like a superstar to the kids, so when you're back on the dole you kind of start questioning what the hell you're doing with your life.
"Being paid for 52 weeks instead of 42 is massive. Fellas can now afford to look after themselves in the off-season and come back in good shape for pre-season. As well, when your job doesn't pay you for such a big part of the year, banks don't take you seriously for loans, mortgages and stuff like that. They won't go near it. I'm going on 26 now so I'm at an age where I'm starting to think about that."
Another important consideration for Morrissey, who has spoken previously about suffering from homesickness during his two years in Blackburn, was the chance to remain in close proximity to his family.
Be part
of the team
Access exclusive podcasts, interviews and analysis with a monthly or annual membership.
Become a Member
"Family is really important to me," says the second-youngest of six children. "I don't have any kids but I'd consider myself a family man. I've been with Eve, my girlfriend, since I was 14. My family have supported me massively in everything I've done.
"My little niece was there for the Bray game last week and I got to bring her onto the pitch afterwards when we got the trophy. Having her there and up in my arms as we did a lap of the pitch was one of the best things about the whole experience. Occasions like that wouldn't be so special if you weren't able to share them with the people you love."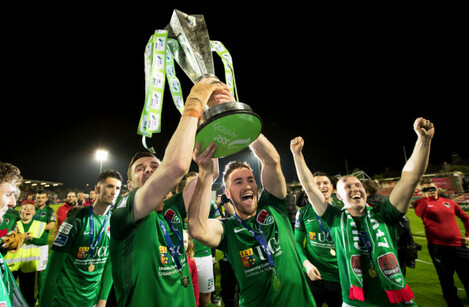 Cork City's Garry Buckley and Gearoid Morrissey with the Premier Division trophy. Source: INPHO/Morgan Treacy
For those connected to Cork City FC, 2012 will be remembered as the season they returned to the Premier Division for the first time as a supporter-owned cub. For Gearoid Morrissey, who was 20 at the time, the year has personal significance. On the eve of a game against Sligo Rovers, he lost his older brother, Thomas, who died suddenly that July.
"I think about him every day," he says. "Even in training I can envisage him kind of being there. His presence, I suppose. My sister sent me a text after the game the other night, telling me how proud my brother would have been if he'd been there."
The Morrisseys received their footballing education from Ringmahon Rangers, who host a memorial tournament annually as a mark of respect for Thomas.
"We'd have been close enough in age — he had about five years on me — but close enough to be playing together on the street when we were growing up and stuff like that," Gearoid Morrissey recalls.
"When I was in first class in school, we used to play soccer at lunchtime at one end of the field and his class, the sixth class, were at the top of the field. He would have been the best player in his class. In my eyes at that age, he was my Ronaldo if you were to compare it to nowadays.
"I just thought it was mad how my brother was basically the best in the whole school so I obviously looked up to him massively then. He was brilliant for tricks with the ball and I used to get a buzz off that. He was a big influence on me.
"It definitely drives me on when I think about him, especially at times when you need to go through a wall or if you're hitting a slump. Everyone needs to have something that pushes them forward, something that connects with them emotionally. It's a huge thing for me.
Morrissey clashes with Dundalk's Chris Shields during Cork City's 2-1 Premier Division win back in March. Source: Ryan Byrne/INPHO
"Before kick-off in every game I think about him, just kind of saying: 'Come on now, bud. Let's get this done here'. I'd have him in my mind in the dressing room before I put my kit on as well. You do have to cut off at a certain point and focus on the game and what's going on around you. I allow myself that moment just before kick-off and then it's total focus on what I need to do on the pitch."
As always, Morrissey will feel his late brother's presence ahead of Sunday's game against Dundalk at the Aviva Stadium, where Cork City will aim to retain the FAI Cup. Having conquered the league, they're one win away from becoming the first team from the Rebel County to complete the double since Cork Athletic in 1951.
After three years of finishing second to the Lilywhites in the Premier Division, the Leesiders have already achieved their main goal for 2017. However, they're still hungry for more silverware, particularly when it would involve inflicting further disappointment upon their biggest rivals.
"I didn't know how I was going to feel, but when I finally got my hands on the league trophy last week it was really, really satisfying. I've walked past it too many times before, like when it's on that pedestal before a game or for media events or whatever," Morrissey explains.
"It's always been within touching distance but I suppose it stayed just out of our reach for so long. Getting my hands on it eventually was an unreal feeling. We'll share it around among us now so I'll get to take it home at some stage during the off-season.
"I'm looking forward to putting it down in front of my dad and my brother on the coffee table in the sitting room. That's when it'll probably properly sink in. But I'd like to put the FAI Cup beside it too. It's been a phenomenal year — but we're not done yet."