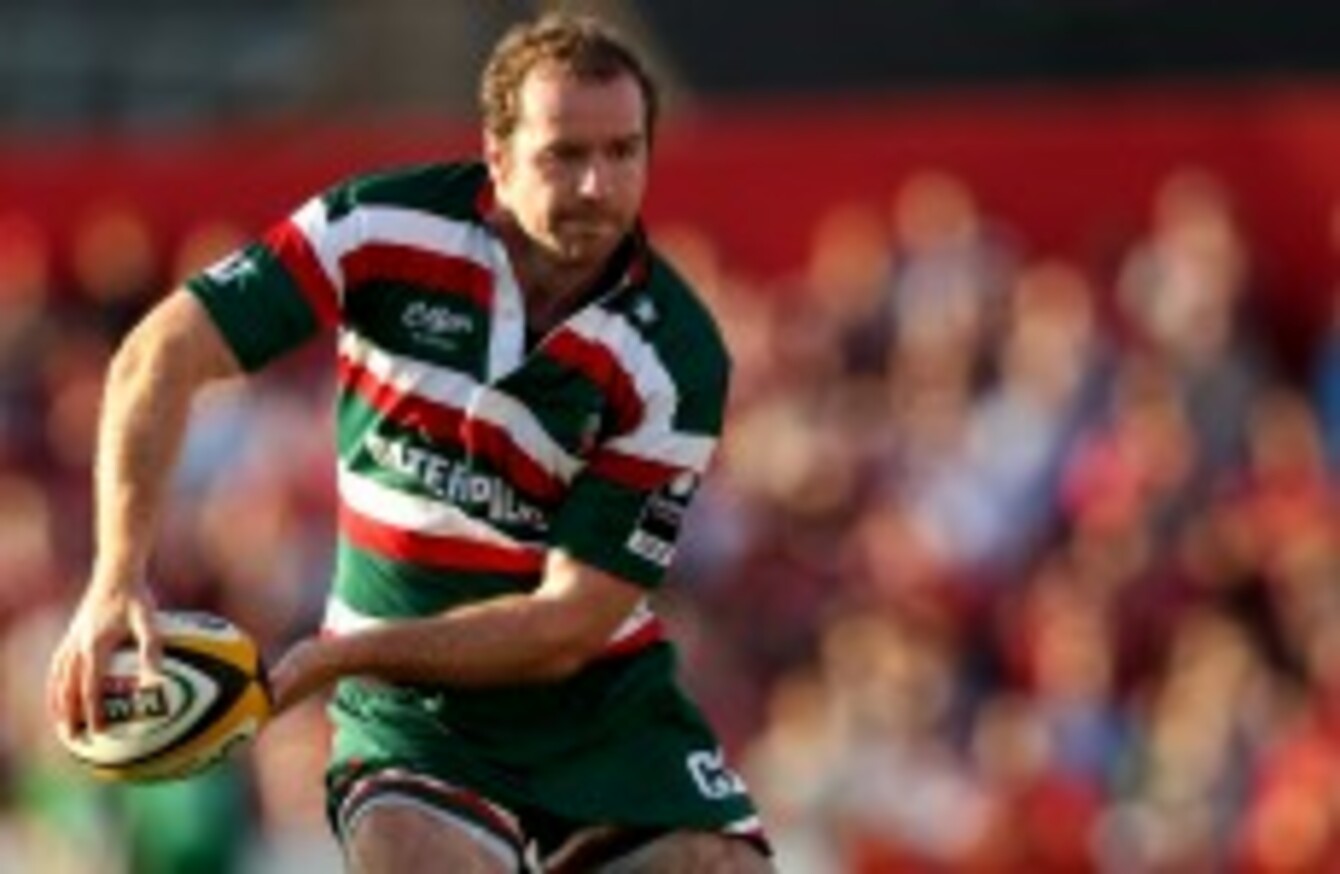 Image: ©INPHO/James Crombie
Image: ©INPHO/James Crombie
HE'S GIVEN IRELAND rapier sharp running lines, assured catching and kicking along with some of the most thrilling moments in our country's rugby history.
Still, in this country, Geordan Murphy is renowned for getting dropped. It's a difficult cow-bell to drag around, and perhaps an unfair one too.
Whether from the axe itself or just from the perception, you might expect a deep resentment to have built up, but Murphy – in Dublin this week to promote his autobiography, The Outsider - cuts a relaxed figure in a hotel on Stephen's Green.
Eyebrows raised at his appointment to captain of Leicester Tigers have long since disappeared. He has the air of a statesman now, representing more than himself.
"I think I'm pretty pragmatic, pretty realistic about the way things are and the way things were," he says, easing back onto a foyer couch.
His book is an honest account. An attempt to state facts wherever possible, or at least the facts as he saw them at the time.
"I've tried to be pretty fair and look at it from most angles. I haven't really had a huge backlash as yet. Hopefully, touch wood, it doesn't offend too many people, but at the end of the day it's just my thoughts. That's the way it is."
The exit door is never far away for a rugby player. Murphy has already put a lid on his 72 international caps and a 16-year association with Leicester Tigers could come to an end with his current contract next May.
He has not decided to hang up his boots yet, though. He'll let at least half the season play out before assessing whether his body is up to it. Having 18 months ago  suffered what was initially thought to be a career-ending injury, Murphy is grateful that the choice has not yet been made for him.
"Only this morning, one of my good friends in Leicester, Craig Newby, announced he's to retire because of his knee. We lost another flanker, Ben Woods, with a thumb injury.
"It brings it home that I've been very lucky. I've had my serious injuries and my career-threatening injuries. Thankfully I've managed to come back and play every time.You just don't know what's around the corner. This week could be my last game and I think you just have to get your head around that to dampen the disappointment."
Those next series of games are typically Titanic battles. Tomorrow, Murphy will lead the Tigers into Wembley Stadium to face Saracens. A week later, they host Harlequins at Welford Road. The Heineken Cup will follow soon after and Murphy's Tigers will face no less an examination than Toulouse away first time out.
It's all part of the fun of playing with England's most recognisable club. The Outsider is a book titled, in part, for his allegiance to the Midlands club. A club with a "parochial" feel. A home he found after being overlooked by Leinster's archaic scouting system, now reformed.
It cost him.
Be part
of the team
Access exclusive podcasts, interviews and analysis with a monthly or annual membership.
Become a Member
Murphy in his last Ireland  appearance at the Aviva in August 2011. Pic: INPHO/James Crombie
It cost him recognition, wages and caps. In the book the Kildare man charts a sequence of 17 tests from 2006 to 2008 where he had been "dropped from the squad six times, on the bench four times, picked on the wing four times and had three runs at fullback."
Yes, former Ireland coach Eddie O'Sullivan certainly draws some fire. It's pointed, maybe even harsh, but it's no assassination; just Murphy's own account.
By the time he encounters TheScore.ie on Wednesday the invective of the writing phase has mellowed. With his career fully documented and bound, he is more understanding of the abrasive Corkman.
"I'm not bitter in any way. He was the coach. It's the equivalent of having a boss in a job: if he's unhappy with X,Y and Z that you do, then your work's going to struggle.
"We had a few fallings out, but I had 50 caps under Eddie and I think he was very fair to me aswell."
Charitable
Leafing through page after page of Murphy's book, we couldn't help but draw parallels with O'Sullivan. Fly-halves converted to fullback. One made it up the ladder to Munster, but no further. The other was overlooked by his province, but took the long route right to the top.
Against our better judgment, we ask the Leicester Tigers' captain not to laugh before announcing a pet theory: perhaps a part of O'Sullivan saw much of himself in Murphy and ended up pushing him too hard. Like an overzealous parent, but on the international stage.
He laughs. But with widened eyes, he indulges: "I didn't even realise that similarity, to be quite honest.
"I probably should have read Eddie's book, I didn't. Hands up.
"There's probably huge similarities there. Maybe we're too alike and we're both too stubborn. Maybe that was one of the things."
He concedes the point with a charitable smile. After 72 appearances for Ireland, 304 and counting with his club, two Heineken Cups, seven Premiership titles, three Triple Crowns and a Grand Slam, maybe Geordan Murphy has watched too many careers end prematurely to let a grudge fester any longer.
Most of these tallies have not yet been finalised. There's at least another eight months of his incisive passing and rapier sharp running lines to enjoy.
Geordan Murphy will be signing copies of his book, The Outsider, on Sunday, September 23 at 2pm in Barker and Jones, Naas.