COLLEGE FOOTBALL RETURNS To Dublin tomorrow as Boston College and Georgia Tech get their seasons under way in what is — for two teams with a disappointing 2015 — a very important game.
While the match-up in Ireland has not been without its controversies, both teams will be relieved to be playing football again after combining for just six wins last year.
Boston College are the designated home team for the fixture, which kicks off at 12.30, but they go into the game as 3.5 point underdogs against a Georgia Tech offence that — until missteps last year — was one of the most exciting in the NCAA.
How Boston College win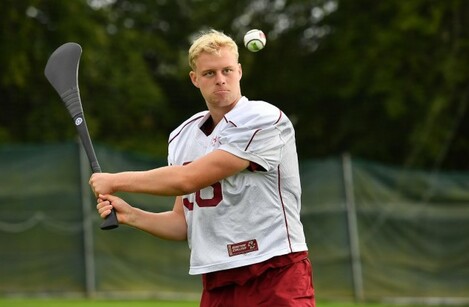 Source: Brendan Moran/SPORTSFILE
The Eagles' defence was one of the stingiest in the Atlantic Coast Conference (ACC) last season despite posting just three wins to nine losses. They manged to hold eight teams to 19 points or fewer and lost five of those games by a field goal or less.
It was also the number one team in college football last year against the run — allowing just 83 yards per game — something it will need to repeat tomorrow if it is to have any hope of victory.
However, on the other side of the ball, boosting their impotent offence this year is Patrick Towles. The quarterback has transferred from Kentucky after throwing for nearly 5,100 yards and 24 touchdowns in three years and will line-up alongside seven starters from last year.
How Georgia Tech win
Source: JSM Productions/YouTube
For a team that prides itself on its triple-threat offence, the Yellow Jackets struggled to run the ball last season, only managing 256 yards per  game, the lowest under long-time head coach Paul Johnson.
This was mostly down to an inept offensive line that struggled with its blocking schemes combined with significantly reduced production from their wide receivers.
Quarterback Justin Thomas is unlikely to make it in the NFL despite being a decent passer by option standards but his athleticism and speed on the ground mark him as the real danger on the Georgia Tech offence.
What to expect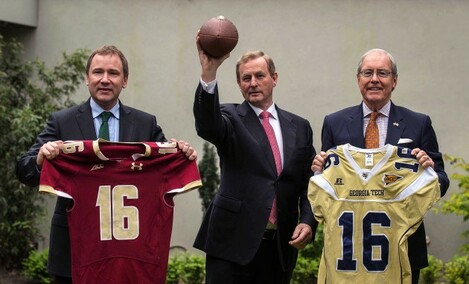 Source: Ryan Byrne/INPHO
It's quite unlikely that this game will turn into the one-sided affair we saw the last time college football came to the Aviva Stadium — when Notre Dame defeated Navy 50-10.
Instead, fans travelling should expect a one-score game with Georgia Tech just coming out on top.