GER LOUGHNANE'S DESCRIPTION of the current Kilkenny team as 'functional' and his assertion that there is 'no way' that they should be bidding for an All-Ireland three-in-a-row, has been described as 'weird' by Cats forward Colin Fennelly.
In an extensive interview with the GAA's official website last week, Loughnane gave his views on a wide array of hurling topics and assessed the current All-Ireland champions.
The former Clare boss was fulsome in his praise of Brian Cody's managerial skills and the behind-the-scenes work of Kilkenny county board official Ned Quinn.
But he reckons that the present Kilkenny squad are hugely reliant on TJ Reid and Richie Hogan for inspiration.
Colin Fennelly, who has four All-Ireland senior medals to his credit, disagrees with Loughnane's assertion.
"I thought it was weird what he said. What was it, that we shouldn't have won the last two All-Irelands?
"It's weird because in 2014, there's four competitions there to be won and we won all four of them. It's very unusual for a team to do that.
"It's not pure luck that you win all those competitions or all those games. I don't know, is Ger out of the game so long, that he doesn't realise all the hard work that you put into winning?
"Last year, as well, you had a club team winning an All-Ireland and the county team winning.
"That's unusual again and just shows the strength in depth in the county to do what we've done and do it both years.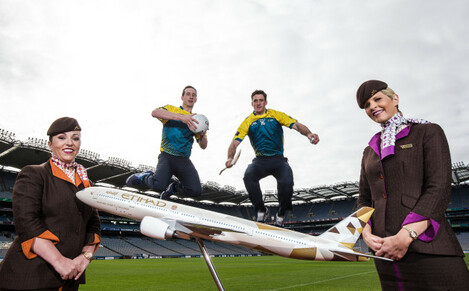 Colin Fennelly was speaking at the Etihad Airways GAA World Games launch in Croke Park yesterday Source: Dan Sheridan/INPHO
Fennelly also cited the example of last Sunday's comprehensive win over Offaly – when Kilkenny scored 6-20 without Reid and Hogan – as proof that Loughnane's beliefs mean 'absolutely nothing'.
"We didn't have Richie or TJ playing the other day and it makes no difference whatsoever.
"Kevin Kelly came in, took every free and slotted every free over the bar. On a wet day, it's very hard, that was his first game in a while, (he) put every ball over the bar so things do not change.
"It just goes to show that what he said means absolutely nothing. It doesn't faze us as at all. TJ is a sharp shooter, there's no doubt about that and other lads are work horses.
"Conor Fogarty, probably one of the most underrated players. He's no doubt one of our best players, the work he goes through in a match, nobody really sees it.
"The same with Eoin Larkin (and) Wally Walsh. The work that these lads do is absolutely outrageous."
Fennelly praised the impact some of Kilkenny's young players have made in this spring's league.
"A lot of young lads are coming in. It's probably in training where they kind of really step things up and you realise how tough it is.
"James Maher, like I didn't see too much of him last year but this he's flying around the place. Kevin Kelly, straight in and on frees and put them all over no bother.
"(Liam) Blanchfield as well, he scored 1-3 in the game, you don't do that on your debut. I didn't anyway!"
The42 is on Snapchat! Tap the button below on your phone to add!