Liveblog
Good evening, everyone.
What about that result for Northern Ireland, eh?
Here's what the Group C table looks like after their victory over Ukraine and what it means in the wider context of the group.
Both Germany and Poland are locked on three points each and a win for either pretty much guarantees them a place in the next round and top spot too.
There's the usual bragging rights on offer too but this group stage is merely about getting the job done.
It's still early doors and with some higher-profile teams slipping up in the group stage already, Germany will be wary of the threat their neighbours possess.
The teams are in.
Here's how Germany will line up this evening.
And here's what we can expect from the Poles.
For Germany, Mats Hummels is back and replaces the man who scored the opener against Ukraine – Mustafi.
Poland bring in Lukasz Fabianski because of an injury to Wojciech Szczęsny while Kamil Grosicki returns in place of Bartosz Kapustka, who was impressive against Northern Ireland.
As you'll remember, both these sides featured in the Republic of Ireland's qualification group and there was mixed fortune for Germany.
They suffered in Warsaw, going down to a 2-0 defeat in just their second game before getting the job done in Frankfurt later in the campaign when Mario Gotze scored twice in a 3-1 win.
It's the third straight Euros for Poland but they still have never made it out of the group stage. This would seem like the perfect opportunity.
The build-up has featured, quite bizarrely, plenty of talk about Jogi Low and his behaviour on the German bench.
To conclude: we think Jogi is nuts and could get the sack if Germany make a balls of this tournament.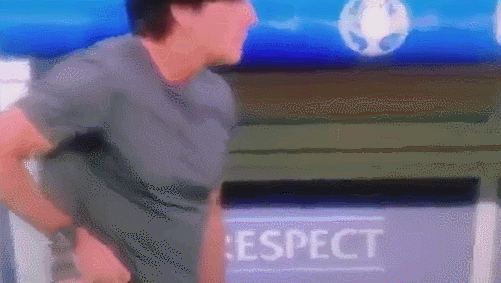 Here's hoping for some goals tonight. Robert Lewandowski is still waiting for his first of the tournament but he'd love nothing more than to get one over on Mats Hummels.
Early foul on Maczynski by Khedira though it looked pretty soft.
Here's hoping for some early, exciting action here. For a change.
BOOKING! Khedira takes down Milik, who was breaking quickly through the centre of midfield. And after 3 minutes, he's already on a yellow.
A decent chance for Gotze as the cross is whipped in to the near post. A bit of space for the World Cup final goalscorer as the Polish defence goes AWOL. But the finish is just too high.
Good early pressure from Germany – Hector is the latest to go close though he's offside and it wouldn't have counted anyway.
Ozil cheaply gives the ball away but good pressure and strength from Germany to win it back instantly.
Kroos pings a superb ball to the far post for Howedes but the right back can't do much with it except head it out of play. Could've taken that down and recycled. Bit of a waste.
All very calm and composed for Germany in the middle of the pitch with Khedira and Kroos being allowed time on the ball. Still no major chances created though.
CLOSE! Muller does superbly to wrestle Piszczek off the ball on the left side before squaring for Kroos to run onto. But the midfielder just had to stretch for it and is off balance when he hits it. Good chance but it rolls well wide in the end.
Hummels got himself in a spot of bother alongside Lewandowski earlier, along the touchline. And there was another cheap giveaway there. I remember watching him play for Dortmund in Hamburg last November and he was torn to shreds. Great on the ball but doesn't like the physical stuff too much and may not be 100% fit here either.
Little warning signs from Poland as they knock on the door a bit. Lewandowski tries his luck but there's a decent block from a white shirt. Some encouragement down the left side for the Poles.
Good running by Milik into the channel and he drags Hummels with him. The defender does well to shadow and gets the block in. It's a decent link-up that Milik and Lewandowski have.
There was a great opportunity for Germany as Ozil was gifted a misplaced pass. But he played it behind Muller on the right side and the chance just faded away. Poland broke quickly and Lewandowski again dropped into the channel, forcing Germany on the back-foot again.
Ozil clips a neat ball forward for the overlapping Hector but good defending again from Poland – they're back in numbers and crowd him out.
Gotze just crowded out again on the left side. Three red shirts around him. Germany's creator, Mesut Ozil, hasn't been able to provide much and they're not getting any joy out wide either. Frustrating opening period for them.
BOOKING! And Ozil is now on the receiving end of a yellow card after bringing down a rampaging Krychowiak. He's a really super player for Poland and featured prominently against Northern Ireland too. Strong, dogged and full of energy. Basically the complete opposite of Mesut Ozil.
It's very strange to see Germany reduced to whipping in crosses but with Mario Gomez sitting on the bench. He's a born target man, if they want to play that way. But they seem confused and irritated, to be honest.
That's much better from Germany. They're patient and make the most of some space on the left. They work it across and it leads to a shot from Gotze on the volley whcih cannons back off the near post. But Muller was offside as he teed it up for the diminutive attacker and the whistle goes.
You would envisage Germany making changes at the break. They need more imagination and a focal point. Muller and Gotze have struggled to carry much influence.
Khedira is the latest German player to try his luck but it's a harmless effort and there are plenty of groans and sighs from the German players as the ball bounces well wide.
BOOKING! Maczynski gets a yellow for a handball.
Well, a strange half.
We expected a bit of a thrill-fest but it's been quite dull with Poland doing very well in terms of their shape and system.
Germany have little in the way of response and by stopping them centrally, Poland are forcing Jogi Low's side out wide.
When crosses come in, Mario Gotze is the target and that's not a good thing.
Mesut Ozil isn't having one of his better evenings and they need a spark of inspiration from somewhere.
Germany have had plenty of the ball but Poland have got in behind them and their two strikers look keen – unlike those in white shirts.
VERY CLOSE! Oh, dear. That should be Poland in front. It really should be. How Milik has missed that I will never know. Kuba does well on the right after a decent build up and the cross puts it on a plate. All Milik has to do it guide it home with his head or chest or any part of his body – he's that close to goal. But he gets it all wrong and it may glance off his nose before bouncing wide of the far post.
CLOSE! At the other end, the ball breaks for Gotze in the area who smacks it towards goal but Fabianski parries it.
Well that's a lot better, isn't it? The second half has started with some excitement and some chances – finally!
BOOKING! Grosicki is the latest player to pick up a yellow card and that's two on either side who have been booked now.
Krychowiak has been absolutely terrific in the middle of the park for Poland – again. Strong, determined and he's just won a free-kick here as he races towards the edge of the area.
CLOSE! That's a lovely link-up between Lewandowski and Milik from the free-kick – the former shapes to take it before a little back-heel to change to angle. Milik's left-footed strike is narrowly wide of the near post.
CLOSE! Oh! For a brief second, it looked like Lewandowski was set to score as the ball broke for him in the area. But he seemed to dwell on it too long trying to get his body right for the shot and it allowed Boateng to stretch across and make a superb tackle just at the perfect moment.
Andre Schurrle is going to be introduced for Germany in a moment or two. Will he give them something that they don't have already? A little more pace, perhaps, but not much else.
SUBSTITUTION! Schurrle (on) – Gotze (off)
Confirmation of the change. Muller will move into the top attacking position now.
BOOKING! Jerome Boateng is the latest to get a yellow after unceremoniously bringing down Milik as he looked to break in midfield.
VERY CLOSE! Another brilliant chance for Milik – the ball cut back from the left and as he turns on it, he gets it all wrong and completely mis-kicks.
VERY CLOSE! And immediately, up the other end, Schurrle attracts some attention on the German left and passes inside for the unmarked Ozil who hits it first time. But Fabianski conjures a great save to push it to safety.
SUBSTITUTION! Gomez (on) – Draxler (off)
So, another attacking change. Gomez – the forgotten man – is back on the scene after a brilliant season in Turkey and could he be the game-winner here?
SUBSTITUTION! Jodłowiec (in) - Maczynski (off)
Just a change in central midfield for Poland with some fresh legs being introduced.
Well, this doesn't bode well for the rest of the tournament, does it? Germany have been quite easily frustrated by Poland here and should be behind, to be honest.
SUBSTITUTION! Kapustka (in) – Błaszczykowski (out)

Kapustka was very good against Northern Ireland – still just 19 – and it's the veteran who makes way for him.
Oh, there's nothing more frustrating. A set-piece in a great position with six team-mates positioned in the area. So, naturally, Grosicki took the shot on and blazed it wide.
SUBSTITUTION! Peszko (in) – Grosicki (out)
A final change for Poland as the left winger Grosicki is replaced.
There will be three minutes of injury time. Is there going to be a late twist or will we get the first scoreless draw of the tournament?
BOOKING! Ozil does brilliantly in the corner but Peszko gives away one of the silliest free-kicks we've seen in a long time with a ridiculous foul.
FULL-TIME! But the free-kick is wasted, Poland get it clear and that's the last action of the game.
And that's an interesting result. Germany struggled and Poland had some great chances to win.
In terms of the tournament, you'd have to wonder if Jogi Low's side have what it takes to make it all the way through. When they needed to change things tonight and try something different, they still found it difficult to properly gel and create decent chances.
Some of their key players were exceptionally quiet – Thomas Muller, Mesut Ozil and Mario Gotze had a night to forget.
They certainly have enough to make it to the latter stages of the competition but when they pressure is on and they need to dig in and find a spark, maybe they lack that special something.
Thanks for staying with our coverage this evening. More reaction to come on the site.
Contribute to this story: