GIANNI INFANTINO SLAMMED "fake news" and "alternative facts" surrounding Fifa, insisting football's scandal-ridden governing body had changed in an impassioned speech to its annual congress in Bahrain today.
15 months after being elected as president to bring forward wholesale change to a disgraced organisation, Infantino also claimed Fifa's corruption crisis was over and would never happen again.
Despite this, the main controversy surrounding Fifa this week has been the decision to remove the two men responsible for rooting out corruption in the world game — Hans-Joachim Eckert and Cornel Borbely.
Congress backed the recommendation of the all-powerful Fifa Council, chaired by Infantino, to replace them with the former president of the European Court of Justice Vassilios Skouris of Greece and Colombia's Maria Claudia Rojas.
But Infantino denied this had put back any anti-corruption agenda.
"Fifa has changed now, this is a new Fifa and we are new people here and we act with facts, not with words," he told Congress.
Infantino then invoked American President Donald Trump: "Fake news, alternative facts, these terms did not exist until some time ago, they have become en vogue.
There's a lot of fake news and alternative facts about Fifa circulating — Fifa-bashing has become a national sport, especially in some countries."
Asked afterwards to give an example of fake news, Infantino responded: "Generally, it's my feeling."
And he said it was not the media but "a lot of people spreading the wrong information".
Alternating between English, French, German and Spanish, Infantino said his organisation was now different and would "nunca mas — never again" be hit by widescale corruption.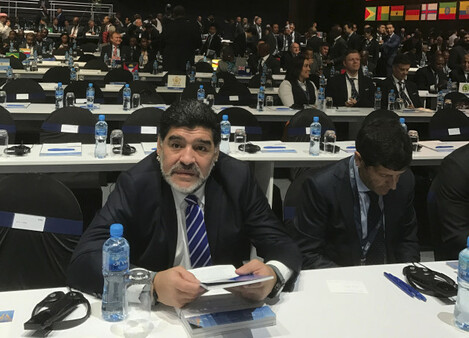 Diego Maradonna attending congress. Source: AP/PA Images
Infantino, whose critics maintain he has not shown a real commitment to reform, also told those who wanted to enrich themselves through football to leave Fifa.
"If there is anyone in this room or outside of this room who still thinks he can enrich himself, he can abuse football, I have one clear and strong message to tell him: leave, leave football and leave football now," added Infantino.
Getting into his stride, he also reaffirmed his belief that the governing body's finances were healthy, saying: "We don't have to bullshit with alternative figures."
Infantino criticised unnamed "highly-paid experts" who did little to help reform, and rubber-stamped "a sick and wrong system".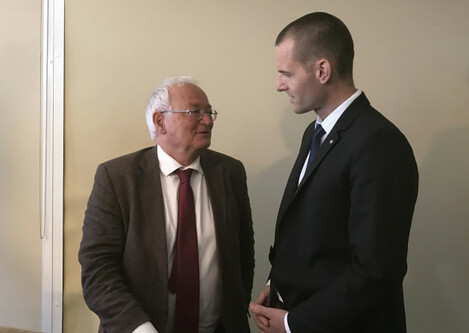 German judge Hans-Joachim Eckert, left, and Swiss prosecutor Cornel Borbely speak after holding a press conference in Bahrain yesterday. Source: AP/PA Images
The decision to replace Eckert and Borbely caught the headlines earlier in the week, but there was no controversy inside the Congress hall where delegates backed the proposal with 97% of the votes.
The investigators claimed their removal, at the end of their four-year term, would put back Fifa reform as hundreds of cases were still outstanding. Infantino, though, said the row was "a storm in a teacup" and questioned why they had left so many cases remaining. However, he failed to convince everyone.
Jordan's Prince Ali Bin Al-Hussein said afterwards that things hadn't moved on from Infantino's predecessor, Sepp Blatter.
"I think it is fairly obvious that a lot of things have not changed," said Prince Ali.
He added that Fifa under Infantino had "already lost the battle of public opinion".
The42 is on Instagram! Tap the button below on your phone to follow us!