TODAY'S GUINNESS PRO12 semi-final between Glasgow Warriors and Ulster promises to be an exciting clash for more reasons that just being a play-off tie.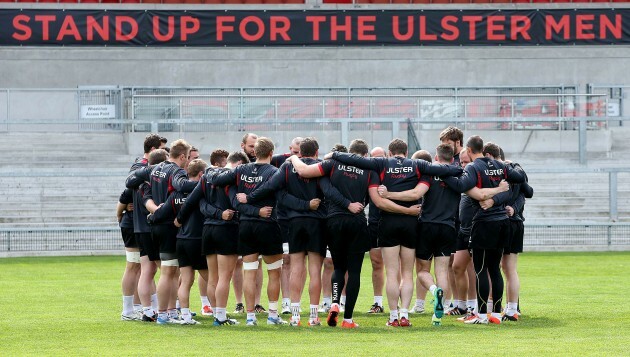 Presseye / Brian Little/INPHO Ulster trained at Kingspan Stadium this afternoon. Presseye / Brian Little/INPHO / Brian Little/INPHO
While the tension of knock-out rugby can often lead to teams restricting their attacking ambition, both Ulster and Glasgow have had success with a ball-in-hand approach throughout the course of this season.
There is likely to be a natural reduction in the riskiest of plays, but with the weather forecast currently suggesting we'll have a dry evening for this today's 19.45 kick-off, the prospect of two of the league's best attacking sides facing off is thrilling.
Glasgow's varied approach
Gregor Townsend backs his players to make decisions based on the space they identify during games, allowing them to run freely and offload when that option is on, but he is also a believer in cutting Glasgow's cloth to suit the opposition.
As such, the Warriors have a varied approach to breaking teams down. The can batter through defences with big carriers such as Josh Strauss, they can shift the ball wide to livewires like Tommy Seymour and Stuart Hogg, they can attack the set-piece or even pressure the opposition with a kicking game.
Their short retrievable kicking is a particular threat to defences, and may be key against an aggressive Ulster line this evening.
Above, we get an example of a dink over the Ulster defence during last weekend's 32-10 win in Scotstoun from out-half Finn Russell, who will search for these opportunities consistently.
He's not the only player with the ability to kick short with the aim of retrieving the ball, but it is one strength of his game. Ruan Pienaar will have an important role as the sweeper behind the Ulster frontline, while the back three will need to be highly alert two, as in the instance above.
Russell is a rounded out-half who has developed continuously under former Scotland playmaker Townsend over the last two seasons, with his running game also set to be a danger to Ulster.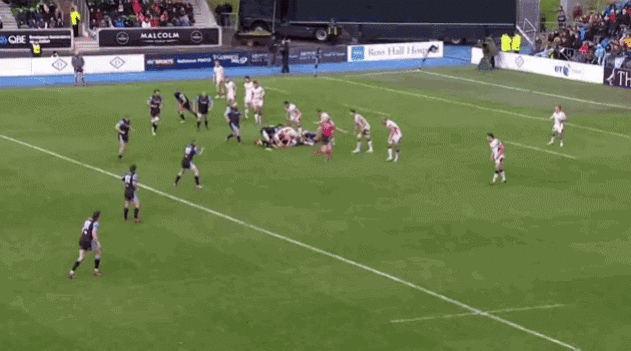 Russell scored two tries last weekend to demonstrate his ability to challenge the line, the first of which we see above.
It's clever play from the Scotland international, who identifies the poor spacing in Ulster's defensive line on this occasion.
Like the best 10s, Russell constantly looks to scan what's in front of him and around him.
'Are there fatties in the defensive line? Has the openside wing dropped deep? Who have I got outside me to hit a hard line? Is there a back door option? Can I beat the man in front of me one-on-one?'
As we can see in the image above, there's initially a big hole between Lewis Stevenson and Clive Ross in the Ulster defence, something Russell spots too.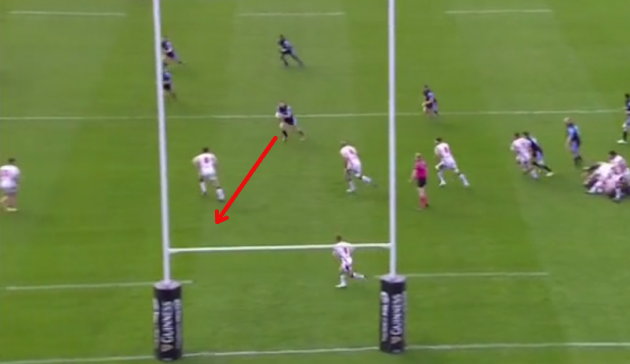 By the time the ball arrives into Russell's hands, he's already beaten Stevenson. The lock is never going to have the pace to cover across and make up that headstart, while Russell just needs to sell Ross the wide pass to send him drifting out.
He finishes his dart superbly with an impressive bosh of Paul Marshall, signalling the combative streak that makes him the player he is. It goes without saying that Ulster will need to be hugely alert and organised in these areas around the ruck to negate Russell's running threat.
Spark elsewhere
Townsend has opted to shift Fijian international Niko Matawalu out to the wing for this encounter, having started him in the nine shirt last weekend before a move into the wide channels for the final quarter.
The Bath-bound magician is one of the most exciting players in the Pro12, and he makes up a mightily-impressive back three with Seymour and Hogg.
Matawalu thirsts for tempo in the game, particularly when at scrum-half, as highlighted in the clip above. Even though he will wear 11 today, it would be no surprise to see Matawalu fade in off his wing to be more centrally involved in phase play.
We get an example of that below, coming during the spell the Fijian spent on the wing last weekend in the win over Ulster.
Matawalu's excellent footwork allows him to beat defenders with apparent ease, while his offloading ability brings another dimension to the Glasgow attack. If and when Leone Nakarawa appears off the bench, that element of the Scots' game will only grow.
As with their other defensive duties, it's a case of getting the basics done accurately for Ulster in terms of limiting the danger of Matawalu and then Nakarawa. Firm, low tackles from the first defender, followed by a targeting of the arms as the Fijian pair look for the offload.
There is certainly scope for Ulster to turn failed Glasgow offload attempts into attacking opportunities of their own and Doak's men will be extremely tuned in to the potential to counter-attack from any ball that goes to deck.
Furthermore, it would be little surprise to see Ulster focus their kicking game down Matawalu's left wing in the first half. The 26-year-old has worked hard to rectify his positional difficulties, but Doak will have identified them as an area to target.
Fullback Stuart Hogg is another player who excels on the attacking side of the game for Glasgow, as his sublime try last time out showed.
It's another example of the excellent attacking kicking game Glasgow possess. Nearly all of their backs are capable of kicking retrievable chips and grubbers; it's one of the basic skills that Townsend evidently drives his players to work hard on.
Hogg's electric pace in the wide channels has wreaked havoc in the Pro12 and at international level this season, meaning Ulster will have had lots of video footage of his skills to pore through this week.
The 2013 Lions tourist does like to pop up at first receiver in phase play occasionally too, and Ulster will be wary of Glasgow bouncing back against the grain and running him at stranded forwards in those situations.
Clinical edge
One of the big things that separates champion sides from the chasing pack is an ability to turn visits to the opposition's defensive territory into points on the scoreboard. It has perhaps been an issue for Glasgow intermittently in the past, but recent signs are good from their perspective.
Russell is the man to finish this score, but it's excellent teamwork that gets Townsend's men over the line.
First come the big carries come from Jonny Gray and Strauss, two of the most important players in the Warriors set-up. Their strong carrying, rucking, tackling and set-piece work will be vital again if Glasgow are to secure a final spot today.
Ulster are missing a man with Andrew Warwick in the sin bin at this time, but it's still clinical finishing from the Scots to break down a highly-stressed defence.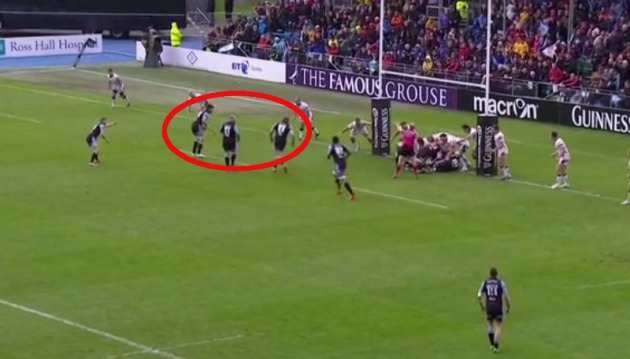 This close to the tryline, the temptation is always simply to attempt to batter your way over through the powerful carrying of the forwards. That's very much how Ulster read the situation for the try above, with the circled pod of Glasgow forwards proving to be a decoy.
Pyrgos' pass goes in front of the first two players [Mike Cusack and Gray], but behind Ryan Wilson, down the tunnel of that trio of forwards. Callum Black in the Ulster defensive line only sees Wilson in front of him, not reading the pass behind to Russell.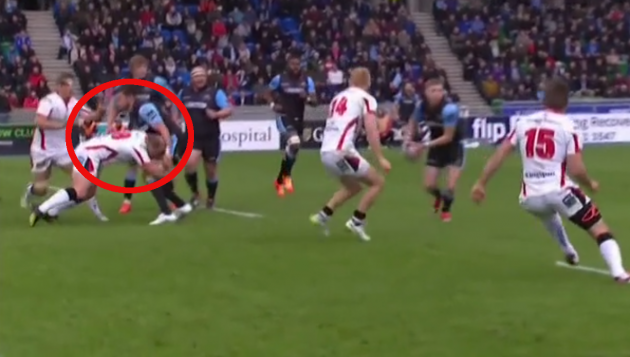 It's a hugely demanding position for a prop forward to be in, and Glasgow's addition of variety fully exploits that as Black bites down on Wilson and tackles him with the ball already in Russell's hands.
With the overlap beckoning, Rory Scholes shoots hard in an attempt to pick off a Russell pass and the Glasgow out-half calmly converts the chance into a try.
Ultimately, Ulster don't want to ever be in a position such as the one above, especially against a team with the Warriors' increasingly clinical edge.
Spoiling
As with the teams Townsend has looked to as role models for Glasgow, the Scots are centrally tied to quick ruck ball. The same is true for any side in the world, but the Warriors have made a fine art of clearing bodies away post-tackle.
With an out-half like Russell and an array of backline talent, allowing Glasgow onto the front foot is a recipe for defeat.
Naturally enough, Ulster captain Rory Best, openside Chris Henry and their other jacklers are going to have an important part to play in slowing the home side's possession by competing for direct steals, but the role of the counter-ruck may be crucial too.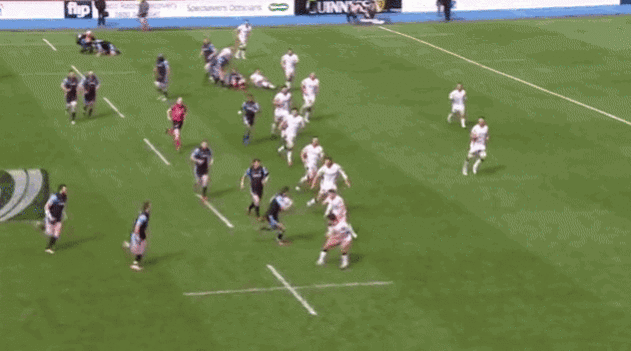 Stuart McCloskey, a replacement this evening, shows Ulster the way in the example above as he opts not to clamp down over the ball and instead fights his way beyond it, creating space behind him for his teammates to flood into.
Doak's side have excelled in this area of the game in recent months, particularly when Iain Henderson has been on the pitch. The dynamic Ireland international seems to relish the chance to slam back into the ruck after he's been involved in the tackle.
Above, we see one of the many examples of Henderson doing so in the last number of months as he's involved as the primary tackler and then bounds back to his feet to drive Glasgow's third arriving rucking player completely off the ball.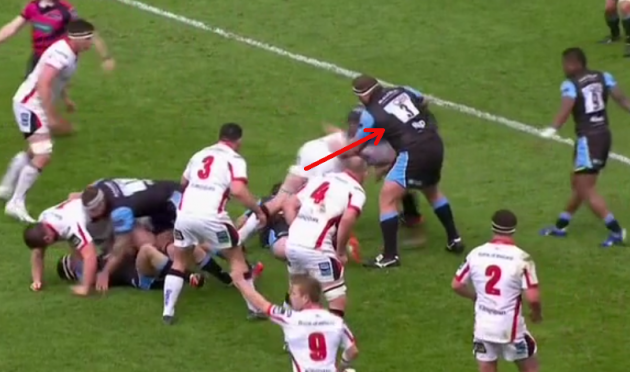 Ulster will certainly not want to overcommit defensive bodies to counter-rucking against a Glasgow team that exploits space rapidly, but a number of warning shots in this regard could force the Warriors to commit more rucking players themselves.
The knock-on effect further out the pitch is obvious. Ulster will look to spoil as much possession as possible through their determined pack.
Set-piece losses
Speaking of the forward pack, the loss of both Franco van der Merwe and Wiehan Herbst is a blow for Doak's men, and although they will back their replacement players to fill the gaps, it may prove to be telling.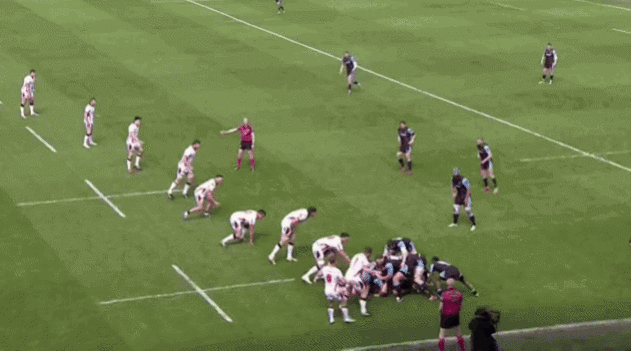 A knee injury for van der Merwe deprives Ulster of their lineout leader, as well as an influential personality and decision maker. It's not good news, and though Dan Tuohy is in superb form, Stevenson has a big responsibility to compensate for the South African's absence.
Similarly, Ricky Lutton has a massive evening's work ahead of him as he looks to cover for Herbst. The South African prop has been impressive in the last two months, and with Glasgow's scrum having excelled last weekend, Townsend will look for gains in that area.
Jackson's distribution
Ulster themselves have a huge range of attacking strengths too, something we're already well aware of thanks to the exploits of the likes of Tommy Bowe, Jared Payne and Craig Gilroy throughout the season.
Perhaps the key element in bringing it all together for Ulster is out-half Paddy Jackson and he has hit form at the ideal time.
Jackson's passing has been an absolute joy to behold since he recovered from an elbow operation in January. His range, power, accuracy and pass selection have allowed Ulster to be far more effective in stretching the opposition defence.
Importantly, Jackson is a breaking threat himself and he is becoming increasingly difficult for the defence to read. Some 10s will give themselves away with obvious cues and body language that speaks volumes of their intention, but Jackson is different.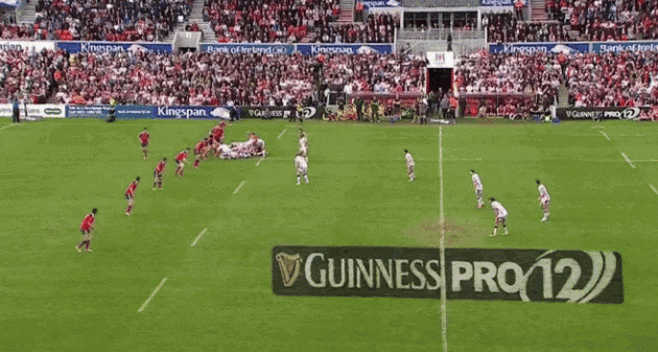 It's a subtle art and perhaps difficult to totally illustrate, but we can see some of Jackson's deception in the example above, allowing Payne to make a massive gainline.
It happens in a split second after he receives the ball, but Jackson threatens a run here by looking up pointedly towards Denis Hurley's inside shoulder, also hovering the ball in front of his body in a low position.
The ball is not totally cocked for a pass to the players outside him and it means that Hurley's gaze remains in on Jackson. There's even the hint of a possibility that Jackson will stab a kick in behind Munster.
Exclusive Six
Nations Analysis
Get Murray Kinsella's exclusive analysis of Ireland's Six Nations campaign this spring
Become a Member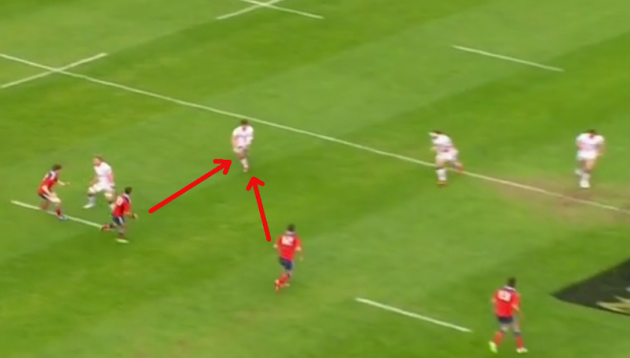 Hurley has to sit back for a moment, rather than being able to get up harder into the face of Ulster's centres, meaning he's not in a position to make a dominant hit when the ball is fired to Payne.
Ideally Munster want Keatley to make this tackle anyway, but less deception on the ball from Jackson would likely have allowed Hurley to get a strong shot on Payne in this instance.
Instead, the Ireland centre thunders onto the ball one-on-one against Keatley and breaks through that first tackle. Payne's ability to win the collision is the key, but it's the subtlety from Jackson that aids the process.
Starter plays
Doak has an extremely sharp brain in terms of attacking play, something most evident in the attractive shape Ulster so often retain when they're attacking. His intelligence is also demonstrated through the province's inventive play from set-piece foundations.
The move above is almost perfectly executed, only for Jackson to leave his offload attempt on the ground as Andrew Smith makes a fine tackle to recover a dangerous situation for Munster.
In swoops Keith Earls to burst down the other end of the pitch and almost score, but it's the construction of the Ulster starter play that we're concerned with. If they can up their execution levels in this domain against Glasgow, Doak's playbook can create scores.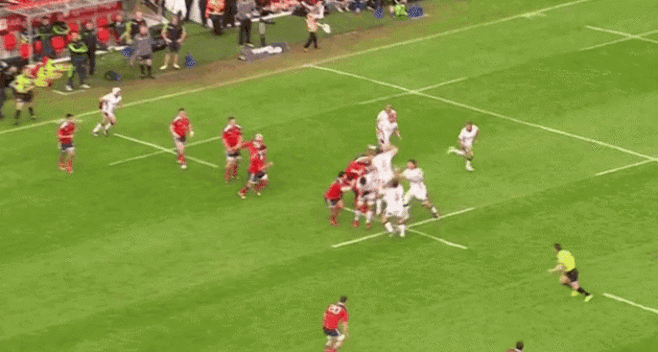 Ulster play out behind two excellent decoy runners in this instance, as Chris Henry and Darren Cave get their timing perfect to just about get in front of Pienaar's missile pass to Jackson.
The key line is Cave's, as he drags Hurley in with him on that hard line, opening space on the Munster centre's outside shoulder for Jackson to target.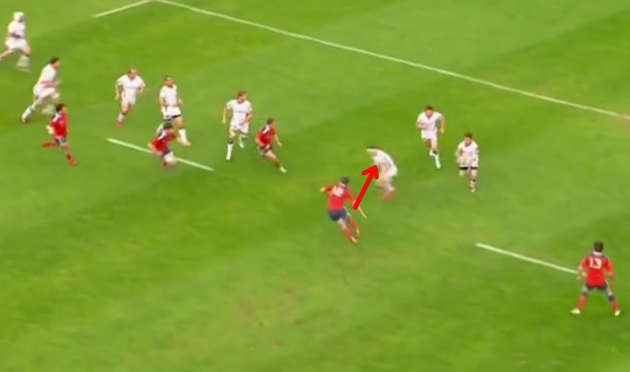 Unfortunately for Doak and Ulster, Jackson then fails to get sufficient power into his offload and the move breaks down. If the out-half had been successful, the Irish province were looking at a probable try-scoring situation.
There was similar frustration with another starter play later in the same game, as Ulster cut Munster apart only for Bowe to throw a poor pass.
Again, the theory behind Doak's play is superb, as Ulster throw to the tail of the lineout initially to interest the rear pod in Munster's defensive alignment. Tying down those potential defenders is essential.
We've highlighted below the moment when Black turns his attention from lifting Henderson onto getting a slight block on BJ Botha at the very tail of the lineout.
It's not quite American football-style, but the Ulster prop does just enough to impede Botha and therefore prevents him from getting out further beyond the 15-metre line to make a scragging tackle on Bowe.
The other player Ulster are targeting in this instance is the Munster tail-gunner, Eusebio Guinazu. He is part of the lineout, but not as a lifter or jumper obviously. Guinazu's role is to be the first defender closest in to the lineout after it has ended.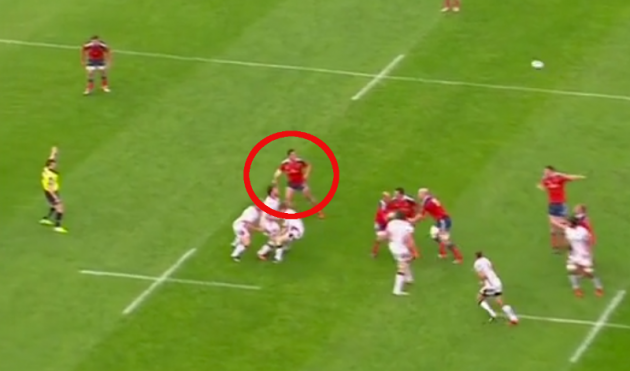 Ulster want Guinazu to drift away from the lineout aggressively, following the arcing line of Pienaar away from the lineout and therefore opening up space inside the hooker for Bowe to switch back into.
With Black getting his job done on Botha further inside, the small hole turns into a huge gap for Bowe to scythe through, but once again the final execution lets Ulster down. If they can rectify that issue this evening, Doak's intelligent starter plays can certainly lead to tries.
10-12 axis and phase shape
While Russell and inside centre Peter Horne are two of the most combative and determined players you'll come across in the Pro12, it seems likely that Ulster will send plenty of traffic down their channel, particularly when McCloskey is introduced.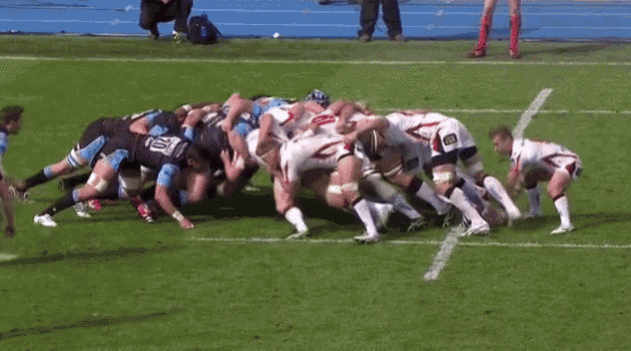 Now firmly listed as a World Cup 'bolter,' the 22-year-old centre may have a telling impact on this evening's semi-final if the game remains close when he enters the fray.
Cave and Payne continue to grow as a centre pairing, but McCloskey adds another dimension with his combination of size, power and footwork. Simple plays like the one above allow the Bangor man to get his offloading game going too.
Before that happens, Ulster will look to bring their usual amount of shape to phase attack in Scotstoun, something Doak has driven hard this season.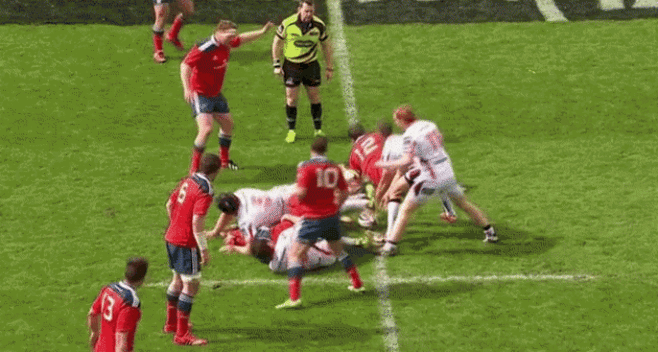 Basic but effective linking plays like the one above stress defences so much more than simple one-out carrying, and Doak will again ask his side to be multi-faceted with their use of possession in Glasgow.
Even if they do veer towards a slightly narrower game plan than in recent months, the option to strike with width should always be on to keep the Warriors defence constantly shifting, constantly making decisions and constantly on edge.
An intriguing meeting of two well-coached teams awaits.
- This article was updated at 7.50 on Friday, 22 May. The word 'Leinster' was changed to 'Ulster' in the second paragraph under the heading 'Jackson's distribution'.