IT WAS 40 years ago when Brian Clough signed Peter Shilton for Nottingham Forest.
Clough had failed twice before to land the imposing goalkeeper. Finally, after suffering relegation with Stoke and growing disillusioned, he became open to a switch to the City Ground and the newly-promoted Forest.
"The opposition might get through our midfield," Clough said later.
"Very occasionally, they might get beyond Larry Lloyd and Kenny Burns (the Forest centre-backs). But when they'd done all that, once they thought they were in the clear, they'd look up and see a bloody gorilla standing there with shoulders like Mr. Universe and they'd wonder where the goal had gone."
Peter Taylor, Clough's assistant and a former goalkeeper himself, was a huge fan and stated that Shilton would win games for the club. Clough agreed and made out that the keeper was worth ten points per season. At 27, he'd already racked up one world transfer record (when he signed with Stoke) and close to 400 league games.
The fee was 270,000 – a club record – not that Clough cared. He knew Shilton was a crucial ingredient, and so it proved.
As Forest blitzed all and sundry and closed in on the championship, they needed just a point against Coventry.
Shilton was immense.
Source: covonthebox/YouTube
A team-mate, Colin Barrett, later described the performance perfectly.
"It was one of those days when you could aim a thousand shots at him and still wouldn't beat him."
One stop, named 'Peter Shilton's Greatest Save' in a YouTube video, was astounding.
Mick Ferguson lingered at the far post and powered a header towards goal from just a few yards out. Shilton had raced from the near side to try and get across and instinctively threw his hands up, flung himself in the air and remarkably deflected the effort over the bar.
Ferguson couldn't believe it, dropping to the ground in disbelief. The crowd at Highfield Road knew how he felt.
The scoreless draw that day ensured Forest were crowned First Division champions. With Shilton in the side, they'd conceded 24 goals in 42 games.
Still, four decades ago, you'd have been hard pressed to find anyone who would've ranked Shilton's contributions above those of John Robertson or John McGovern or goalscorers like Peter Withe or Tony Woodcock.
And that perspective still seems to be the norm.
Despite their stellar contributions, goalkeepers remain completely undervalued in a dizzying transfer market.
The general consensus is that, on average, a clean sheet will earn a team 2.2 points per game. If goals win games, then scoring them and stopping them is the crucial puzzle to solve.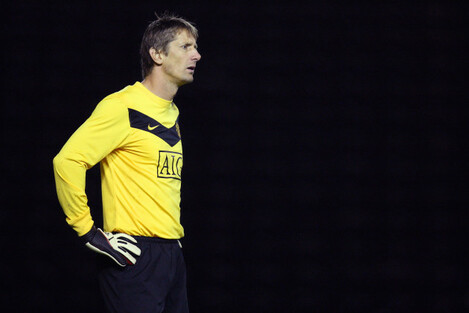 Manchester United struggled to properly replace Peter Schmeichel once he left the club in 1999 and it wasn't until Edwin van der Sar arrived in 2005 that they found consistency with the position. Source: Stephen Pond
But finding the right goalkeeper is tricky. One former Premier League executive explained to me years ago – when analytics and data was still in its infancy within football circles – that he was caught out by the numbers put up by one player in particular. The club signed him but he wasn't a success. Why? Well, the numbers looked good because of the volume of saves he was making. The ratio was incredibly eye-catching. He had a really high-percentage which seemed to indicate he was a great shot-stopper. But, at a lower-ranked club, the quality of the shots will be inferior. The saves, more than likely, will be easier.
And so it proved when he stepped up to a higher level. The goalkeeper in question faced less shots but they were better shots. And inevitably, he conceded and struggled.
Still, when the right one comes along, they're still not valued enough.
Johan Cruyff was signed by Barcelona in 1973 for £922,000, a world-record amount. The following year, Shilton was bought by Stoke for £350,000.
So, let's say, give or take, that the most expensive goalkeeper in the world was valued at a third of the price of the most expensive outfield player. How far have we progressed since the mid-1970s, given the more rounded, aware, analytical way the game is broken down and discussed now?
Well, if we accept that Neymar's transfer to Paris Saint-Germain did come in at £198m and that Manchester City's capture of Ederson cost them £34.7m, it's a substantial drop.
The most expensive goalkeeper is now – going by the figures – worth between five and six times less than the most expensive outfielder.
Is it surprising? Not really.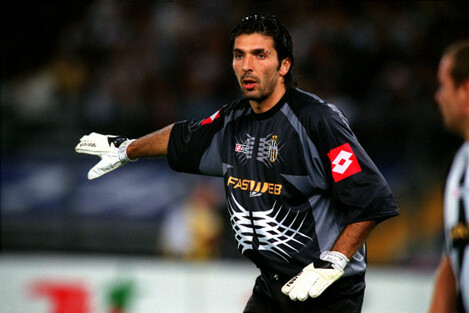 Gianluigi Buffon pictured in September 2001, shortly after joining Juventus from Parma. Source: Tony Marshall
Gianluigi Buffon's transfer record lasted for 16 years before Emerson finally, but barely, broke it.
When we take a look at the top-ten goalkeeper transfers, Francesco Toldo's move from Fiorentina to Inter in 2001 is still fourth on the list. Angelo Peruzzi's switch from Inter to Lazio in 2000 is still there. As is Sebastian Frey's move from Inter to Parma the following year. Incredibly, Claudio Bravo's £13.75m Manchester City deal is the 10th-most expensive goalkeeper transfer of all time.
Last summer, there were a flurry of goalkeeper-related moves, like Ederson's and Jordan Pickford's.
But, those deals paled spectacularly to what occurred with Neymar, Ousmane Dembele, Romelu Lukaku, Alvaro Morata, Benjamin Mendy, Kyle Walker, Alex Lacazette and so many others.
Last Saturday, as David de Gea conjured a magnificent, heroic performance against Arsenal, the memory turned to the £18.9m the club paid for him in 2011.
And how many games he's won for them since.
The42 has just published its first book, Behind The Lines, a collection of some of the year's best sports stories. Pick up your copy in Eason's, or order it here today (€10):