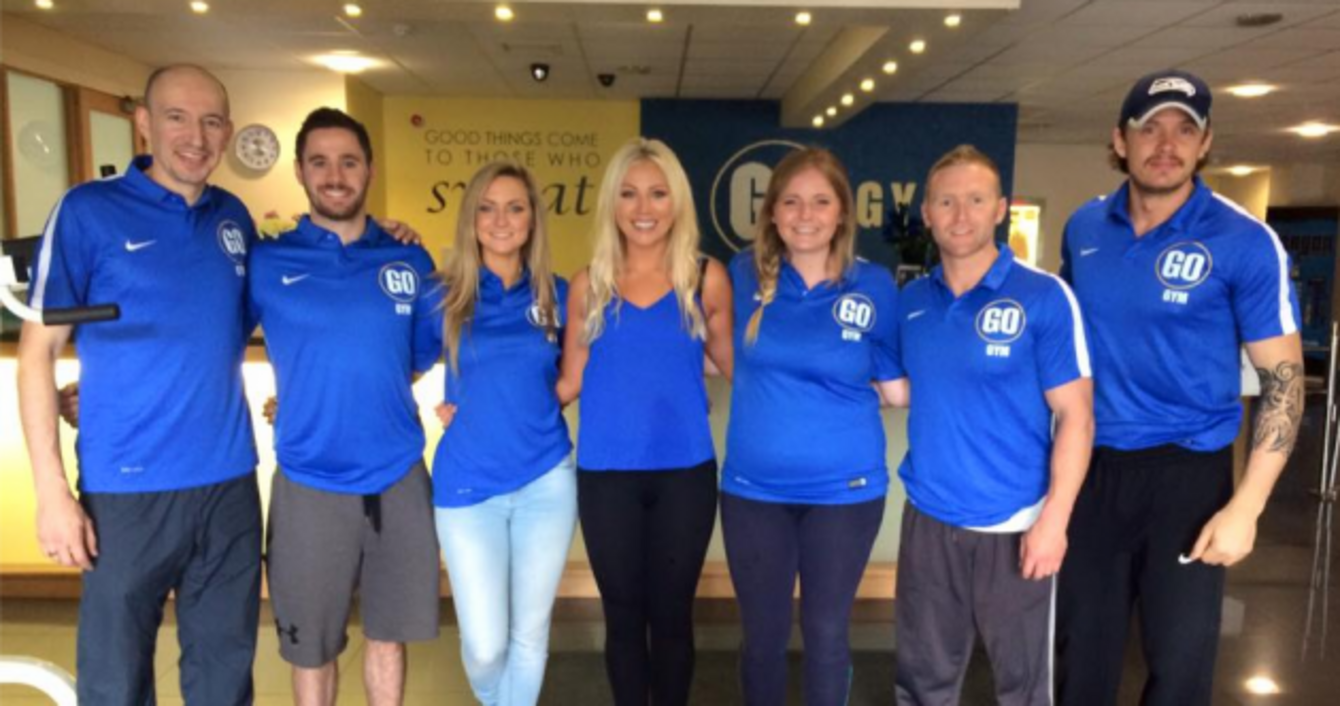 The GoGym staff.
Image: GoGym
The GoGym staff.
Image: GoGym
THEY MAY HAVE made their names on reality television but two stars of 'Tallafornia' have used the exposure to achieve their dream – and there's nothing superficial about it.
The show provided the platform David Behan and Jay Abbey needed to get their ambitious plans off the ground and now, three years down the line, their business is thriving.
The doors of GoGym opened in April 2013 and the fitness empire they strained so long to build continues to grow at every juncture.
But it's been a long journey to this point.
The pair, both with experience in the fitness industry, gave up their jobs and used every penny they had to invest in the project. It was a make-or-break scenario.
"We put everything we own into this," Abbey explained.
"We put our livelihoods on the line. It was horrible."
It's far from an overnight success story because this was a project years in the pipeline.
"I never thought we'd get to where we are now," Behan tells The42. "We've always wanted to own a gym and we wanted to strike when the iron was hot – Tallafornia allowed us to do that."
The friends rose to prominence during the hit television programme on TV3 and the publicity gave them the foundation to establish a brand at a time when the market was becoming increasingly competitive.
With so much on the line, they knew they had to find a gap in the market for their business to have any chance of staying afloat.
Finding the right location was paramount. Dublin was the obvious choice but an opportunity arose in Greystones which was too good to turn down.
The demise of the Jackie Skelly fitness chain left a purpose-built unit in the Wicklow town sitting idle and it was the perfect fit.
Source: Katy Tanham/YouTube
Yet it was a risk too.
The size of the population they could draw on was considerably smaller than if they'd based themselves in the capital while Shoreline Leisure – an established club – already held a large market share in Greystones.
The success, however, was instant.
Weeks after GoGym's launch, it boasted a large membership and their brand was gaining national recognition.
"I've been working in gyms for the last ten years so I know the industry inside out at this stage," Behan said. "I could see the mindset shifting. It took us a while to do the homework on it but the mentality of Irish people has changed.
"There's now an emphasis on functional training. Gyms are no longer seen for bulking up and we have people of all generations are in lifting weights, using the cardio machines and just feeling and looking better."
As much as anything, the GoGym brand has been central to the success. As the business continues to grow, the owners have added to, what they refer to as, 'the empire', along the way.
The 25,000 square foot facility in Charlesland Park is furnished with some of the best equipment – most of which is imported from America – and also boasts a barbers, supplement store, tanning salon and coffee shop all operating under the GoGym umbrella.
"There's young people coming in talking their macro-nutrients and paleo diets whilst they're foam rolling. It's all about dispensing knowledge and if clients learn something, they're going to come back.
"In any business, the staff are so important and it's taken us a while to get it right but we've got some really good trainers in here now.
"We want our staff to go around every single member and help them out, encourage them and give them advice. That knowledge rubs off on the members."
The low-cost membership model is now common across the board. Hugely successful chains such as Ben Dunne and FlyeFit have transformed the industry but GoGym want to be more than just a commercial business.
The decision to set-up camp in Wicklow was a bold one but it's allowed them to tap into a wider resource pool rather than just focus on attracting a certain demographic.
A separate women's section emphasises their commitment to making everyone feel welcome as well as accommodating people of all fitness levels.
Free classes (in the disused swimming pool) are part of the membership fee while sauna and steam rooms are available to use after the workout. But, as Behan stresses, GoGym is not like your typical 'country' leisure centre.
"People don't come here to relax in the sauna. Our members want to train and look after themselves and we are here to facilitate their success and ensure they get the results they want."
The natural progression is to expand the business and bring 'Ireland's most advanced gym' to a wider audience.
But despite all the success, Behan knows trying to achieve too much in a short period of time can be a dangerous move.
"We have a couple of things planned but it's important they're right," he continues. "It's taken us a while to get here and we don't want to damage the brand by jumping into something too quickly.
"Greystones was a great find and an amazing place – it's played such a big part in the success. We we wary because we didn't want to come here and just attract a certain type of person.
"The gym buffs who come in with an ego, lifting heavy weights and can often be aggressive in their training – they turn people off and I think we've managed to achieve a balance.
For the moment, Behan and Abbey are concentrating on continuing what they're doing in Greystones – given what they've achieved in such a short period of time, you can hardly blame them.
It's clear GoGym don't want to follow the trend, but set it.
All you need to know:
Locations: Greystones
Annual membership: €408
Day passes: Yes 
Free classes: Yes
Personal training: Yes, extra charge
Locker room and showers: Yes
Swimming pool, sauna etc: Yes
Free parking: Yes
If you think your gym would like to feature in our weekly series, you can email ryan@the42.ie.