SAUL 'CANELO' ALVAREZ has labelled Gennady Golovkin's trainer Abel Sanchez a 'dumbass' as both camps continue to trade loaded barbs ahead of 15 September's World middleweight title rematch at Las Vegas' T-Mobile Arena.
'Triple G' and Sanchez have lambasted the Mexican superstar since he twice tested positive for the banned substance Clenbuterol in February and put a kibosh on the originally-scheduled sequel, eventually receiving a backdated six-month suspension from the Nevada State Athletic Commission.
The 28-year-old Guadalajara native attributed his doping violation to contaminated beef – a widespread and well-documented problem in his homeland.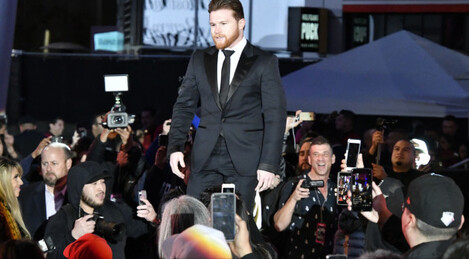 Canelo Alvarez Source: Gene Blevins
This only added to the already-brewing beef between him and Golovkin, however, with the latter already aggrieved having been robbed of a clear decision win during their enthralling clash last September.
Though typically reserved out of the ring, the Kazakh bomber hasn't minced his words in the lead-up to his shot at vindication.
Back in March, the Kazakh insisted that Canelo had been cheating since long before the pair's first encounter, saying: "Again with Mexican meat? Come on. I told you, it's not Mexican meat. This is Canelo. This is his team. This is his promotion. … Canelo is cheating. They're using these drugs, and everybody is just trying to pretend it's not happening.
You should take a look at the photos and ask a doctor. Ask any doctor. Let him explain what those [muscles] are. It's better even to use the lie detector. Then there wouldn't be any silly questions about meat or fruits or chocolate.
Earlier this month, Golovkin [38-0-1, 34KOs] doubled down on his criticism, accusing Alvarez of being "a dirty fighter for using substances and blaming others for it," before branding the Golden Boy fighter's excuse "a dirty tactic."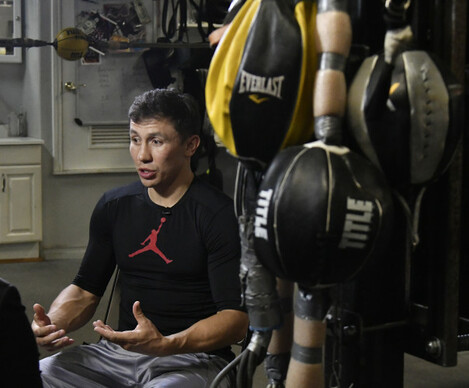 Gennady Golovkin Source: Gene Blevins
Trainer Sanchez, who has steered Golovkin to the summit of the middleweight division, has been more frequent in his verbal broadsides, insisting on more than one occasion that Canelo lacks character and, despite being juiced, 'ran' from GGG for 12 rounds in their first encounter.
Canelo [49-1-2, 34KOs] has fired back at both men in his training diary, accusing Golovkin of going overboard in his criticism this year, and claiming Sanchez 'doesn't know what boxing is.'
"The little respect I had for [Golovkin] was lost," Canelo said.
He crossed the line with so much of what they said, so much crying that they brought into this… This will help me get everything out in the fight. What I want is to show him that words always come out in excess.
"Comments from Sanchez don't really bother me because he actually thinks he's a great trainer but he doesn't know what boxing is," Alvarez continued.
"He doesn't know what it is to have technique. He doesn't know what it is to box or to move. He doesn't know what it means to adapt to circumstances of a fight and not just go forward and throw punches. What I do is box. I find it strange that someone who believes himself to be a great trainer does not know how to distinguish between having technique and what he's saying [about running]."
"It's one thing to be coming forward like a donkey and it's another thing to be moving, dodging punches, counterpunching and even staying on the ropes without him hitting you.
I hope [Sanchez] goes back to his house and realizes what I've been saying about him – that's he's a dumbass [pendejo]. The first fight has given me confidence that I will win this fight. If I work him well throughout the fight, I can knock him out.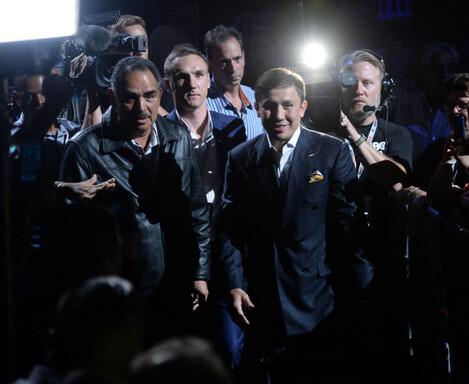 Golovkin and Sanchez (L) Source: SIPA USA/PA Images
It didn't take long for Sanchez to respond, and yesterday evening the veteran Mexican trainer claimed he had gotten into his younger compatriot's head ahead of September's long-awaited re-run.
"I haven't insulted them (Canelo and team) in any way, shape or form," he said.
"Everything I've said has been a fact. The insults are not coming from our side, the insults have come from them. They're the ones that are lowering themselves to that level.
Have I gotten into his head for him to respond to me like that? There's no reason for it, but that's the character that I've been talking about. I feel that he's responding. He's reading these things and it's affecting him.
"But the reason I'm saying these things", Sanchez continued, "is that they are facts.
Tell me where I'm lying. Did he not test positive? Did he not cancel our fight? Did he not cause an uproar with fans and tickets and reservation as a consequence of what he did? So I'm not insulting him.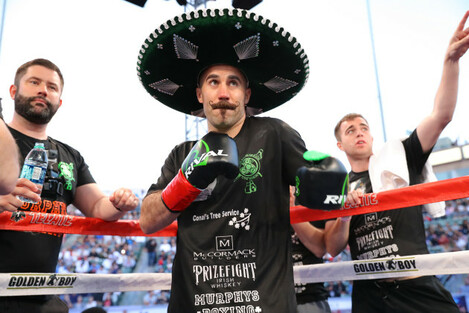 Source: Tom Hogan/INPHO
Having been called out on Twitter, Cork middleweight 'Spike' O'Sullivan faces former IBF World middleweight champion David Lemieux on the Golovkin-Canelo II undercard.
The Mahon man [28-2, 20KOs] earned a breakout stoppage win over American prospect Antoine Douglas last December to put himself in the frame for a big-money bout with Golden Boy stablemate Canelo before the Mexican's rematch with Golovkin was cancelled.
O'Sullivan, 33, was then cast into the frame to face Golovkin in Canelo's stead but his team withdrew from negotiations due to the lack of preparation time and comparatively low purse.
Spike instead took a stay-busy fight on the Kazakh's undercard in May, but hopes a career-best victory over Canadian puncher Lemieux will set him up for a shot at the winner of September's long-awaited headliner.
"This fight is just another step towards fulfilling my ambition of becoming a world champion and providing a good life for my family," said O'Sullivan.
David Lemieux is just an object in my way that I fully intend smashing through. Then, I want Canelo or GGG — either one, it doesn't matter! I'm going to war.
'Be careful what you f***ing wish for': Spike O'Sullivan sets up Vegas fight with former world champ https://t.co/sfcMgIxAbE

— Gary Spike OSullivan (@spike_osullivan) August 16, 2018
Said former titlist Lemieux [39-4, 33KOs]: "I'm looking forward to fighting Spike O'Sullivan next. I have some unfinished business at 160. We're going to take one fight at a time.
"Spike is an action fighter like me. He's a tough cookie and comes to fight. This is a fight for the fans. Come 15 September, I want to steal the show."
The42 is on Instagram! Tap the button below on your phone to follow us!