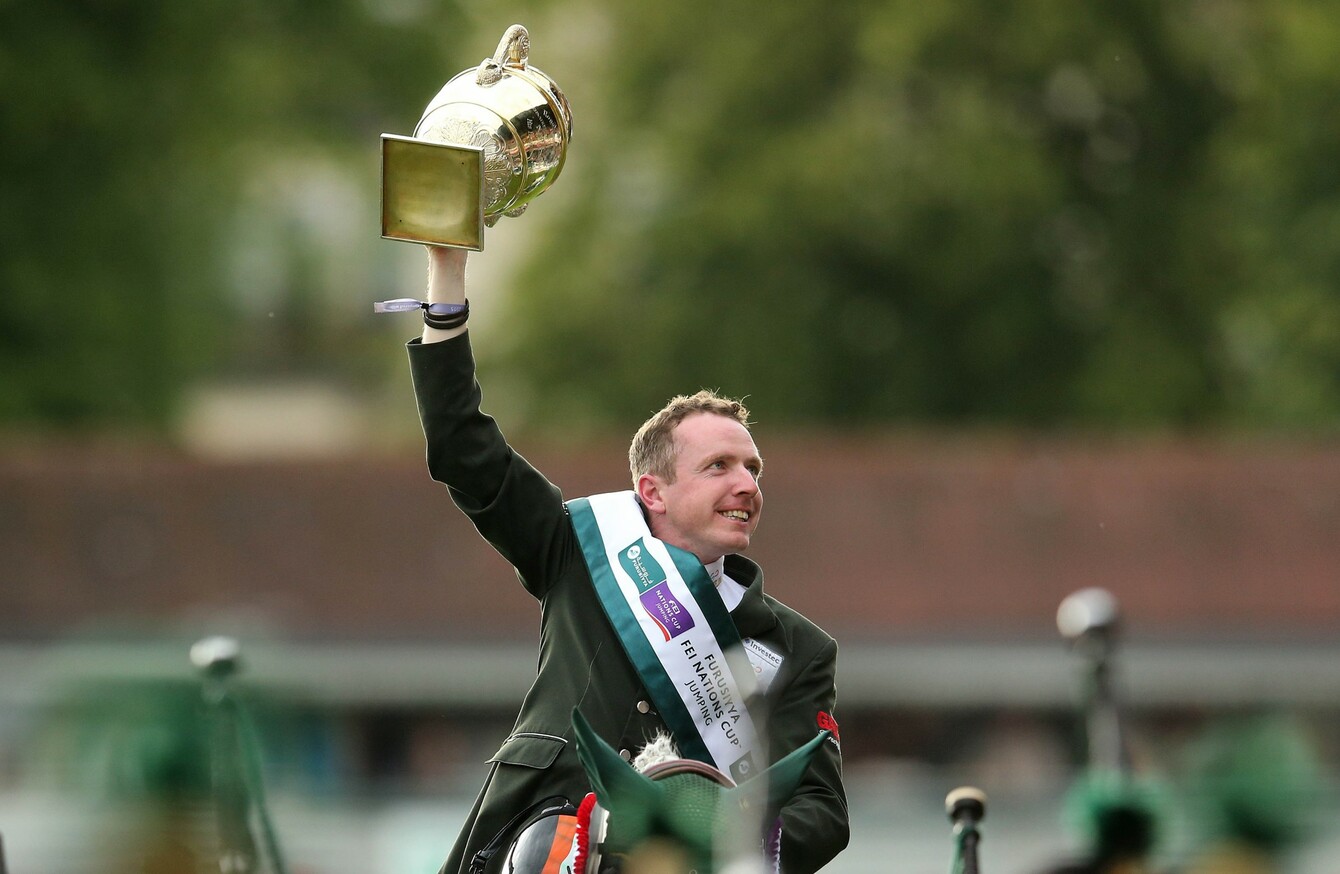 Greg Patrick Broderick celebrates with The Furusiyya FEI Nations Cup in 2015.
Image: Ryan Byrne/INPHO
Greg Patrick Broderick celebrates with The Furusiyya FEI Nations Cup in 2015.
Image: Ryan Byrne/INPHO
ON FRIDAY EVENING, while many of Ireland's Rio 2016 stars were preparing to take part in the Olympic Games' Opening Ceremony, Greg Broderick was back in Dublin.
With his individual jumping event not due to take place until this day week in Rio, Broderick was in no rush to leave the country.
And besides, Ireland's sole showjumping representative was busy winning the Underwriting Exchange Grand Prix at 'Jumping In The City' in Shelbourne Park — a timely boost as he prepares for what is surely the biggest moment of his career to date in Brazil.
Friday night was a continuation of the type of fine form that saw Broderick chosen as Ireland's showjumping representative in Rio to the surprise of many.
Bertram Allen had been tipped, not just to go to Rio, but to star at the event and potentially win a medal.
Speaking to The42 back in March before the Olympics places were confirmed, Judy Reynolds — who will represent Ireland in individual dressage starting this Wednesday in Rio — said:
Hopefully the show-jumping representative (at the Olympics) will be Bertram Allen… He's an amazing talent. I hope for him, this year, but he will win an Olympic gold medal at some point. There's no question about it, he is that talented."
Consequently, choosing Broderick over 20-year-old showjumping prodigy Allen was somewhat controversial. Someone who is not particularly well versed in the sport might glance at the world rankings and notice that Allen is 10th while Broderick is 252nd, and therefore feel perplexed as to how Horse Sport Ireland arrived at the decision.
Yet Broderick and showjumping team manager Robert Splaine will insist that the decision is more complex than many assume.
Not only did Broderick pip Allen to the spot but he also overcame strong competition from London 2012 bronze medallist Cian O'Connor and Beijing Olympian Denis Lynch for the sole position.
Speaking following the announcement that he would be going to Rio, Splaine cited the form of Broderick and his horse as key to this tough decision.
"Greg Broderick and MHS Going Global have been outstanding contributors for Ireland in the Nations Cups and have been consistent clear round jumpers at five-star level.
Their performance last weekend in St Gallen, Switzerland, where they jumped a double clear in the Nations Cup to help Ireland to victory, and followed that up with two clear rounds in the Grand Prix, shows they are a combination at the very top of their form."
Speaking on Friday, Broderick echoed the manager's claims, even if he does sympathise to an extent with Allen.
Nobody would have begrudged a spot to Bertram Allen if he won it fair and square. He's had a fantastic couple of years, he's a brilliant rider, so we would have been 100% behind Bertram if he was going.
"My horse is a real specialist at top-level showjumping, especially at Nations Cup-level, where it's about jumping clear rounds inside the time."
Moreover, since the Olympics announcement, Broderick's encouraging form has continued, while he has spent some time preparing for Rio, with the showjumping events there set to be held on sand — an unusual scenario for the Irish rider.
Broderick's horse, MHS Going Global, is "on a flight (to Rio) as we speak," despite recent doubts over the horse's eligibility and concerns that he had not been properly registered in time for the Olympics creating further controversy last June, following the initial hoopla surrounding the star's nomination.
The 30-year-old Tipperary native feels the horse gave him "the edge" when it came to Rio selection.
"He takes everything in his stride," he says of the 10-year-old gelding. "He's a horse for the big occasion, because over the smaller jumps, he doesn't blow you away. He's not the big show off over smaller jumps, but when the fences get big and you ask him for a big performance, that's when he really opens up and starts to jump.
When you see a lot of the horses at the top level as good as him, they're quite difficult to ride. Going Global is very rideable, so when the tracks get very technical and tight, that's when he really comes into his own. He listens very well.
"He ticks all the boxes so it's a case of me just doing my job right and he'll be there to answer all the questions.
What gave me the edge (for Rio) is I have one of the best horses in the world.
"Robert Splaine could see that the horse was a top horse last year and was back in top form at St Gallen, so I suppose he felt the horse could be a real contender at the Olympic Games."
Broderick certainly isn't shy about expressing his confidence ahead of Rio. While most Team Ireland athletes generally tend to play down their chances of winning a gold medal when asked in interviews, the showjumping star feels comfortable in suggesting that the dream scenario for the Olympics is very much within his reach.
There's no reason why I can't win a gold medal. I wouldn't be getting down off Going Global to ride any other horse in the world.
"The courses (in Rio) are going to be very tough, they're demanding courses, but with a little bit of luck and a rub of the green, we can be bang there."
Winning gold would be a remarkable success story for Broderick, who started competing in the national showjumping circuit at the age of 16, meaning he has spent just under half his life dealing with the challenges of the sport at a high level. Unlike most top showjumpers — Allen and Reynolds both live and compete in Germany, for example — Broderick remains based in his native country, along with a horse that was bred in Ireland.
Perhaps surprisingly, the Aga Khan (which Broderick helped Ireland win last year – a feat they narrowly failed to repeat back in June) rather than the Olympics is the first thing he mentions when asked about childhood dreams.
Coming from Tipperary, Broderick also almost inevitably had dreams of a very different variety.
I played a bit of hurling with the Drom-Inch hurling club when I was younger before I started riding full time," he recalls.
"I always loved the hurling and football. My principal in school was Paudie Butler, who hurled for Tipperary and he was a huge influence, when we were younger, towards the hurling.
At a younger age, it certainly would have been more of a dream to be part of a Tipperary team in Croke Park than to be a showjumper, but I certainly wouldn't have been an All-Star hurler, that's for sure.
"I still enjoy the hurling and still follow it. I'm from the same parish as (Tipperary hurlers) James Woodlock and Seamus Callanan. We actually went to school together and we fox-hunted together, so I still keep an eye on the lads to see what they're doing. They're doing our parish and Tipperary proud. Hopefully I'll do the same now in Rio."
And finally, does he have any advice for young, aspiring showjumpers hoping to emulate his achievement and represent Ireland at the Olympics some day?
The thing is certainly to work hard, and to be humble about it, because in showjumping, you can be up one minute and down the next. So don't forget the people you're passing out on the way up because you'll be passing them again on the way down."
The42 is on Snapchat! Tap the button below on your phone to add!