Murray Kinsella reports from Brisbane
FROM GREEN JERSEYS to Green Rockets, over and back again, Greg Feek has moved into a new chapter of his coaching career and his life.
The Ireland scrum coach is more than two months into a role with Japanese Top League club NEC Green Rockets and he will combine the two jobs through until the end of the 2019 World Cup.
The gig in Japan has exposed the New Zealander to a new culture that excites him greatly and he cut a very contented figure as he caught up with the travelling rugby media in Australia this week ahead of Ireland's first Test against the Wallabies.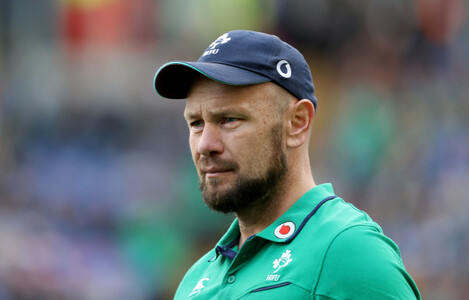 Feek has settled into life in Japan happily. Source: Dan Sheridan/INPHO
Feek's infectious positivity was partly on account of having linked back up with his good friends and co-coaches, but also because he has taken to life in Japan like a fish to water.
He delights in explaining how he is getting a grasp on the linguistic shortcuts that are key to mastering Japanese.
"You don't have to say 'Arigato go zai mas' [thank you] the whole time, the whole sentence," says Feek. "You can just say 'ai mas,' just shorten everything. In the mornings, you go 'ai mas.'
"I'm starting to learn a bit of rugby slang too. You learn people's names and even when you're learning a name, I won't say it unless I can pronounce it properly. I was a little bit mute to start with, just out of respect, but all those little things are important."
The main reason Feek began searching for a role alongside his Ireland duties was because it was time for him to make a sacrifice for his wife, Jessica.
She was happy to move to Ireland seven years ago and stay for much longer than first anticipated as Feek's career progressed alongside Joe Schmidt with Leinster and then Ireland.
"I told the wife it would be two or three seasons and after five, she was like, 'What's happening?'" explains 42-year-old Feek.
"She put the life on hold a little bit then because she understood these opportunities and who I was working with and how everything was going.
"She saw how excited I was when I first arrived about the potential and the people I worked with but her time came to an end and I just put that first.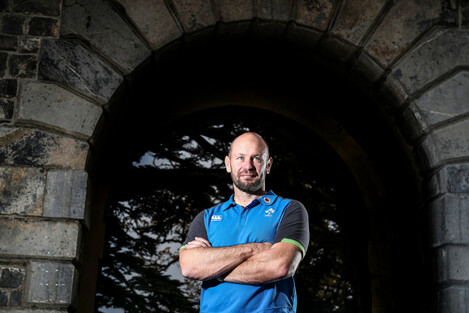 Feek has been an important part of Joe Schmidt's coaching staff. Source: Dan Sheridan/INPHO
"I said 'Right, if you need to get home, get home' and in that period it was only two weeks and the club found out, contacted me and I just thought it was a good fit for my coaching development going forward.
"There, I could go home but also do the Irish team. It's only a one-year contract and it means next year is going to be full-on for me but I feel that I don't want to die wondering in terms of giving it a crack.
"I've always challenged myself. Going to Ireland was a big call and I thought, 'If I can do Ireland and that side of the world, I can do Japan.'"
Be part
of the team
Access exclusive podcasts, interviews and analysis with a monthly or annual membership.
Become a Member
Owned by the NEC Corporation, a Japanese IT company, the Green Rockets have a small coaching team essentially made up of Feek and fellow Kiwi Peter Russell, formerly the head coach at Newcastle Falcons and Hawke's Bay.
One of the real attractions for Feek in joining the Green Rockets – who are based in Abiko, about an hour's train ride north of Tokyo – was the fact that his coaching role is far broader than just looking at the scrum.
"It's assistant coach, you know, forwards, defence, breakdown," explains Feek. "You're pretty much involved in everything because if you are going to win games, you can't just focus on one or two areas and then close your eyes to the rest.
"That's been the big part of it. I wouldn't call myself the defence coach or whatever yet because Andy Farrell's a defence coach, Wayne Smith's a defence coach.
"You're just learning about it and doing the best you can in terms of coaching it and you can only do so much because of the translations and everything else as well, so it's actually a great learning tool."
Having been around some top-class coach in Ireland over the last seven years, Feek has understandably taken some of their coaching tendencies with him to Japan.
Feek in Australia this week. Source: Dan Sheridan/INPHO
"Sometimes I'll turn around because I thought I heard Joe talking but it was coming out of my mouth, just because I've been with him so long. I might have used a Faz-ism at one stage as well, 'Go, lad, go!' – not that I use that but it's his northern English accent.
"You start realising what you have learned by osmosis but also I'm realistic that I have an area of the game that I want to be an expert in, so you've got to keeping that chipping away."
Feek believes the Japanese experience will help him to add more to Ireland's set-up too, even if his main area of focus will remain the scrum.
With the 2019 World Cup taking place in Japan, Feek's exposure there will obviously be important too.
"The learning has been great and I have picked up some good things for the World Cup already, just the littlest things that might help make things beneficial for us.
"Even like at this time of the year, it starts getting quite humid. The humidity increases from about now until September, if not part way through September.
"So if you think about humidity you've got to make sure that you're drinking lots of water, that you're keeping hydrated because you suddenly can just be feeling drained. That could be dehydration."
From food tips to travel advice, the language and much more, Feek's know-how will be valuable to Ireland in 2019, although his influence as scrum coach will be important over the coming weeks in Australia and the next 15 months too.
The42 is on Instagram! Tap the button below on your phone to follow us!