GUNNAR NELSON HAS expressed his concern for his team-mate Conor McGregor in relation to the Dubliner's weight-cut.
McGregor currently competes in the UFC's featherweight division but has to shed a substantial amount of weight in the build-up to each fight in order to tip the scales at no more than 145lbs the day before each bout.
The UFC interim featherweight champion has mentioned previously that he finds the weight-cut difficult and that his plan is to eventually move back up to the lightweight [155lbs] division.
Gunnar Nelson is one of McGregor's team-mates at Straight Blast Gym in Dublin and the pair are currently living together as they prepare for their forthcoming bouts at UFC 194.
Nelson will take on Demian Maia at the MGM Grand in Las Vegas on 12 December, before McGregor faces Jose Aldo in a title unification bout in the main event.
A 27-year-old native of Iceland who fights in the welterweight [170lbs] division, Nelson is one of the few top MMA fighters who doesn't endure a big weight-cut, with many observers of the opinion that he should be fighting at lightweight.
However, the grappling ace isn't a fan of the sport's apparent obsession with extreme weight-cutting and has strong opinions on the matter, particularly when it comes to his friend and team-mate
"He [McGregor] does a big cut and he doesn't like it. I don't think he's going to do it that much longer. I think he's going to move up [to lightweight]. I think he wants to move up and I don't blame him," Nelson told Submission Radio.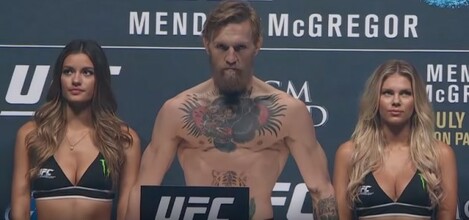 Conor McGregor weighing in ahead of UFC 189.
"I wouldn't be able to do this cut too many times. It definitely takes it out of you, there's no doubt. He has a lot of energy and he'll toughen through it and all that, and fight really well even though he does this cut.
"But I just think, looking ahead, that this is not good for your health and I don't think he should do it many more times. And I've told him that. That's my opinion."
McGregor's weight-cut came under the microscope ahead of his fight against Chad Mendes at UFC 189 back in July, when former UFC title challenger Chael Sonnen claimed that the Irishman was struggling to lose the pounds in time. McGregor eventually made weight at 145lbs, however.
Extreme weight-cutting is a widespread issue in mixed martial arts, and Nelson believes that rule changes are required. Click here to listen to the full interview.